'Days Of Our Lives' Spoilers: Theresa Arrives Home In Salem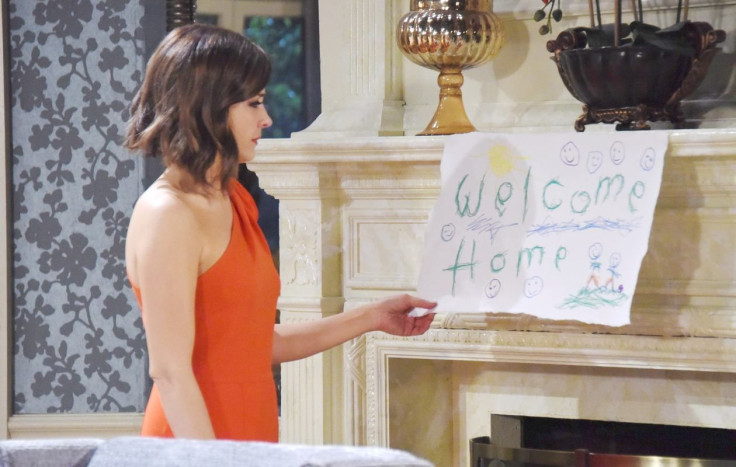 She has been out of town and with her former boyfriend in Mexico for nearly two years. Now, after nearly losing her life there, and with the help of a former foe, Theresa will find herself back in Salem once again on the Friday, May 18 episode of "Days of Our Lives."
Theresa (Jen Lilley) left Salem, her relationship with Brady (Eric Martsolf), and worst of all, their son, Tate, behind two years ago in an effort to protect those she loved from Mateo (Andoni Gracia). While in captivity with him on the NBC soap, she had been attempting to find enough evidence of his crimes for the ISA, so that he could be taken down once and for all. However, after Mateo had Chloe (Nadia Bjorlin) kidnapped and brought to him also, everything changed for Theresa.
Through Chloe, she learned that since she left Brady had moved on with Nicole (Arianne Zucker), and now, was with her own sister, Eve (Kassie DePaiva). Furious that her sister had moved in on the man she loved, Theresa vowed to get home to Salem. Her plans were nearly derailed however when Xander (Paul Telfer) showed up, threatening to expose her and get her killed. A threat from him was one Theresa could not take lightly considering their history, so she made a deal with him that if he got her back to Salem, she would work to get Victor (John Aniston) to accept Xander back into the Kiriakis family fold. After a run-in with Mateo which nearly saw Theresa killed, Xander managed t convince the other man to let him have Theresa out of revenge for what he did to him in the past. Mateo agreed, and Xander took off with Theresa, telling her she had better make good on her promise because he was taking her back to Salem.
Now, she is in town again and is ready to reclaim what is hers, though it could be a very difficult journey. Not only is Brady committed to marrying Eve, but he likely won't take too kindly to her showing up again since he doesn't know the real reason why she left. Still, Theresa will refuse to give up, and the attempt to re-secure Brady's heart and get back into her son's life will be one that she quickly embarks on.
"Days of Our Lives" airs weekdays on NBC.
© Copyright IBTimes 2023. All rights reserved.