'Days Of Our Lives' Spoilers: Steve And Kayla Clash Over Tripp Situation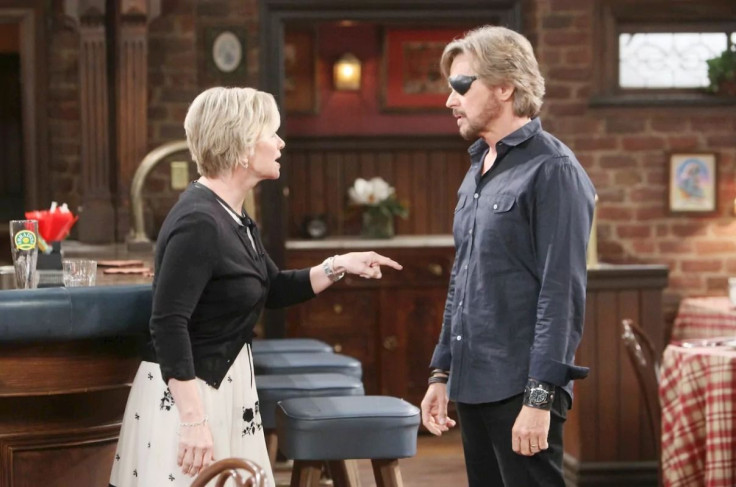 Tripp tried to hurt Kayla because he believed she was the one who killed his biological mother. Now, after that situation forced the real truth about Ava's murder to come out, it will cause new tension for Kayla's marriage with Steve on the Wednesday, Aug. 9 episode of "Days of Our Lives."
Tripp (Lucas Adams) has been after revenge since Jade (Gabrielle Haugh) told him that Kayla (Mary Beth Evans) was the one who murdered Ava last year. Previously on the NBC soap, he tried to get his payback by getting her suspended from the hospital and making it seem as if she was overdosing her patients on medications. After a patient of hers who did die was revealed to not have passed because of incompetence on her part, she was allowed to return back to work, and Tripp became furious as a result. He then confronted her face-to-face at the hospital and took her hostage, holding a scalpel to her back.
Read: Abigail Makes It Through Surgery On "Days Of Our Lives"
Steve (Stephen Nichols), who was investigating who may have tried to destroy his wife's career, then arrived with Joey (James Lastovic), after they realized what Tripp was up to. In an attempt to save Kayla, Joey finally admitted to his half-brother that he was the one who actually killed Ava, and told his parents he no longer wanted them to cover for him. Though he initially lunged at him with the scalpel next, Tripp then broke down in tears and stopped himself from stabbing his brother.
However, now, the tension is thick as he comes to terms with the truth, and it will cause a major problem between Steve and Kayla as a result.
Kayla will still want to protect Joey, whom they covered for because they didn't want to see their teenaged son's life get thrown away because he had fallen for Ava's charms. However, Steve will also want to make sure that Tripp is okay as well, and the married couple may find themselves conflicting on what the next best course of action for them to take is. The threat that Tripp could hurt his brother, or worse, turn them all in to the police, is very real, and they may not agree on how best to handle it.
Read: Tripp Confronts Kayla About Ava's Murder On "Days Of Our Lives"
The newest developments will once again pose a threat to their happy marriage, as the two have been at odds over their situation before, and it caused them to split up last year as a result. At the time, Kayla ended their engagement because even though Steve had faced potential murder charges while covering for Joey but was acquitted, she felt that the exposure to his life and the dangers it led to in the past were a bad example for their son. They later reunited after Kayla's health scare, and married in a romantic Valentine's Day ceremony. But now, that happiness is once again in jeopardy, and even from the grave, Ava is succeeding at causing them some major problems.
"Days of Our Lives" airs weekdays on NBC.
© Copyright IBTimes 2023. All rights reserved.