'Days Of Our Lives' Spoilers: Will JJ Reveal His Past With Eve?
They've all been trying to find whatever way they can to get through to Jack and make him realize that Eve continues to lie to him in an effort to manipulate his life how she sees fit. Now, a moment of father-son bonding between J.J. and Jack could lead to the younger man admitting his own past with Eve in an effort to convince his father of her deception on the Wednesday, Jan, 23 episode of "Days of Our Lives."
After Jack (Matthew Ashford) died and Eve (Kassie DePaiva) came back to Salem for the first time, the hate she and J.J. (Casey Moss) had for one another exploded on the NBC soap, and the two became involved in a steamy affair. Things went to hell for both of them when J.J.'s girlfriend at the time, Paige, found out, and she never truly reconciled with either him or her mother before her death. Since then, their former time together is something they've tried to ignore as they move on with their lives.
However, since Eve brought Jack back to Salem, there has been an epic tug-of-war between his family and her over trying to get him to remember his life before his alleged death. Eve has taken advantage of his memory loss to spin stories about how he and Jennifer (Melissa Reeves) were not, in fact, a super couple, and anytime his loved ones have gotten through to him in some way, Eve has come back with something else to real him back in. Now, with Jack prepared to run for a position as the town's mayor, he will run into his son, and J.J. may decide to share his secret with his father in an effort to prove that Eve is genuinely up to no good.
"Jack bonds with J.J., who warns his father about Eve's deception," spoilers reveal.
If J.J. reveals what happened, it could appall Jack that the two were involved. However, even if telling him that truth does work to make him disgusted with Eve, it may not work out in his family's favor either, since he could also become frustrated with his son too. Regardless, with new information, he is sure to once again confront Eve, and she will need to pull out some big tricks if she's going to get out of this new mess.
"Days of Our Lives" airs weekdays on NBC.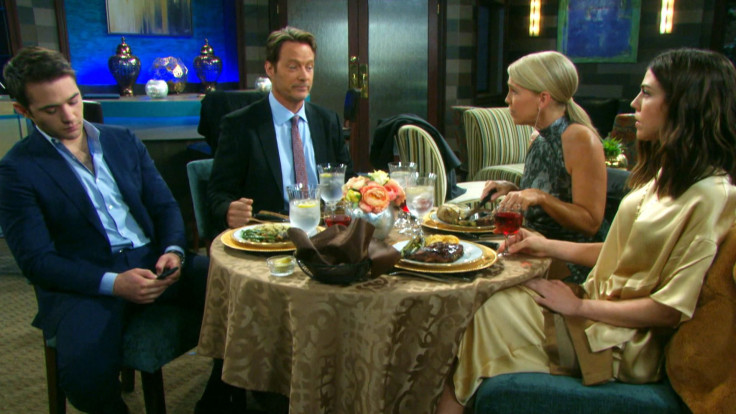 © Copyright IBTimes 2023. All rights reserved.