Deadly Bus Blast In Taba Yet Another Blow To Egypt's Moribund Tourism Industry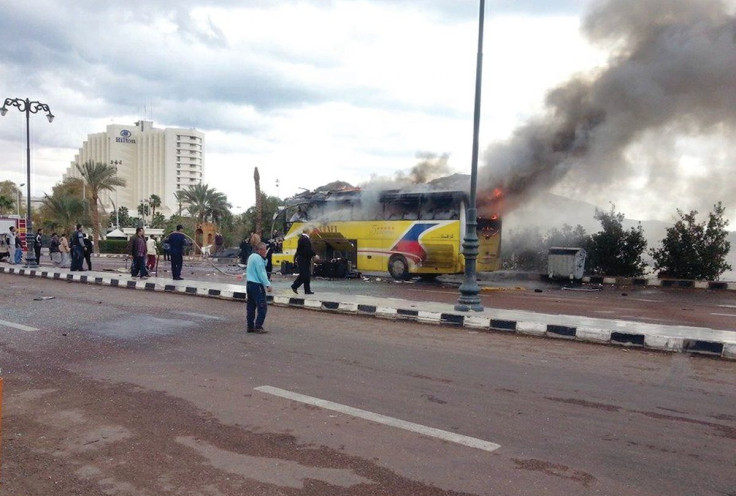 Three South Korean tourists and their Egyptian driver were killed Sunday when an explosion rocked their tour bus moments after it entered a popular Red Sea resort town. The attack was the first to explicitly target tourists in Egypt since 2008, and dealt yet another blow to the nation's moribund tourism industry.
Officials say at least 14 others were injured in Sunday's explosion, which occurred in the tumultuous Sinai Peninsula near the Taba border crossing between Egypt and Israel. Security sources told Reuters that it appeared to be caused by an explosive device planted either on the roadside or inside the bus.
The Egyptian government blamed terrorists for the blast, though officials did not name a specific group. South Korea's Foreign Ministry, meanwhile, confirmed that the 32 passengers aboard the tour bus were Korean nationals on a Christian church trip.
"This was a despicable act of cowardice directed at innocent tourists," a spokesman for interim Egyptian President Adly Mansour told the Wall Street Journal. "And let me be quite clear: The perpetrators will find no hiding place and we won't rest until we have brought all those who planned, funded and carried out this atrocity to justice."
Egypt's tourism industry was once worth more than a 10th of the nation's economic output and accounted for 20 percent of all foreign currency revenue. But it took a deep dive after the Arab Spring of 2011, in which protesters forced longtime authoritarian President Hosni Mubarak out of power.
It seemed as though Egypt was primed for a comeback in 2013 until mass protests and further instability kept arrivals at 30 percent below the already dismal figures from 2012.
Tourism Minister Hisham Zaazou noted late last month that 2013 was one of the nation's worst years on record with just 8.7 million tourists in the first 11 months. Part of the problem, he said, was the "vague" travel warnings issued by several European nations after mass sit-ins in Cairo in July.
Europe makes up 73 percent of Egypt's tourism market, and Zaazou said at a press conference last week that these warnings had a devastating effect on the Egyptian economy. He spent much of October and November pleading with the U.K. Foreign Office and other government agencies to remove their travel bans, arguing that Egypt's current tensions were merely an Egyptian-Egyptian issue that had little affect on everyday foreign tourists.
Sunday's explosion, however, threw a monkey wrench into that claim.
The reality is that Al Qaeda-inspired Islamist militants based in the Sinai Peninsula have increased their attacks on security forces since the army chief ousted President Morsi last July. Prior to Sunday's explosion, however, there had been no incidents targeting tourists for eight years in the region, whose beaches are popular with Europeans on package tours
The last major incident on the peninsula involving tourists occurred in the laidback beach town of Dahab in 2006 when a bomb killed 23 people. Another bomb in 2005 killed 88 others about an hour away from Dahab in Sharm El-Sheikh, and a blast in 2004 took 34 lives in Taba, the site of Sunday's attack.
Iman Ragab, researcher at Al-Ahram Centre for Political and Strategic Studies, told Egypt's Ahram Online that the latest incident represented a "new phase" in Egypt's ongoing battle against terrorism, which spiked following Morsi's departure. Ragab said she feared Sunday's attack "might open the door for a wave of terrorism similar to the one that took place in the 1990s, when Egypt was rocked by recurrent militant attacks on tourist sites across the country, which severely crippled tourism and threatened security."
In 1997, Islamic militants opened fire at the Temple of Hatshepsut in Luxor, killing 58 tourists and four Egyptians. Luxor, which boasts a wealth of Pharaonic Era sites, struggled for years to lure visitors back.
Many like Ragab fear militants could be in the process of shifting their strategy back toward attacking "softer" tourist and economic targets to once again wreak havoc on Egypt's tourism industry.
© Copyright IBTimes 2023. All rights reserved.
FOLLOW MORE IBT NEWS ON THE BELOW CHANNELS