Deadly Snake Hides Behind Furniture In Kid's Bedroom, Captured [Video]
A couple in Australia was shocked to discover a venomous snake slithering in their child's bedroom.
The snake, which was identified as a small eastern brown, was found in a home in Flinders View, a city in the eastern state of Queensland.
Snake Catchers Ipswitch & Logan reached the couple's home after being informed about the reptile. A video of them capturing the snake was posted on Facebook.
In the clip, the snake is seen hiding behind some furniture before trying to escape from the person recording the video.
"In here, we've got an eastern brown snake in a young one's bedroom. Time to go away mate," the snake catcher says in the video.
The reptile removers said these kind of snakes usually enter homes through open doors and windows. They may also slither in through gaps in garage doors or are carried inside by pets.
The eastern brown – one of nine species of brown snake that live in Australia – are considered to be among the most dangerous reptiles in the world. They belong to the genus Pseudonaja species.
"Snakes don't perceive humans as food and they don't aggressively bite things out of malice. Their venom is used to subdue prey that would otherwise be impossible for a snake to eat," Dion Wedd, curator of the Territory Wildlife Park, Northern Territory, was quoted by Australian Geographic. "If their only escape route is past a human with a shovel, then they are likely to react in the only way they can."
The eastern brown snake's venom is ranked the second most toxic among land snakes in the world, based on tests on mice, the Australian Geographic mentioned.
Earlier this month, a deadly snake was captured after it was found in the lounge room of a home in Australia. Snake catcher Joshua Castle arrived at his friend's mother's home in Caboolture, Queensland, after the snake was reported to have slithered into her lounge room.
"My friend's mother called me as she had a snake in her lounge room. She's from New Zealand, so she was unsure as to what sort of snake it was," Castle told International Business Times, adding the eastern brown snake was seen hiding under the TV unit in the lounge room.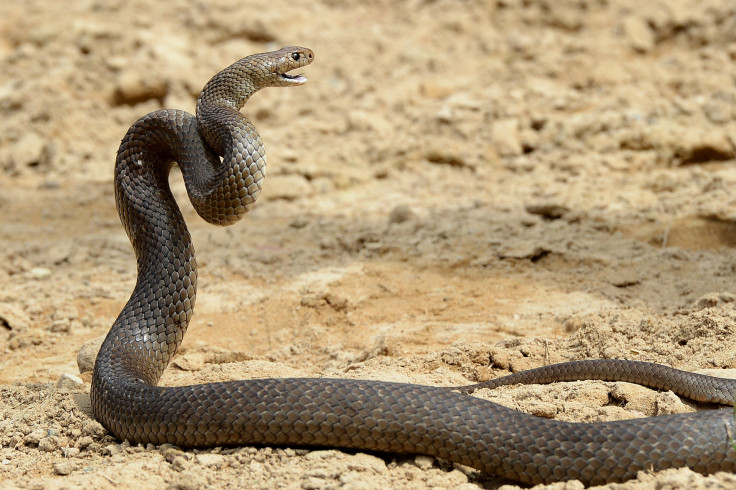 FOLLOW MORE IBT NEWS ON THE BELOW CHANNELS