Dean Potter Quotes And Videos: Daredevil BASE Jumper's Legacy-Defining Moments [VIDEOS]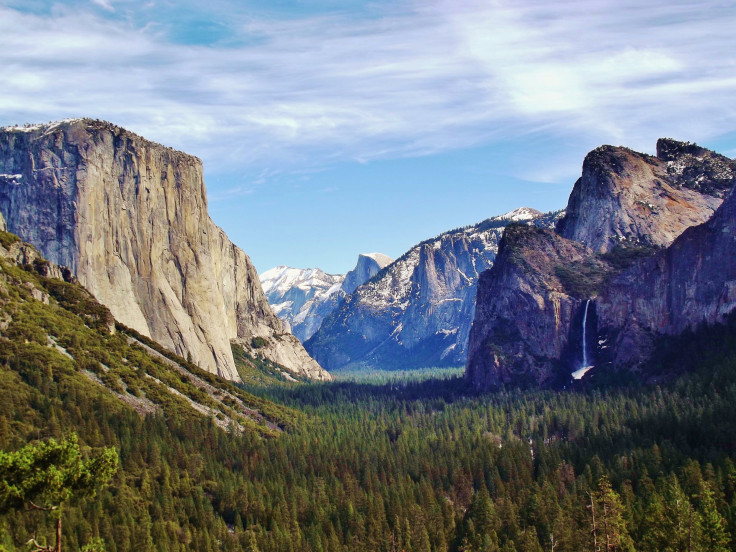 The view from 3,500 feet above the Yosemite Valley floor was one Dean Potter knew all too well. The 43-year-old extreme athlete gained global fame as one of the leading daredevil climbers of his time, having scaled some of the most iconic rock monoliths in the world, such as Yosemite's El Capitan, and in record times.
Potter died Saturday during a BASE jumping accident with his climbing partner Graham Hunt. The two had planned to launch from Taft Point and glide over the rocks and treetops below, but 15 seconds into the stunt, something went horribly wrong. The men collided with a rock wall and were killed.
For an experienced climber who planned every meticulous detail of a jump, the accident was unexpected – but not unthinkable. Low visibility may have been a factor. However, officials were still unclear as to what exactly went wrong, according to National Geographic.
Friends, family members and admirers of Potter and Hunt gathered in the park Monday to pay tribute to the men whose stunts were just as much a part of Yosemite as are the waterfalls and stone walls.
To Potter, Yosemite National Park was more than beautiful scenery. It was a playground with endless potential. Below is a collection of quotes from the daredevil, pulled from selected works on his website, deanspotter.com, and videos of some of his most extreme stunts.
"I know it's whacked to look at the human form and imagine it moving free through the air without dying. But I long to feel equally comfortable untethered on the rock or free-falling in the air – to change the meaning of a slip with an idea."
"Each time I saw a cliff, I wondered whether I could free solo it. My life shaped itself around the understanding that falling means I die. To break the paradigm I had to empty out my essence, rummaging for fundamentals I thought were gone forever."
"[Humans are] too heavy and weak to soar on our own like birds. At the same time, we're doomed to long for that freedom."
"I often trained out beneath my favorite petroglyph, in a sort of landscape-induced mediation. Carved in a sandstone cliff centuries ago, a shaman walks a line, his hands outstretched to the great mystery. Native Americans have told me, 'He is traveling between the material and spiritual worlds.'"
"We who walk the narrow line have stood for free thinking for thousands of years. Let us continue balancing within the world as we try to understand the space between."
"Because of my family's history of heart failure, I've never smoked cocaine. But I named the concept FreeBASE, for the obvious pun of free soloing and BASE jumping and for the massive high I crave."
"Entranced by the flight of a raven, I watch its shadow move effortlessly against golden, shimmering granite. I long to be that free, flying above the cluttered world of normalcy, where so many are half alive."
"Calmly spinning, I scan as far away as I can see. The last rays of the day's sun warm my back and my stare locks onto my own shadow. I follow the lines of my body on the stone in front of me, spreading my arms as wings, and bathe in the beauty of existence."
© Copyright IBTimes 2023. All rights reserved.
FOLLOW MORE IBT NEWS ON THE BELOW CHANNELS