Death Penalty In The US: Which States Still Practice Capital Punishment And What Methods They Use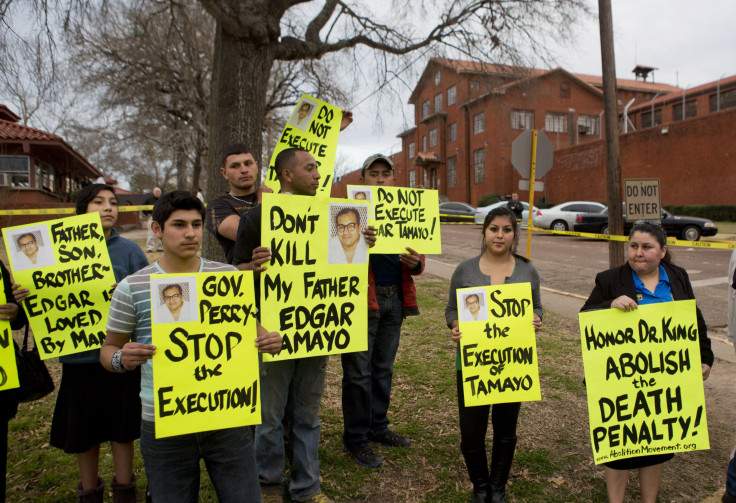 The U.S. Supreme Court will decide this week whether Oklahoma can execute Charles Frederick Warner, who is scheduled to receive a lethal injection on Thursday at the Oklahoma State Penitentiary in McAlester. Warner was convicted in 2003 of first-degree rape and murder for the death of an 11-month-old girl.
"Oklahoma's current execution protocol creates a substantial risk of severe pain, needless suffering and a lingering death," Warner's attorney Dale Baich told CNN. Warner would receive a three-dose lethal injection of midazolam, vecuronium bromide and potassium chloride. Baich appealed to the Supreme Court on Wednesday to halt Warner's execution pending further review of the state's death penalty methods. "Of particular concern is the use of midazolam, which has been involved in several extremely problematic executions, including the gruesome and horrific execution of Clayton Lockett in Oklahoma and the two-hour, prolonged death of Joseph Wood in Arizona in July 2014," Baich said.
Capital punishment in the U.S. has waned in recent years following public outcry after several botched executions involving lethal injections in which the inmates showed signs of pain or struggle. Last year saw the fewest executions in the U.S. in 20 years. Additionally, death sentences in 2014 were the lowest in four decades. But the practice is still legal in 32 states. California led the country with the most death sentences last year, at 14, followed by Florida and Texas with 11 each.
Eighteen states and the District of Columbia do not practice capital punishment. The last state to abolish the death penalty was Maryland in 2013, but the repeal was not retroactive, meaning the state's five inmates sentenced to death row before the law was changed still face execution. The U.S. government and military legal systems can also execute people, and there were 69 people awaiting execution as of October of last year.
Lethal injection has been the primary method of capital punishment since 1976, the year a national moratorium on the death penalty was lifted. Of all the executions carried out in the U.S. in the past 40 years, 1,220 of them were by lethal injection, according to the Death Penalty Information Center. Electrocution was the second-most-common method at 158 executions and is still authorized in eight states. Eleven inmates have been killed by gas chamber since 1970, three by hanging and three by firing squad.
Despite seemingly primitive methods of execution like hanging and firing squad still technically being allowed in a handful of states, lethal injection is the primary method in all death penalty states, although legislation proposed in Alabama would reinstate the electric chair as the primary execution method. All 35 executions in 2014 were done by lethal injection.
© Copyright IBTimes 2023. All rights reserved.