Defending Islam Isn't Political Correctness, Marco Rubio Tells Donald Trump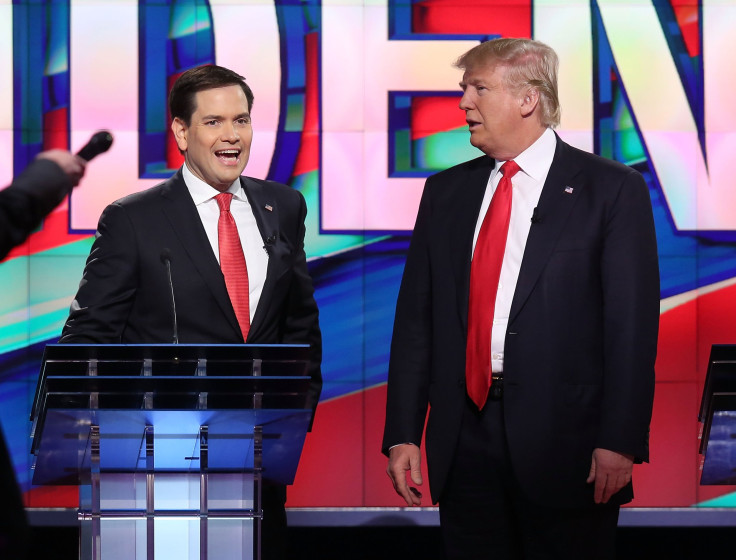 Sen. Marco Rubio of Florida clashed with Donald Trump during Thursday night's presidential debate over the front-runner's comments on Islam. While Trump defended his statement Wednesday that "Islam hates us," Rubio slammed the billionaire businessman for creating a "hostile environment."
"You can be politically correct if you want. I don't want to be so politically correct. I like to solve problems," Trump said. "Islam. Large portions want to use very, very harsh means. Let me go a step further. Women are treated horribly. You know that, you do know that."
Rubio fired back with the retort: "I'm not interested in being politically correct, I'm interested in being correct," he said.
The conservative senator stood by his more inclusive approach to fighting radical Islam, saying Trump's hateful comments would injure American interests by alienating Muslims overseas. Rubio said the United States must work closely with Muslim nations, like Jordan, in order to defeat the Islamic State group, also known as ISIS or ISIL.
"I know that a lot of people find appeal in the things Donald says, 'cause he says what people wish they could say," he said. "The problem is, presidents can't just say anything they want."
The pair also sparred over Trump's controversial comments on expanding the federal law on torture and going after the families of terrorists in order to defeat extremist groups like ISIS. Instead, Rubio suggested expanding intelligence agencies and reviving the U.S. military.
"Barack Obama is gutting our military," the senator said to applause from the audience. "We are going to rebuild that military, and that rebuilt military is going to find terrorists and destroy them."
Rubio's stance on Islam Thursday night dramatically differed from his approach just a few months ago. In late November, he advocated a crackdown on Muslim extremists by not just shuttering mosques but "any place where radicals are being inspired."
"It's not about closing down mosques. It's about closing down any place — whether it's a cafe, a diner, an internet site — any place where radicals are being inspired," Rubio said on Fox News' "The Kelly File" on Nov. 19, when asked if he agreed with Trump's comments on tracking all Muslims in America. "So whatever facility is being used — it's not just a mosque — any facility that's being used to radicalize and inspire attacks against the United States, should be a place that we look at."
This was Rubio's last chance to woo Florida voters in a debate ahead of the state's coveted winner-take-all primary next week. A loss in his home state would not only be embarrassing; it could sound the death knell for his 2016 campaign. Rubio has won only two primaries, in Minnesota and Puerto Rico. He has 151 delegates so far, which is a little more than one-tenth of the 1,237 he ultimately needs to clinch the Republican nomination. That puts Rubio in third place, 208 delegates behind second-place candidate Ted Cruz and 307 behind Trump, according to a tally published by the New York Times.
Florida has 99 delegates up for grabs in a winner-take-all system that means a victory would give Rubio a desperately needed shot in the arm. A Fox News poll released Wednesday showed Trump is dominating the race in Florida. Trump received 43 percent among likely Republican primary voters in the Sunshine State, while Rubio was in a distant second with 20 percent.
However, two other polls showed Trump's lead over Rubio in Florida is shrinking. A Washington Post-Univision News poll released Thursday showed Trump is ahead of Rubio by only 7 percentage points among likely voters in Florida. A Suffolk University poll also released Thursday found Trump leading Rubio by just 9 percentage points, according to CBS News.
Cruz has called on Rubio and Ohio Gov. John Kasich, the other Republican contender, to step out of the presidential race. The Texas senator is arguing that he and Trump are the only two GOP candidates with a realistic path to 1,237 delegates.
"If you don't want to see Donald Trump as the nominee, if you don't want to hand the general election on a silver platter to Hillary Clinton and the Democrats, then I ask you to join us," Cruz said in Florida on Wednesday, according to CNN. "If you were a Jeb [Bush] supporter, if you are a Marco supporter now, if you're a Kasich supporter, we welcome you to our team."
In an op-ed for the Boston Globe, Republican political analyst and media strategist Eric Fehrnstrom, who was a senior adviser to former Massachusetts Gov. Mitt Romney, said Rubio has no path to the nomination, even if he wins his home state next week. The Spanish-speaking senator has struggled to gain momentum among Hispanics and his losing streak continued on Super Tuesday 2 with defeats in Michigan, Idaho, Mississippi and Hawaii. Moreover, Rubio's campaign money is dwarfed by Cruz as well as Trump, a billionaire businessman who is self-funding his race to the White House.
© Copyright IBTimes 2022. All rights reserved.
FOLLOW MORE IBT NEWS ON THE BELOW CHANNELS