Republican Debate Drinking Game 2016: Rules For When To Sip, Gulp And Guzzle During CNN Showdown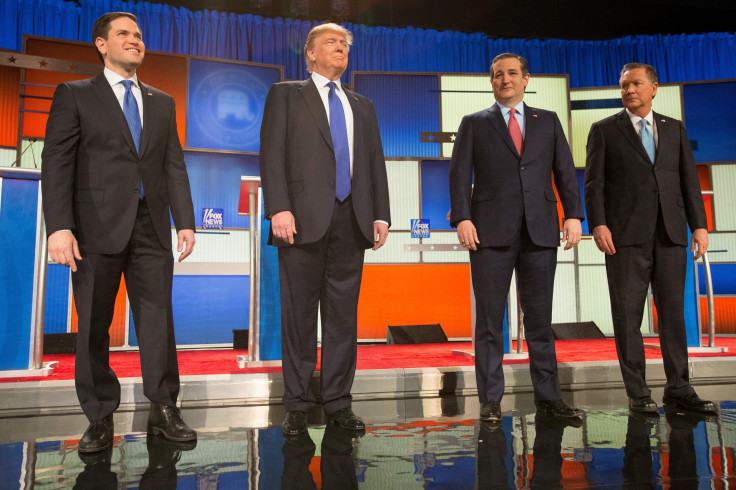 The remaining Republican presidential hopefuls will take the debate stage Thursday night in Miami, five days before Florida's coveted winner-take-all primary. With business mogul Donald Trump leading in the polls, U.S. Sen. Marco Rubio looks to a big win in his home state of Florida during the 12th GOP showdown, to be held at the University of Miami. U.S. Sen. Ted Cruz of Texas and Ohio Gov. John Kasich will also vie for face time ahead of the crucial March 15 contest, when four other delegate-rich states will vote.
Thursday's debate comes on the heels of Super Tuesday 2 primaries in Idaho, Hawaii, Michigan and Mississippi. The prime-time event, which is co-sponsored by Salem Media Group and the Washington Times, will be broadcast live by CNN starting at 8:30 p.m. EST. The stakes are high, the candidate field is narrowing, and the only thing that can make the debate any more exciting is some booze. So whether you're a true politics junkie or you just need an excuse for drinking on a Thursday night, grab your beverage of choice and gather 'round the TV with some friends.
Everyone must pick a candidate and follow these rules, collected from Debate Drinking, Lions of Liberty, Sun Times National and our previous games. Remember to imbibe responsibly and make sure players turn in their car keys for the night or have a designated driver.
Take a sip whenever your candidate:
Interrupts the moderator or another candidate
Doesn't answer the question
Mentions the Florida primary
Criticizes President Barack Obama
Says "Guantanamo Bay"
Insults Planned Parenthood
Calls another candidate a "liar"
Says "ISIS," "ISIL" or the "Islamic State group"
Take a sip whenever any candidate:
Makes a funny face
Gets booed
Brings up his polling numbers
Calls Vermont Sen. Bernie Sanders a socialist
Talks about defeating Hillary Clinton in the presidential election
Repeats himself
Criticizes Rubio for repeating certain policy lines
Panders for Floridians' votes
Finish your drink if:
Trump says he's considering New Jersey Gov. Chris Christie for a running mate
Good luck and safe drinking to all. Look out for another International Business Times-sanctioned drinking game for the final GOP presidential debate on March 21, in Salt Lake City.
© Copyright IBTimes 2023. All rights reserved.