Delegate Count For Democrats, Republicans: Bernie Sanders, Ted Cruz Deal Setbacks To Hillary Clinton, Donald Trump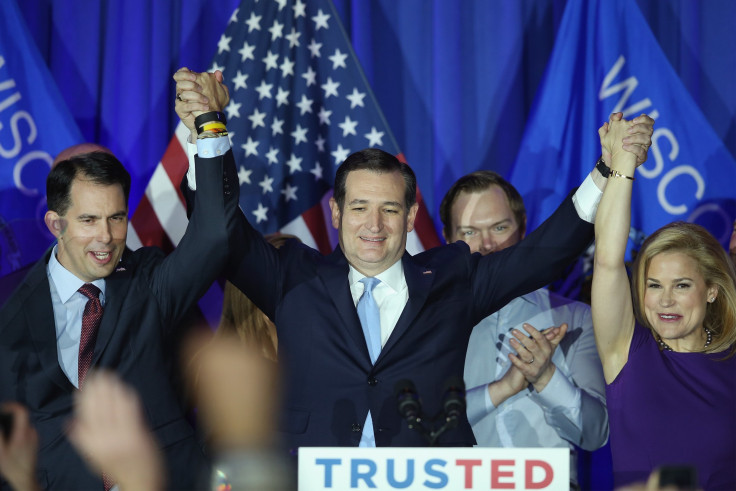 Democrat Bernie Sanders and Republican Ted Cruz won Tuesday's primaries in Wisconsin, beating presidential front-runners Hillary Clinton and Donald Trump. Sanders and Cruz so far collected 45 and 33 delegates in the Badger State, respectively, dealing setbacks to their rivals. Here's the current delegate count for each candidate as of 8 a.m. EDT Wednesday, following the contests in Wisconsin.
Despite Sanders' string of recent victories, Clinton still leads the delegate race with 1,274 pledged delegates and 469 superdelegates, or 1,743 altogether. Sanders now has 1,025 pledged delegates and 31 superdelegates, or 1,056 combined, according to a tally by the Associated Press. A candidate needs to win 2,383 total delegates to clinch the Democratic Party's presidential nomination..
While pledged delegates are tied to their primary votes, superdelegates are free to support any candidate they choose. Sanders has said that Clinton's pile of superdelegates may begin to flip sides in the coming weeks.
"A lot of these superdelegates may rethink their position with Hillary Clinton," the Vermont senator said on CNN in late March. "I think their own constituents are going to say to them, hey, why don't you support the people of our state, vote for Sanders?"
Trump picked up just 3 delegates in Wisconsin's Republican primary so far, bringing his total to 740. Cruz is cutting into the real estate mogul's delegate lead with Tuesday's win. The Texas senator currently has 514 delegates in total. Ohio Gov. John Kasich remains in a distant third with 143, according to AP. A candidate needs 1,237 delegates to secure the Republican Party's presidential nomination.
Delegate results aren't final until the conventions in July, which means there are still two and a half months remaining in the 2016 presidential primary season. Up next for the Democrats are the Wyoming caucuses on Saturday, where there are 18 delegates at stake. Wyoming already held its GOP caucus. Both parties will have their New York primaries on April 19.
© Copyright IBTimes 2022. All rights reserved.
FOLLOW MORE IBT NEWS ON THE BELOW CHANNELS