Democratic Forum 2015: The Best Moments From MSNBC Event With Sanders, Clinton And O'Malley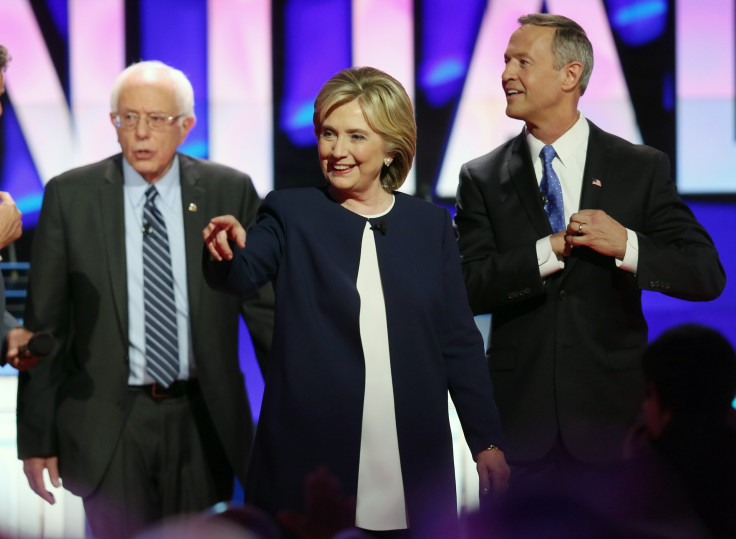 The Democratic presidential candidates met in South Carolina Friday night for a forum hosted by MSNBC. Forums differ from debates in that candidates are not on stage together, making for a generally cordial event as interviewer Rachel Maddow spoke individually with former Secretary of State Hillary Clinton, Vermont Sen. Bernie Sanders and former Maryland Gov. Martin O'Malley.
But despite the lack of sparks, there were a few moments that stood out from the two-hour forum. Here are some of the candidates' standout responses:
Democratic Party Presidential Candidates | InsideGov
O'Malley, who was the first to appear onstage, said, "Contrary to Donald Trump's assertion, the enduring symbol of this country is not the barbed-wire fence but the Statue of Liberty."
He also addressed race relations and law enforcement reform. "This move toward for-profit prisons in our country, I think it's immoral, I think it's wrong," O'Malley said.
Without naming Clinton, O'Malley took a slap at her late move to oppose the Keystone XL pipeline, saying, "Leadership is not about following polls."
Sanders said the most common misconception about him is that he's "grumpy." He criticized politicians who try to restrict voting rights as "cowards" and proposed automatic voter registration for all Americans at age 18. The Vermont independent said his campaign had the energy to expand voter turnout across the country -- including in the South, where Democrats are doing poorly.
"It has never occurred to me to deny someone the right to vote because they won't vote for me," Sanders said.
Sanders also vowed to push for solutions to climate change. "If we are not extremely aggressive in transforming our energy system, the planet may not be habitable," he warned.
Clinton, as the front-runner, was the last candidate to appear. She opened by saying she does not think President Barack Obama receives enough credit "for the great job he has done." She said wanted to "build on the progress that he has made ... but go further."
Maddow questioned Clinton about her close ties to Wall Street, but the Democrat pushed back. "Anybody who thinks they can influence what I am going to do doesn't know me very well," Clinton said.
Clinton also rejected the idea, proposed by Maddow, that she would be "more hawkish" than Obama.
The former U.S. secretary of state refused to say which current GOP presidental candidate she would name as her vice president (a hypothetical question, of course). And asked by Maddow if she considers herself an extrovert or an introvert, she said, "extro-intro-vert."
The forum was hosted by MSNBC at Winthrop University in Rock Hill, South Carolina. Candidates could not respond to one another onstage as part of the forum rules, but there were no time limits for their answers.
© Copyright IBTimes 2023. All rights reserved.