Dennis Hastert Sentenced To 15 Months: What Former House Speaker Can Expect Behind Bars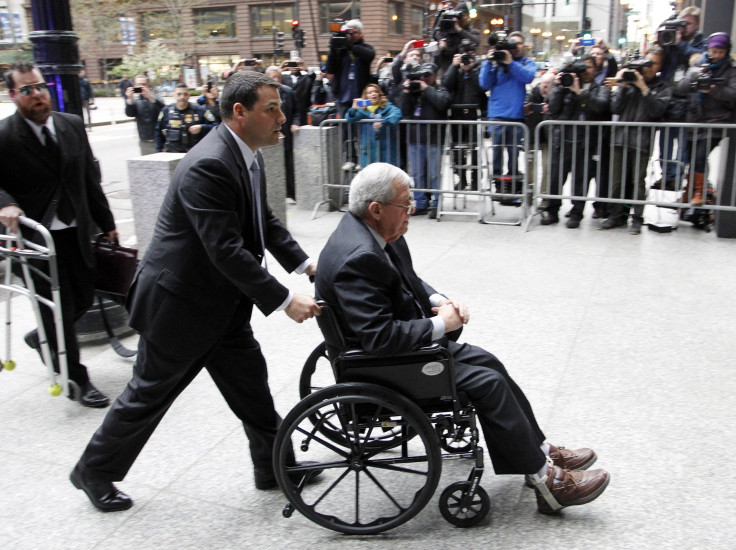 Former U.S. House Speaker Dennis Hastert was sentenced Wednesday to 15 months in prison for paying $1.7 million in hush money to cover up his sexual abuse of high school wrestlers he coached decades ago, the New York Times reported. He joins a long line of Illinois politicians who have served time for various crimes and corruption charges.
Hastert, 74, is accused of molesting at least four boys when he worked as a coach at Yorkville High School in Illinois. Although the statute of limitations prevented him from being charged with any sexual crimes, the Republican pleaded guilty to illegally structuring bank transactions to avoid reporting them to regulators, a felony that carried a maximum sentence of five years.
The former speaker's sentence is fairly short compared with many other politicians' punishments, but if his time behind bars is like those who have come before him, he could easily be shipped off to another state for his time in prison. In the long history of politicians going to prison in the U.S., they have had a wide range of experiences, with some serving relatively easy terms and getting preferential treatment and others spending years behind bars with common prisoners.
In addition to his prison sentence, Hastert, the longest-ever serving GOP House speaker, will face sex offender treatment, get two years of supervised release and be forced to pay a $250,000 fine that will go toward a crime victims fund, the Associated Press reported. It was not immediately clear whether Hastert will be in protective custody in prison, but prisoners who have been accused of sexual abuse of children are often bullied, attacked and sometimes killed by other inmates.
Other high-profile Illinois politicians who have done prison time in recent years include former Govs. George Ryan and Rod Blagojevich and former U.S. Rep. Jesse Jackson Jr.
Jackson pleaded guilty to federal charges in February 2013 after he admitted to diverting campaign funds for personal use, and spent about 17 months in federal prison camps in Alabama and North Carolina, the Chicago Tribune reported. After completing a substance abuse program, his term was reduced by about three months and he won an additional reduction due to good conduct in prison.
Toward the end of his term, Jackson was transferred to a halfway house in Baltimore and then to home detention in Washington to serve the final months of his sentence. After he finished his time behind bars, Jackson had to serve three years on supervised release, which many prisoners must do.
For Ryan, one of several former Illinois governors who have served time in prison, his sentence was longer. He spent five years in prison for corruption charges in a case related to a 1994 highway crash that killed six children, NBC News reported.
Ryan was initially sentenced to six and a half years in prison in 2006, and he reported to a minimum-security federal correctional institution in Wisconsin in 2007. He was transferred to a prison in Indiana in 2008 when new rules prohibited his Wisconsin facility from housing inmates older than 70, CNN reported.
The former governor appealed for clemency from President George W. Bush, but Bush left office before granting clemency. Ryan was released to home confinement in January 2013 and was fully released in July of that year. After finishing his time in the prison system, Ryan told the Chicago Sun-Times about struggles such as not being able to freely visit his wife while she was sick with cancer during his time behind bars.
He also said some guards did not like decisions he had made as governor, which made the beginning of his prison stint difficult, but he mostly had a positive outlook. "They made things a little rough, but you deal with it," he told the Sun-Times.
History of Former House Speaker Dennis Hastert | Graphiq
Like Ryan, Blagojevich was convicted on corruption charges. In 2011, jurors found him guilty of 18 counts related to trying to sell President Barack Obama's former Senate seat and extorting state funds. He was given a 14-year sentence and has been serving his time in Colorado.
He recently tried to appeal his case, but the Supreme Court said last month it would not reconsider his conviction. Blagojevich's lawyer tried to argue that he has done well in prison and that his charges were examples of common political favors, not corruption, ABC News reported March 28.
"He's been a model prisoner, he teaches classes, he helps other inmates, you know, I think he's done everything he can to try and rejoin his family," his attorney Leonard Goodman said, according to ABC News.
These interactions with other prisoners indicate that Blagojevich, like many politicians, has not been separated from other inmates and is largely serving his time much as any convicted felon would.
It is unclear what the circumstances of Hastert's prison term will be, but he will likely need medical attention while in prison. Like Ryan, Hastert is an older man, and he has suffered from poor health in recent months, including a stroke, a bloodstream infection and a spinal infection. Before his sentence was delivered, a number of Hastert's supporters, including his wife, his brother and Tom DeLay, a former House majority leader, wrote letters to the judge asking for mercy. DeLay called Hastert "a man of integrity" and said "He doesn't deserve what he is going through," according to the New York Times.
But Judge Thomas M. Durkin called Hastert a "serial child molester" and did not seem inclined to reduce his sentence due to his health. "Nothing is more stunning than having 'serial child molester' and 'speaker of the House' in the same sentence," Durkin said, according to the New York Times.
He added that Hastert's victims endured damage for years after their abuse, saying: "If there's a public shaming of the defendant because of the conduct he's engaged in, so be it."
The former politician sat in a wheelchair during his hearing and apologized to those he abused after facing one of his accusers, who publicly identified himself for the first time as Scott Cross, a former Yorkville High School wrestler and the brother of Illinois politician Tom Cross. After emotional testimony from Cross, Hastert said he did not specifically remember abusing Cross but he "would accept" his statement.
"I am deeply ashamed to be standing here today," Hastert said. "I know I am here because I mistreated some of my athletes that I coached. ... I want to apologize to the boys I mistreated. I was wrong and I accept that."
After the hearing, Hastert's attorney said he accepted the sentence would be focusing on his health and "healing the emotional damage" from these events.
© Copyright IBTimes 2023. All rights reserved.