Derick Dillard's Dating History Revealed, Jill's Husband Admits To Having Past Girlfriends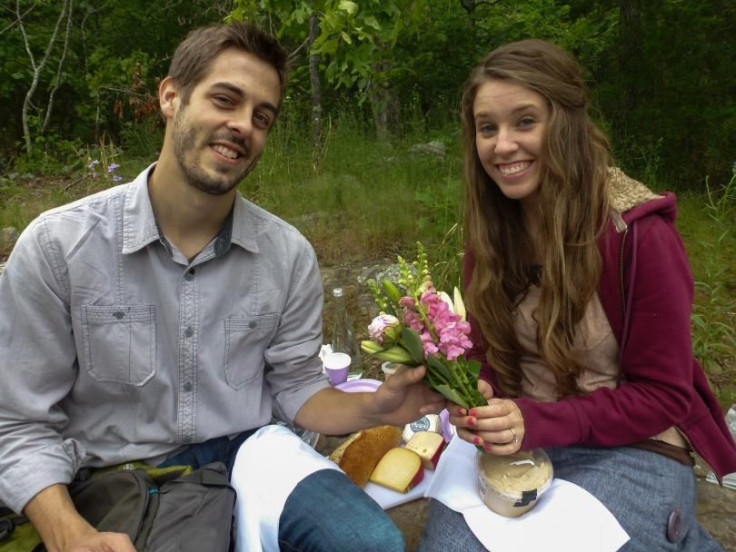 Derick Dillard's first girlfriend wasn't now-wife Jill Dillard. The "Jill & Jessa: Counting On" star admits to having had previous relationships in a new excerpt from the family's book "Growing Up Duggar."
According to the Duggar Family Blog, Derick discusses his past romances in one of several new additions to the Simon & Schuster title. "I had had a couple of girlfriends before meeting Jill," Derick, 27, writes. The father of one adds that having chaperones on his dates with Jill, a method frequently used by the religious family while courting, was new to him, but he was accepting of the change. "Just because I had handled relationships one way in the past didn't mean I couldn't do it differently going forward," he wrote.
Derick's courtship with Jill, now 25, was a big storyline on "19 Kids and Counting." The now defunct TLC series followed Jill as she traveled to Nepal to meet Derick for the first time in November 2013. While overseas, Derick asked Jill's father, Jim Bob Duggar, for permission to officially court Jill and he agreed. In April 2014, Derick proposed marriage and they married two months later. The couple now lives with their 1-year-old son Israel David in Central America on an extended mission trip.
While Derick's excerpt does not reveal if his previous relationships were courtships, it's not uncommon for courting couples to break apart. Jill's brother Josiah Duggar famously ended his courting relationship with girlfriend Marjorie Jackson last year. The couple announced in August 2015 that after four months together and multiple family outings they were going to break up, but planned to remain friends.
Derick's girlfriend reveal wasn't the only bombshell dropped in the revised addition of "Growing Up Duggar." Fellow "Counting On" star Jessa Seewald admits in the book that she used to have unchaperoned phone dates with her now-husband Ben. "The day Ben and I started courting, we began our tradition of calling each other on the phone every night. These were such special times. These calls were not 'chaperoned.' They were private just between the two of us," she wrote.
While the Duggars are not forced to follow certain rules while in a courtship — many couples in the family choose to follow them for accountability reasons — there are some well-known guidelines among fans. According to one TLC post, holding hands is acceptable for engaged couples, while side hugs are OK for everyone. Kisses are normally saved for wedding days.
"Counting On" returns to TLC this summer with Season 2. The network has not announced a premiere date.
© Copyright IBTimes 2023. All rights reserved.