Designer Zang Toi At Work: Five Months For 15 Minutes -- A Rare Peek Into A Designer's Atelier Ahead Of New York Fashion Week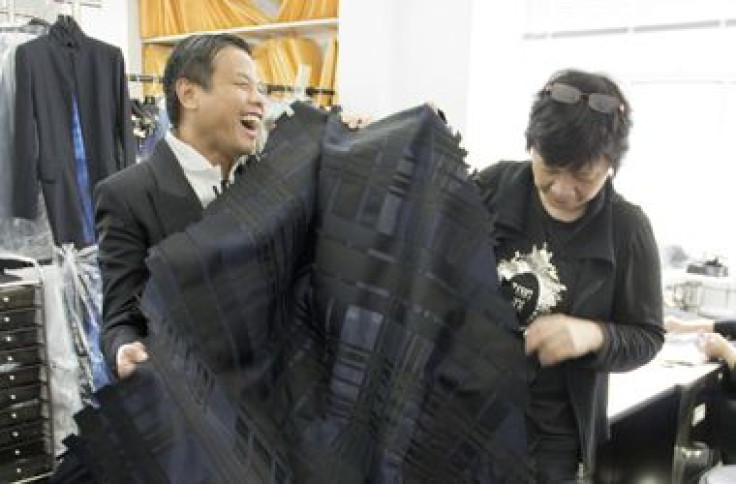 NEW YORK -- The lights go down and all is dark but for the faint light from cell-phone screens. A heavy beat hits the airwaves before the lights come up again, then heads crane and cameras flash as a statuesque woman appears from behind a stage wall, emotionless eyes staring forward as if nobody else exists. She walks onto the catwalk alone, stops, turns, walks back again in a black ball gown with layers upon layers of blue tulle exposed from the high-cut front.
During the 30 to 45 seconds that this lovely, graceful, vacuous-looking woman swathed in yards of silk gazar and tulle passes before us, she personifies fashion in all its brief, inexplicable, arresting dazzle.
Welcome to New York Fashion Week, when everything beautiful and au courant is on full display, when spectacularly clad forms appear as if out of nowhere, flash before us, then disappear into the ether. It's a familiar phenomenon to those of us who obsess over clothes, even if most only see the results on YouTube.
What isn't apparent, even from the edge of the catwalk, is the depth of what we're seeing -- the months of insane work that goes on behind the scenes, from the not-entirely-unexpected (catty men going on ad infinitum about other people's clothes, and later jotting down notes) to the mundane (women do still sit at sewing machines in the Garment District, the only New York neighborhood that continues to fully live up to its name), and the truly surprising (trends, both in fashion and culture, that emerge fully formed in one week).
The range of tasks became apparent when master designer Zang Toi invited the International Business Times to his newly opened atelier overlooking Rockefeller Center ahead of Fashion Week, allowing us to follow his creative process from the inspiration of his Spring 2014 collection to the runway on Sept. 10.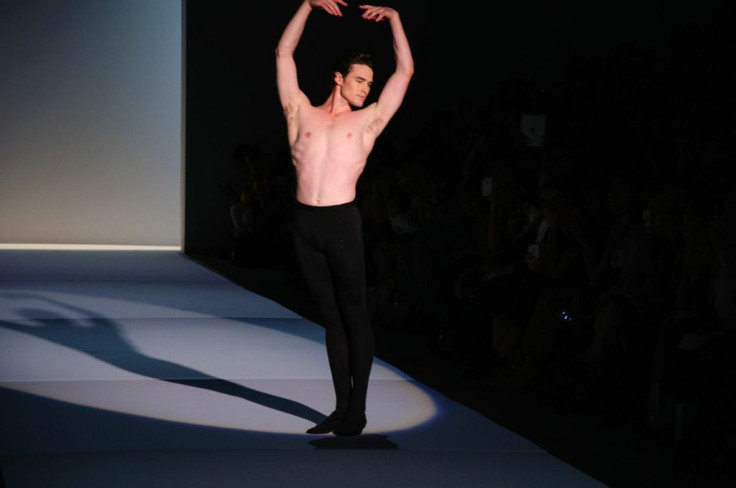 The Idea
Many designers find inspiration while traveling, through other artists and artwork, and, of course, by observing clothes. Toi, who hails from very humble beginnings in Kelantan, Malaysia, finds his inspiration in exercise.
"I get a lot of my inspiration while I'm jogging around the reservoir near Central Park," he said.
This season, he felt particularly inspired by mental images that evoked the strength and grace of ballet, and he was nudged along by his friend and this season's muse, American Ballet Theatre principal dancer Cory Stearns.
After Toi focused on ballet, he contacted Stearns, who invited him to watch a rehearsal in early May. It occurred to Toi that he could incorporate aspects not only of ballet's performance attire but also of a dancer's daily life.
"I wanted to do more about the movement, the gracefulness of the ballet dancer," Toi said. "Not tutus or corsets."
Hunting And Gathering
At this point in Toi's 24-year career, which began when he was a student at the Parsons School of Design, he follows a regimented process. He doesn't pick up a pen once an idea crystalizes: Instead, he travels a few blocks away from his nearly $3 million home on Manhattan's Upper East Side to Loro Piana, an Italian luxury fabric store known for carrying the finest quality cashmere and wool (the company was acquired by French luxury goods conglomerate LVMH back in July). There, he selects fabrics from his go-to supplier based on what he thinks would work best for his idea.
"The first stop is always my favorite fabric house in the world, Loro Piana," he said. In this case, he had already decided this collection should be "drapier, a little more fluid" than past seasons. From that one perfect roll of fabric would come the piece Toi predicted would "bring down the house," although the black ball gown he called "Sleeping Beauty," with tiers upon tiers of blue tulle, is not even a sketch at this stage.
Charting A Course
Now that Toi has his idea and fabrics selected, you might think he'd have already sketched out the dress, or at the least be ready to do so -- that's the procedure for most designers, but not Toi. Before he has even a rough idea of what the collection will look like, the third step in his creative process is mapping out his entire runway show, which he describes as "like writing a mini movie script." Anyone who has seen a Zang Toi show knows they can be as entertaining as a short dramatic film.
"I create the whole picture, a big picture what I want the collection to look like," he said. "It's always about the beginning, the end and something in between. I always like to open with a bang, to catch everyone's attention, to get them in the mood. I sketch the whole entire picture, the whole runway."
This year, Toi's element of drama was opening the show with a 30-second dance -- by Stearns, naturally -- "to set the mood" for ballet.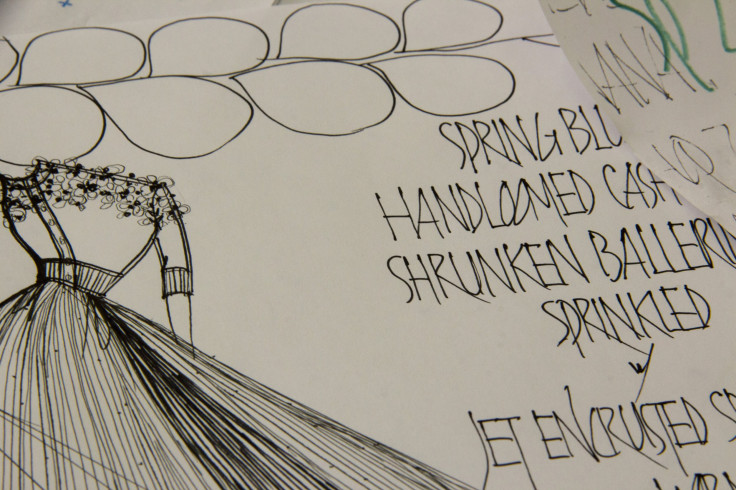 Sketching
The first sketches, therefore, are of the production itself. Toi is attracted to decadence, and not only in his designs. When he gets ready to draw his designs, he is likely to go to a luxurious destination where he can be inspired by his surroundings. "For me, it's to escape for a long time. I immerse myself in what I call the world of beauty," he said. "I stay at the best, most beautiful hotel."
For the Spring 2014 collection, with ballet in mind, Toi flew to Paris, where he stayed at Hotel Le Bristol Paris (chosen because he couldn't stay at his favorite, Hotel Ritz Paris, due to an ongoing construction project). "It's not the Ritz," he mused about Le Bristol. He spent the days "parked in the garden" doing his sketches, being "taken care of by all the good-looking waiters" while making rough drawings just to get his ideas on paper.
Toi insists that having beautiful repasts helps the process, so on several nights he had dinner at his favorite Parisian restaurants, Le Grand Vefour Palais-Royal and Caviar Kaspia, where he sketched between courses. On the only night he didn't stay at one of the restaurants into the wee hours, he went to a performance of the Palais Garnier ballet -- of course.
"I pretty much design the entire collection in only one week from the opening to the grand finale," he said. "Some of them are finished beautiful sketches; some of them are quick sketches," the latter of which he finishes when he gets back to New York.
He spends another 10 days or so camped out at his favorite New York spot, the Hotel Carlyle in the "very quiet" lobby lounge, sketching while eating. "I like to work alone," he said. After his return, he moves his drawing room to his apartment, where he tweaks, edits and re-edits his sketches, either on his living-room table or on the floor.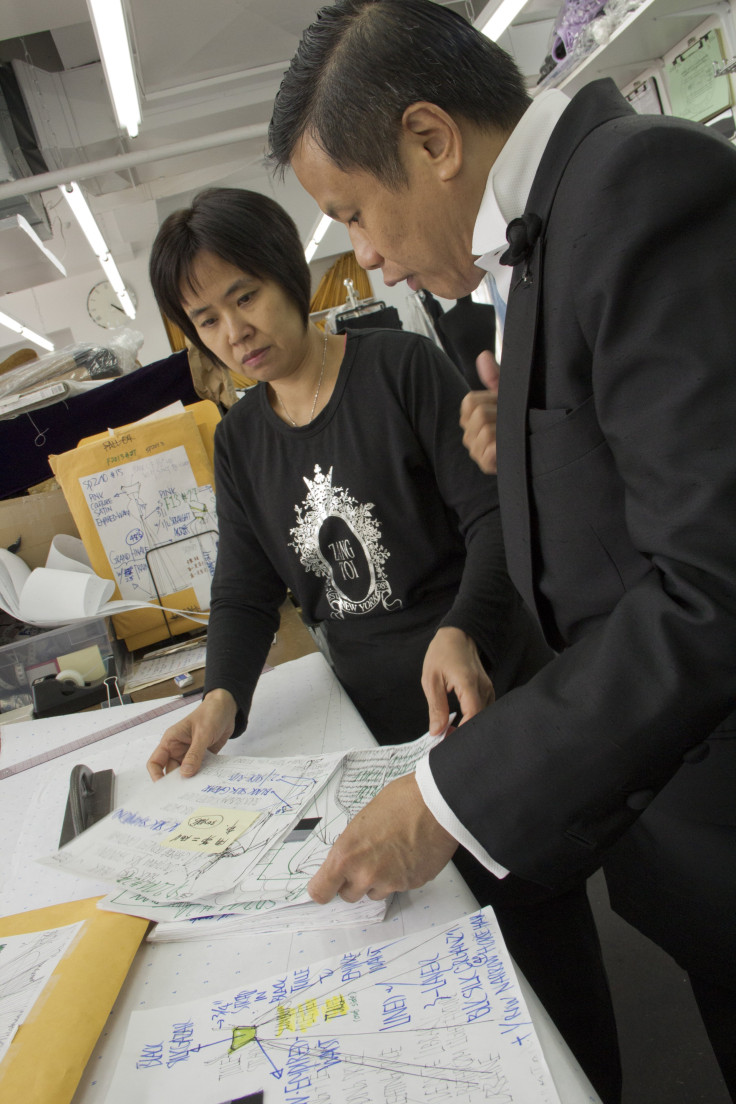 The Team Effort
Up to this point, Toi has mostly been working alone. But he has a loyal team waiting in the wings, all clad in T-shirts bejeweled with his Zang Toi logo and who he calls "angels." He now transforms into a fearless leader who begins his collection process in earnest, "with a military precision."
His house fit model, Deborah Fenker, has worked with him since 2001. His office manager, Joanne "JoJo" Lee, who he describes as his "rock," has been with him for more than 22 years. His pattern-maker and production manager, Eva, has been with him for 19 years; his seamstress Ah Lian, 17 years. Then, of course, there are his assistants -- Steven "VeVe" Ong, Oscar "Jua Jua" Juarez and Nita "Nana" Loyelty -- who assist him on a daily basis. From this point on in the design process, they all play crucial roles.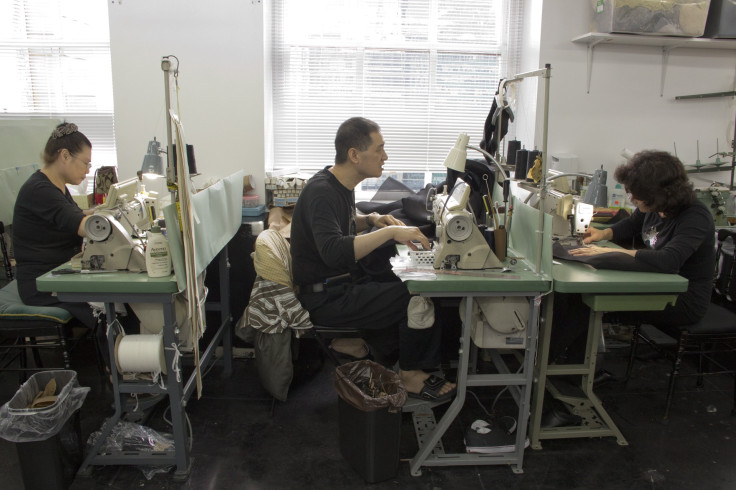 The Design
Now come all of the techniques Toi has mastered over the years as a sartorial superstar and go-to designer for celebrities and high society.
"The first step is very organized," he said. "People don't always think about fashion designers being very organized or very precise, but it is all about precision."
He knows his collection now because he and "Nana" have made a sketch board with his drawings, which are basically finished in the designer's unique penmanship: a boxy version of Mistral typeface in all capital letters.
"There's no 'yes' or 'no' or 'I'm not sure.' Once it's on the board, it's pretty much 100 percent," Toi said. The work now moves to the new studio he moved into this summer, complete with a showroom, an office, a workroom for his staff and a foyer full of mirrors that he calls his "James Bond room."
"I'm fortunate enough to have my own atelier where everything is made in my own studio," he said. "Not one garment is made in a factory." For him, it's a point of pride that his garments are made in the U.S., rather than, say, Bangladesh.
Now the constructing begins -- making his patterns and silhouettes in muslin, then the cheap cotton fabric he uses for live fittings on Fenker.
"I like to do live fittings," Toi said, "so I can see the movement." Deborah, he said, has the "perfect Zang Toi body." In his two-to-three-hour fittings, he intensively works on every detail, "down to an eighth of an inch," and makes notes on the muslin Fenker wears. "I'm very hands-on -- I do all the fittings myself," he said, all the while listening to Fenker. "I'm a male designer; I don't wear the clothes myself. I rely on my fit model to tell me what's comfortable and what's not."
All corrections in pattern-making are discussed and executed by Lian, but Toi still personally hand-draws all patterns himself, focusing on the placement of details such as bows. "Nothing is left up for chances," he said, before working directly with cutters to cut the material.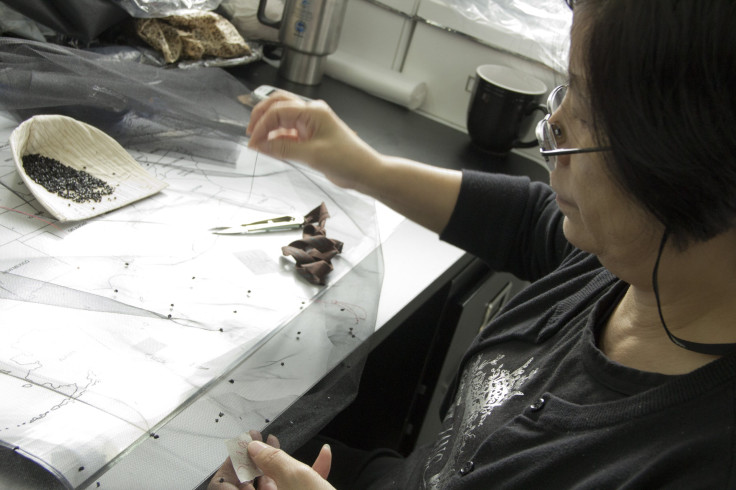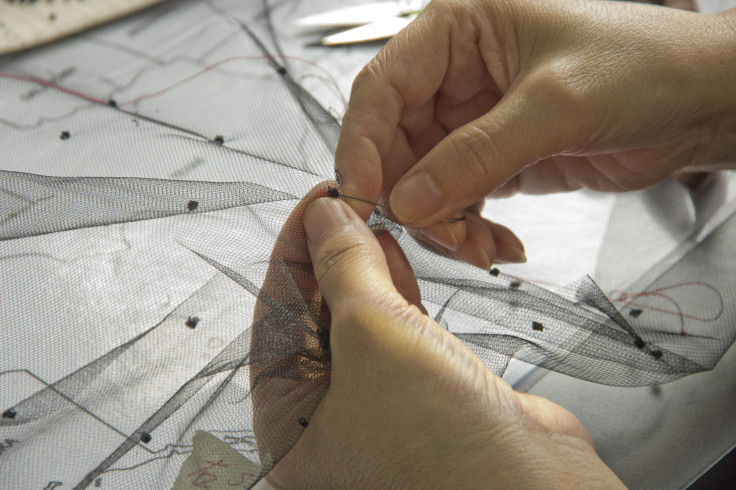 The Away Work
The only part of Toi's process not done in his studio is hand beading, which has been done by his embroiderer, Prakash, in India for many years. Although Toi is not there to watch every move (he stopped going to India in recent years), he oversees the process by phone and emailed photos. "I'll go over every single detail with him [Prakash] to make sure he knows exactly what I want. But I've been working with him so many years, so he knows the standard I want."
Prakash and Toi spend a week or two talking nightly on the phone (usually at 2 or 3 a.m., New York time), and Toi reiterates his pattern and detail notes. Prakash's team of two or three artists work on the intricate details of the dresses or fabric, then send photographs to Toi, who makes corrections via email, as many times as necessary until Toi's level of perfection is achieved.
"It's such a long process" he said. "I'm such a perfectionist. I always check on all my angels. They might be a bit annoyed. I double-check them, I triple-check them. I even triple-check myself. I don't feel guilty triple-checking because to have anything perfect, you don't take things for granted. That's how I think you get to as perfect and as beautiful as you can get."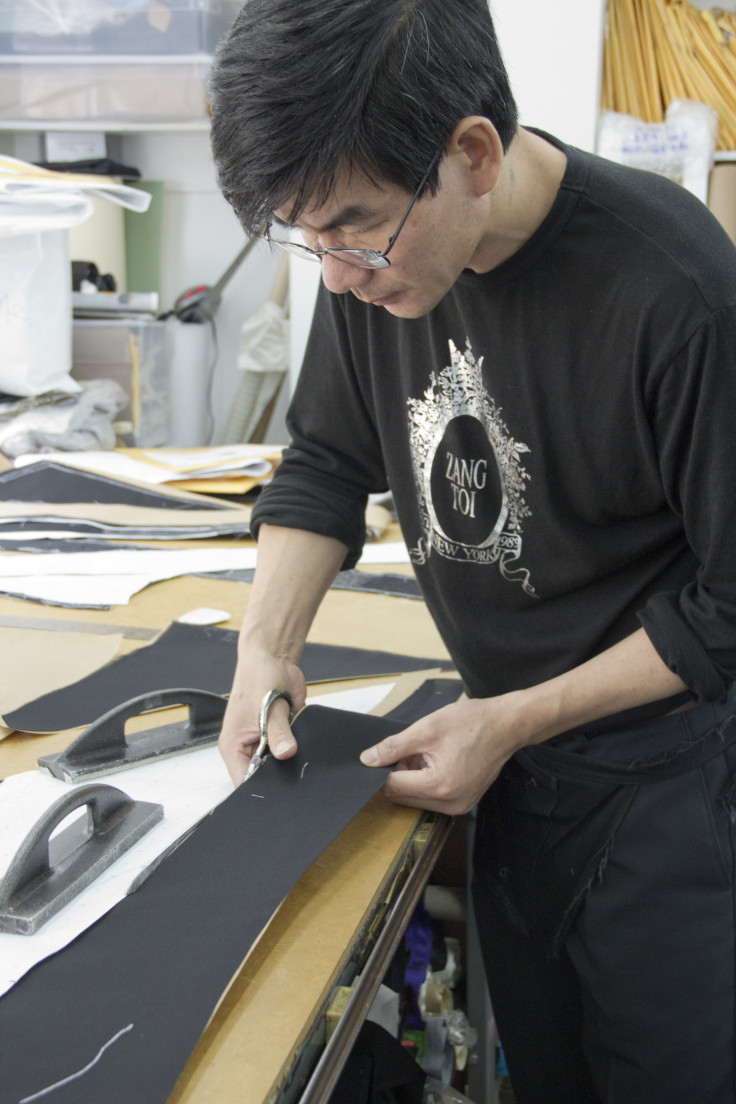 The Final Snipping
The garments have now made their way back from India, and Toi checks once again to make sure the beadwork is up to par, fixing anything as needed.
From here, his seamstress, Lian, and his hand-sewers, Mrs. Lee and Ying Ying, work extensively on intricate details like additional beading and threadwork down to the simplest touch such as sewing on shoulder straps. The team, mostly women, continues working tirelessly, and silently, with great excitement, despite a journalist snooping around their workplace.
From here the laborious work is all in the hands of his team of "angels." Toi pops in and out frequently to watch and triple-check to ensure they're on schedule and following his directions.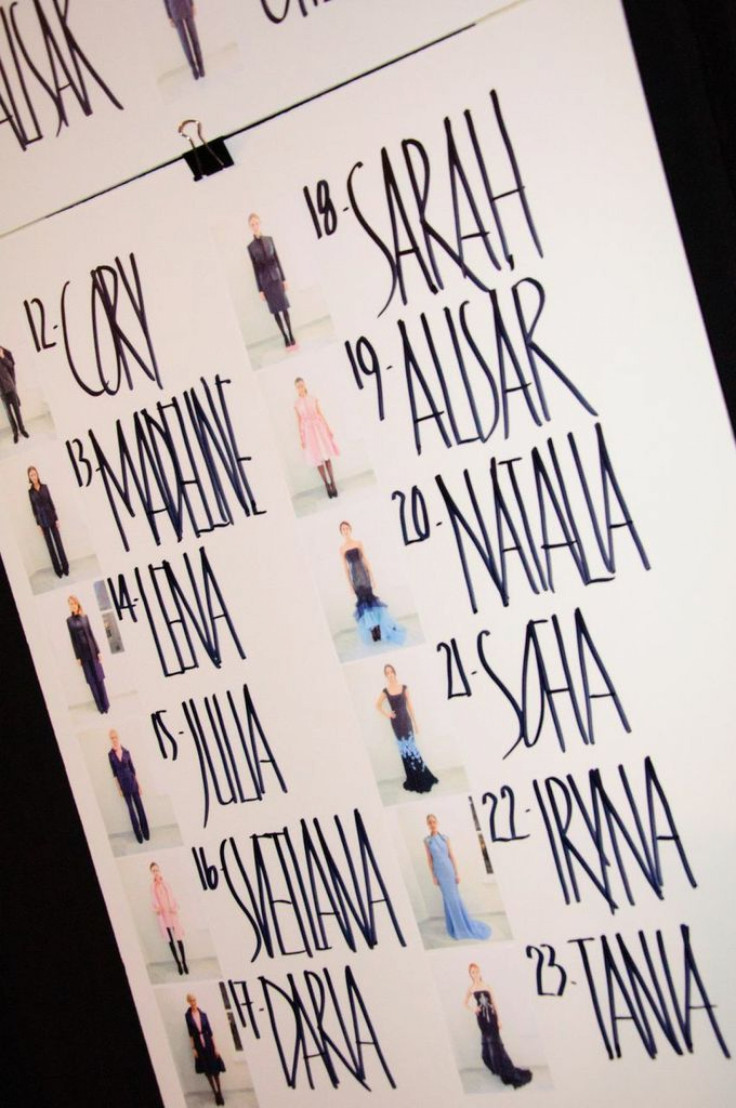 Model Mania
Just a week before his show, a bit surprisingly, things were in great order at Toi's studio on East 48th Street in Manhattan. His sketch board was hung in the same room where many of his creations were completely finished. There, he also had a mood board with inspirations for the models' hair, one being a photo of Justin Timberlake as inspiration for Stearns' hair. His team of seamstresses were in the workroom finishing the remainder while he ran around making adjustments to others.
Toi was in the final stages of casting models for his show, explaining that race does not matter in his casting process, in light of the the New York Times' piece alleging that designers do not use enough black models on their runways. Toi said he looks for models to "seduce" and "wow" his audience.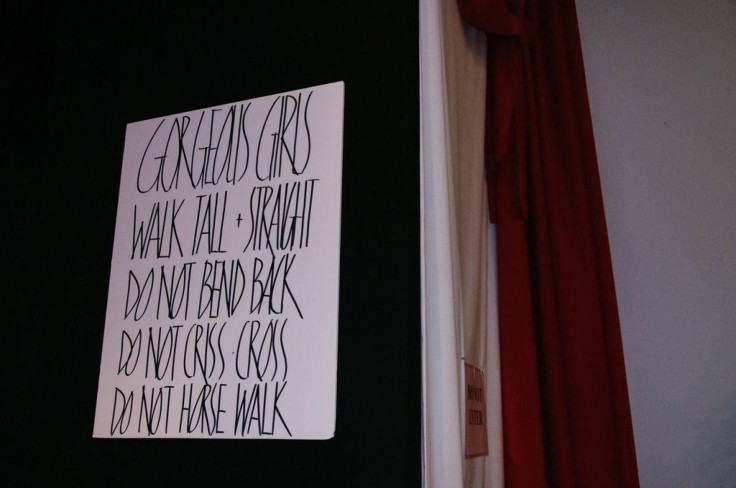 Not coincidentally, in walks "GieGie," the internationally famous Georgie Badiel. The tall, statuesque African-American model frequently walks in Toi's shows, but visits the atelier often to try on designs as well as keep up the spirits of the designer and his staff with her giddy personality.
"My beautiful girl GieGie always comes to visit to try on clothes," Toi said. "GieGie always makes us happy and puts a big smile on our faces."
Badiel also offers Toi advice based on how she feels walking in the dress she will wear -- Toi jokes that she comes to secure her dress and "check the competition" -- in the show. The dress is a blue silk gazar gown with empire pleated tulles and a beaded platinum-hued ballet bow. While Badiel is invaluable to Toi as he finishes his creative process, others are dispensable. Some models who came for the casting call, prescreened by his assistant "Nana," strutted in his showroom for 30 seconds each. One, who said she came from Germany, didn't make the cut -- Toi wrote on her headshot "very pretty, but walk is a bit new." After all, an amateur might not do his dresses justice.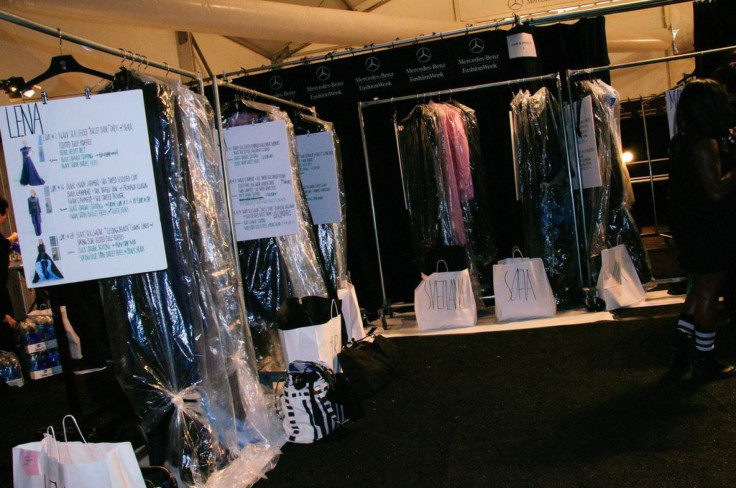 Backstage
The big day has arrived. The clothes are finished and have been pressed by house presser Bill. Everything has been transported from the atelier to The Tents at Lincoln Center for what is officially known, in this advertiser-driven world, as Mercedes-Benz Fashion Week. JoJo has made the rounds to ensure everything is in order, as has Toi. In a few hours, models wearing Toi's ballet-themed collection will walk the runway for 1,300 guests, editors and buyers -- next door to the New York City Ballet.
Toi runs around speaking excitedly with the press and the backstage area is crowded with hair, makeup and nail artists primping Toi's girls. Soon the designer is micromanaging his lead artists, Rudy Miles of Beautybyrudy and Eiji Yamane of Eiji Salon for Rene Furterer. "Make her hair special," he said of model Lena Ashikhmina."She closes the show."
"I make sure my girls are perfect before I get them on the runway to wow the audience," he said. "I'm working very, very hard even at the last moment to do my best and give my girls the confidence to go out there and seduce the audience. It's a tough crowd out there. The fashion crew could be very jaded after seeing so many shows in a week. My girls have to be really special."
During the run-through of the show, which functions as a rehearsal to work with lighting, music and timing, Toi was still checking every last detail, from the lighting ("I don't like the blue light," he yelled to director Judith Rice) and hair and makeup. "Cory's hair is not finished yet, right? I'll die."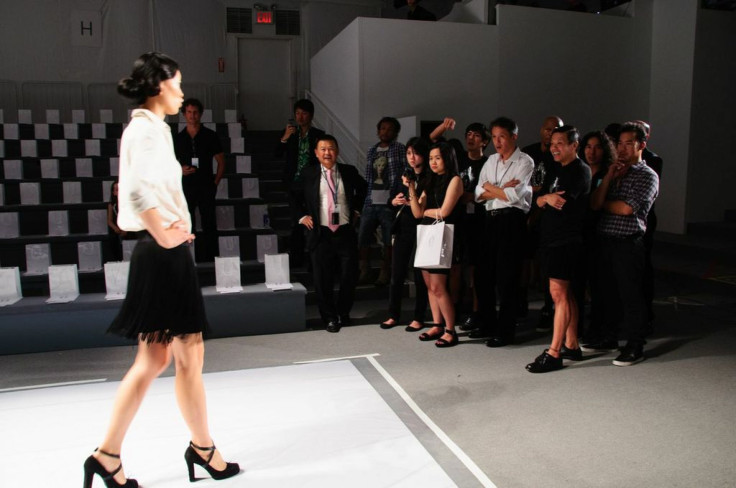 Thankfully, he has worked with this team for several years and they know what he wants. Toi high-fives Yamane and Miles for a job well done.
Showtime
Then the venue clears out, only to be filled with guests for the show, which include "White House crasher" Michaele Salahi and fiance Neal Schon; "Real Housewives of New York" ladies Alex McCord, Sonja Morgan, LuAnn de Lesseps and Romona Singer; and pageant winners Miss USA Erin Brady and Miss Teen USA Cassidy Wolf. Everyone moves their Zang Toi gift bags to take their seats -- Toi's "angels" are watching from the top standing area stage right as the lights go down. Showtime.
Stearns emerges shirtless and performs a ballet routine for nearly a minute. Then, the girls wearing the clothes that took Zang Toi months of hard work to make stroll onto the runway, many to applause, then stop and pose for photographers stationed at the end before returning to the backstage threshold. They come one after another for 15 minutes.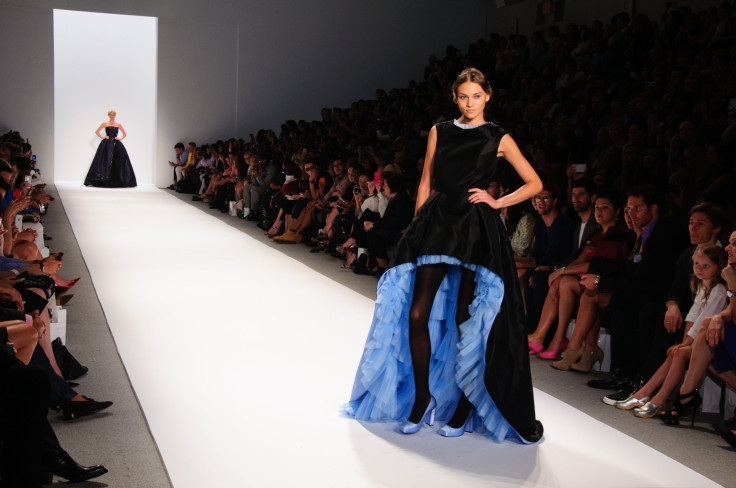 After the finale -- when the audience gets a second look at 13 pieces in the 31-look collection -- attendees jump to their feet to applaud Toi, who strolls out with Stearns to take his bow. Waving and smiling to the crowd, the look on his face conveys sheer happiness after five months of intense work.
"I want my audience to feel beautiful because it's a very pretty collection," he had said weeks before the show. "We are still in the recession, the economy is still not so great, a lot of people are still having a hard time finding jobs. What I do -- fashion -- is nothing that important. Hopefully, it transports my audience to somewhere beautiful where they can forget about all the bad news we hear day in and day out on the news and put a little smile on everyone's face for 10 or 15 minutes."
FOR FREE to continue reading
✔️ Unlock the full content of International Business Times UK for free
offer available for a limited time only
✔️ Easily manage your Newsletters subscriptions and save your favourite articles
✔️ No payment method required
Already have an account?
Log in
© Copyright IBTimes 2023. All rights reserved.