International Business Times offers links to items to help our readers find interesting products. When you buy through links on our site, we may earn an affiliate commission. Here are our
T&C
. For licensing please
click here
.
Thanks to the pandemic, there was a sudden and significant shift in what we need on the desktop. Whether it's from the endless video conferences we suddenly had to join, requests to produce tutorial videos for remote training with voice-overs, or getting into podcasts and YouTube production - there is a new demand for quality audio interface that would preferably also have an affordable price during this testing period.
The PreSonus AudioBox USB 96 came across our desk and while widely known as an excellent audio interface, to our surprise, it turns out to be a very decent headphone amplifier as well. Does it mean that it can be the one desktop audio interface that covers all our audio input and output needs? We dove in to find out.
Rugged Metal Build and Compact Size
The PreSonus AudioBox USB 96 is roughly the size of an Intel NUC, which is a nice size to have on the desktop - not taking up too much space while at the same time large enough to host all its ports and controls. The compact size also means if you wanted to, you can also bring it on the road for some mobile projects - since it only uses an USB bus and doesn't need an external power source.
The all metal casing not only looks premium, they also play the active role of dissipating heat from the unit. The cast aluminum sides even feature ribs that increase the surface area, pulling away more heat from the inner components. The front section of the AudioBox USB 96 features a blue brushed aluminum that gives it a distinct look that's finished off with stylishly razor-sharp corners.
The all metal knobs and classic red LED indicators for power and channel clipping adds a more old-school look, while providing essential functionality. I appreciate the AudioBox's low-key, classic aesthetics as opposed to translucent knobs and multicolored LEDs that you get from other audio interfaces on the market these days.
XLR Ports with Phantom Power
Other than the two XLR female ports, the rest of the AudioBox USB 96 ports are in the rear of the device - leaving the front minimalistic and clean.
These input ports as well as the phantom power that it supplies are what differentiates the AudioBox USB 96 from USB microphone solutions. The XLR ports open up the possibilities to a whole realm of microphones: from a $22 generic condenser microphone from Amazon, to a $3000+ Neumann microphone or better. I found the sound recorded simply with a cheap condenser mic crystal clear as the signal is passed to the computer digitally through the USB connection.
The XLR ports can also take 1/4" jacks allowing for instruments like guitar or keyboard or an auxiliary music player or a wireless microphone to be connected, each with a tactile knob for independent volume control.
Upgraded Sound for Video Conferencing
Having an audio interface like the AudioBox USB 96 means you can make a major upgrade to your video conferencing game. It's low latency means there's no delay in your speech while the XLR inputs make room for dual, simultaneous sound sources.
I have personally used it with Zoom (Which is not known for amazing audio quality) for a live vocal/guitar performance, and it still yielded a great result which a single USB microphone set up would have struggled with.
Clean Input for Podcasts, Recordings or YouTube Production
Other than video conferencing that's not overly demanding for audio quality, I've also utilized the AudioBox USB 96 on more demanding productions for YouTube and Podcasts. The low-latency allows for excellent multi-track recording as there is minimal adjustments needed in post production, and the sound recorded on the AudioBox USB 96 has a distinctly brighter sound with excellent dynamics and energy.
Whether it's for speech or music, I found the sound recorded through the AudioBox more organic compared to USB microphones - which sounds more digitized and stiff in comparison. So if you're looking for a more life-like sound recording, again I would recommend using this audio interface over an USB microphone solution.
Excellent Desktop Headphone Amplifier
Perhaps the most surprising use of the AudioBox USB 96 is as a headphone amplifier. I discovered it during a recording session while using a Focal Utopia headphone (a headphone costing somewhere around the $4,000 mark), surprised at how good the premium cans sounded I proceeded to have more listening sessions with various music with equally great results. The fact that the AudioBox USB 96 can drive an 80 Ohm headphone with ease and open up it's sound fully is quite surprising, and shows its prowess as a headphone amp.
We also tested the PreSonus audio interface with beyerdynamic T1, another audiophile headphone. When comparing the sound with a FiiO M11 Pro DAP and found that the AudioBox opens up the sound of the T1 more with better soundstage and instrument separation.
Since the AudioBox USB 96 has tactile volume adjustments, together with its excellent sound reproduction, it really makes an excellent desktop headphone amplifier.
Final Verdict
When you couple an excellent build with great XLR inputs and even a capable headphone output and put them all together in one device - you end up with a perfect desktop audio interface. The PreSonus AudioBox USB 96 is simple to use, with minimal learning curve while providing a consistent result.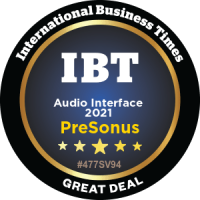 The fact that the whole package costs less than $100 makes the AudioBox USB 96 an easy recommendation as a great deal that anyone looking to upgrade their audio set up should definitely look into. We're proud to award the PreSonus AudioBox USB 96 with our great deal badge.
David is a tech enthusiast/writer who is often on the move, but since the lock-down is on a mission to explore gadgets to improve his 'home work'. This is a contribution to an ongoing IBTimes review series on gadgets for Home Productivity.
All photographs in this article were shot on the ASUS ZenFone 6 unless stated otherwise.