Despite Ethics Rule, Chris Christie's Ticket And Travel To Cowboys Game Paid For By Jerry Jones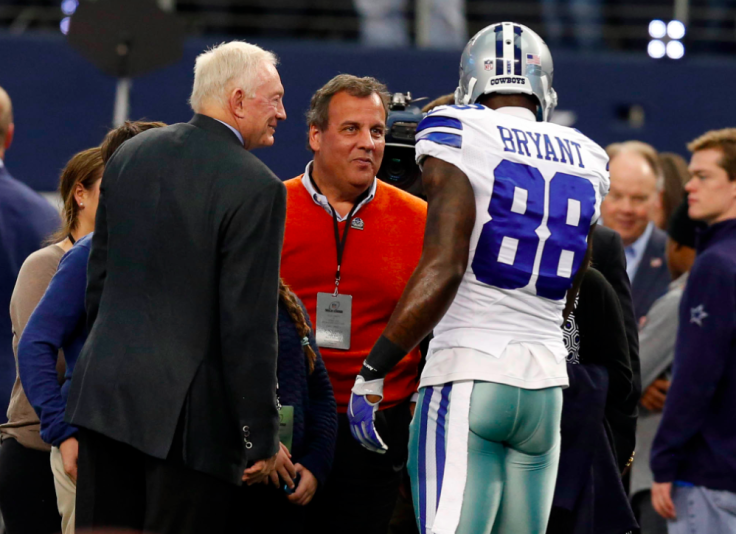 New Jersey Gov. Chris Christie's ticket and travel to the Dallas Cowboys playoff game on Sunday was paid for by team owner Jerry Jones, according to a spokesman for the governor. The gifts from the NFL team owner follow the Christie administration giving millions of dollars worth of tax subsidies to the NFL.
The announcement from the governor's office followed International Business Times first reporting today on Christie appearing in the NFL owner's box despite strict New Jersey ethics rules. Those rules subject public officials to "a zero tolerance policy for acceptance of gifts ... that are related in any way to [an officeholder's] official duties." As governor, Christie has overseen the state's business with the NFL, most prominently during the 2014 Super Bowl.
Christie has cited those same ethics rules in barring other New Jersey officials from getting special access to tickets to events at state-owned arenas.
According to NJ.com, Christie officials said the gifts from Jones are legal since an executive order signed by a previous governor says governors "may accept gifts, favors, services, gratuities, meals, lodging or travel expenses from relatives or personal friends that are paid for with personal funds."
However, along with being a friend of Christie's, Jones is also an owner of a team in a league that has business with the state of New Jersey. Under the state's ethics rules, gifts to public officials are prohibited from "any person or entity" that an official may "deal with, contact or regulate in the course of official business."
© Copyright IBTimes 2023. All rights reserved.