'Devious Maids' Season 4 Spoilers: Actress Teases 'Unexpected Cliffhangers' In Finale Episode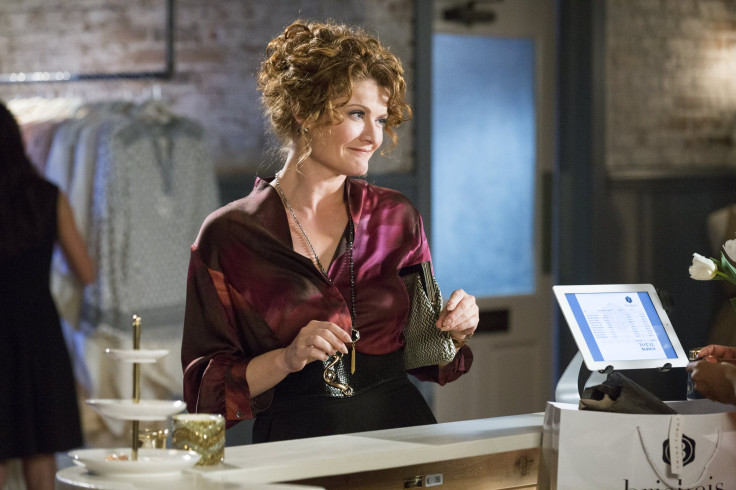 Season 4 of "Devious Maids" is winding down, which means fans of the hit Lifetime series should prepare themselves for another explosive finale. Rebecca Wisocky, who portrays Evelyn Powell on the sizzling summer sudser, confirmed our suspicions of a jaw-dropping conclusion when she revealed that the final episode is so wild, it'll leave viewers yearning for more.
"The cliffhanger this year is … completely unexpected," the actress, who plays everyone's favorite wealthy narcissist, revealed to TVLine. But what chaos will go down in episode 10, titled "Grime and Punishment"? Well, we have another inkling that it might have something to do with finding out who really killed Peri Westmore (Mariana Klaveno).
The socialite — and ex-wife of Spence Westmore (Grant Show) — was gruesomely killed in the Season 4 premiere of "Devious Maids." But it wasn't until episode 2 that viewers found out just how she died. In the second episode of the season, Spence uncovered the corpse of his ex-wife on their bedroom floor laying in a pool of her own blood. Someone had killed the actress by stabbing her neck with her beloved America's Choice Award.
Spence, who was the prime suspect in her murder, admitted to the crime under the supervision of his alleged and corrupt friend Ben (Carlos Ponce). But Rosie (Daniela Ramirez) was determined to prove her husband's innocence and decided to make it her Season 4 mission to clear his name.
The road to Spence's freedom has been a dangerous one. Rosie and Tucker (Carter Birchwell) were nearly killed in a car crash in episode 7 as Ben, a member of The Circle, struck them with his own vehicle. Ben told Frances (Stephanie Faracy), the leader of The Circle, that he had taken care of Rosie's snooping by giving her a warning. But Frances, who had fixed the two a cup of tea, wasn't impressed with his plan. "Did you know Tucker Westmore was in the car?" she asked her minion as Ben began to choke.
"What's in this?" he gagged before collapsing to the floor.
"Tucker Westmore is the key to everything. I told you not to disappoint me," she replied, walking away from the dying cult member.
Do you think Season 4's surprising cliffhanger will involve Peri's death? Sound off in the comment section below. "Devious Maids" airs Mondays at 9 p.m. EDT on Lifetime.
© Copyright IBTimes 2022. All rights reserved.
FOLLOW MORE IBT NEWS ON THE BELOW CHANNELS