'Devious Maids' Season 4 Spoilers: Episode 3 Synopsis Released; What Will Happen In 'War And Grease'?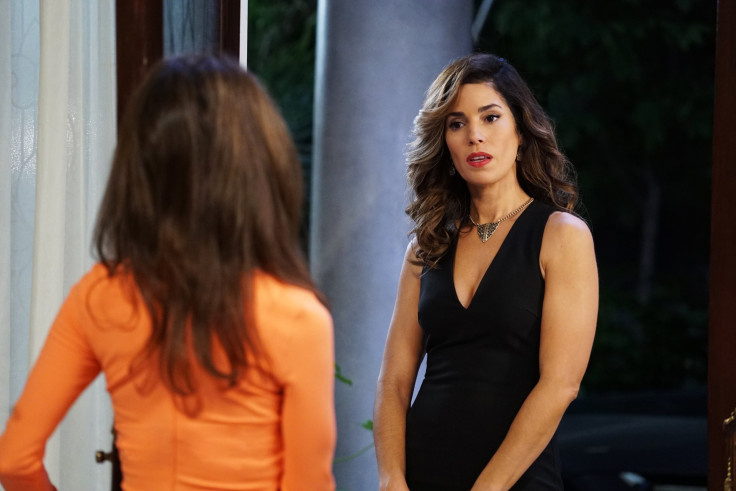 Peri's killer has come forward. But is the person who's taking responsibility for the movie star's gruesome death the actual murderer?
Spence (Grant Show) admitted to killing his ex-wife In episode 2 of "Devious Maids" after being counseled by his not-so-genuine sponsor, Ben (Carlos Ponce). But it's quite obvious the dubious character, who had an eyebrow-raising relationship with Peri (Mariana Klaveno), has motives other than doing what's best for Spence — and Rosie (Dania Ramirez) can see that.
"Ben is washing Spence's brain. That's why he confessed," Rosie tells Jesse (Nathan Owens) in the trailer for the upcoming installment, convinced that her husband's sponsor is up to no good. And in episode 3 of the hit Lifetime series, titled "War and Grease," Spence's wife will go to new lengths to prove her husband's innocence and show that Ben had something to do with Peri's demise.
While Rosie searches for answers, Genevieve (Susan Lucci) will look for vengeance, according to the synopsis. The socialite is livid that Marisol (Ana Ortiz) has decided to go against her wishes and continue dating Peter (James Denton), her ex-husband. So, Genevieve will wage war against her treacherous friend starting with a "revenge wax."
"You said Genevieve doesn't have a mean bone in her body ..." Marisol says to Zoila (Judy Reyes). But Zoila responds that what she said is true — that is, unless you "steal [Genevieve's] man. Then it's all-out war."
That's not the only battle brewing. In episode 3, Carmen (Roselyn Sanchez) and Daniela (Sol Rodriguez) will get into a tiff when Carmen's motherly side begins to reveal itself. After crashing a car, doing drugs and getting involved with boys, Carmen tries to intervene. But Daniela puts Carmen in her place.
"It's none of your business what I do. You're not my mom," she says, unbeknownst to her that her birth mother is standing right in front of her face.
Audiences will also watch as Evelyn (Rebecca Wisocky) comes to term with the consequences of leaving Adrian (Tom Irwin). In the promo video for episode 3, Evelyn learns that her credit card has been declined. And although her financial debacle may seem like a massive inconvenience, it will be exactly what Evelyn needs to help her move forward with her Adrian-less life.
As Evelyn enters an exciting, new chapter of her life, Zoila will find herself smack in the middle of some major drama. In the previous episode, Zoila started growing closer to Kyle's (Brian Hallisay) mother Frances (Stephanie Faracy) — after initially thinking their mother/son relationship was strange. And while Frances admitted to her son that she liked Zoila, she revealed to Kyle that she didn't approve of them dating due to having "other plans" for her "miracle baby."
As Zoila continues her friendship with Frances, we're hoping the mysterious backstory of Kyle's mom unveils itself. Could Kyle and Frances be the Norman and Norma Bates of 2016?
"Devious Maids" airs Mondays at 9 p.m. EDT on Lifetime.
© Copyright IBTimes 2023. All rights reserved.