Did Brian Williams Lie About Hurricane Katrina? NBC Investigation Aims To Find Out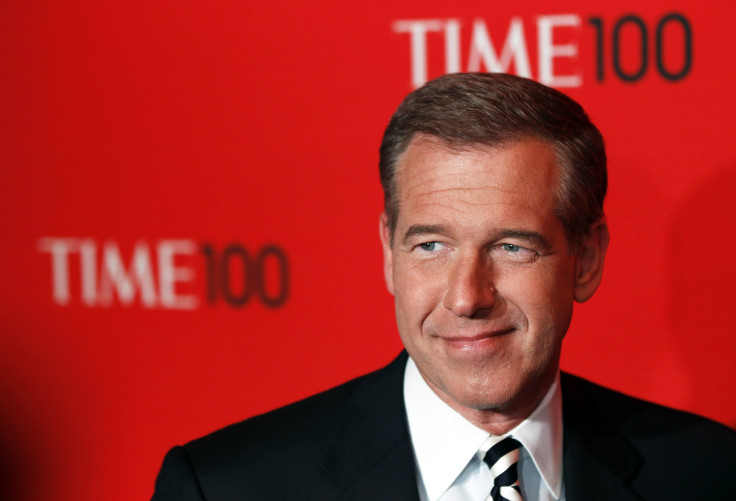 "NBC Nightly News" anchor Brian Williams is now the subject of an investigation by journalists at his own network because of the revelation he spent years pushing a false claim that he was aboard a helicopter hit by a rocket-propelled grenade during the Iraq War in 2003. Williams, who has repeated the story a number of times, apologized for the lie Wednesday, although his attempt to rectify the situation has only expanded questions about his credibility.
"As you would expect, we have a team dedicated to gathering the facts to help us make sense of all that has transpired," NBC News President Deborah Turness said in an internal memo distributed to NBC staff, according to the Associated Press. "We're working on what the best next steps are."
Leading the NBC News probe is Richard Esposito, its own senior executive producer for investigations. He is a veteran of ABC, the New York Daily News and New York Newsday.
"NBC Nightly News" has long been an object of pride for the network, which has been plagued by issues with other flagship programs such as "Meet the Press" and the "Today" show, to say nothing of all the drama surrounding the transitions between Jay Leno and Conan O'Brien at "The Tonight Show" a few years back.
Williams' own star has risen in recent years, leading to regular television talk-show appearances and even a gig as host of "Saturday Night Live," where he poked fun at his own role of self-serious newsman.
Now, though, Williams' embellishment of the helicopter incident has led his employer to investigate him, a probe whose result is as yet unknown. Veterans whose time in Iraq coincided with his own have spent days slamming the anchor, asserting Williams was in fact on a helicopter that didn't take any fire and arrived at the scene of the conflict an hour after it was over. There have since been reports his predecessor as "NBC Nightly News" anchor, Tom Brokaw, has called for Williams' dismissal. However, Brokaw has denied those reports.
The NBC News investigation of Williams is expected to focus on his coverage of 2005's Hurricane Katrina, most likely the event that more than any other propelled his career.
During a subsequent interview with Michael Eisner, former CEO of the Walt Disney Co., Williams twice said he witnessed bodies floating after the devastating storm in New Orleans: "When you look out of your hotel-room window in the French Quarter and watch a man float by facedown, when you see bodies that you last saw in Banda Aceh, Indonesia, and swore to yourself that you would never see in your country."
According to multiple media outlets, the primary problem with Williams' statement is that he stayed at New Orleans' Ritz-Carlton hotel during his time covering Hurricane Katrina. If Williams really looked out his hotel-room window, he likely would have seen water barely deep enough to cover the sidewalk, according to the News Orleans Advocate.
For now, Williams' future is uncertain, as is the timetable for the NBC News probe of the anchor.
"He is the front man of 'Nightly News' and is seen as the primary arbiter of the facts," Kelly McBride, an expert on journalism ethics at the Poynter Institute in St. Petersburg, Florida, told the AP. "For him to get something wrong on something he was involved in casts doubt on his ability to get any facts right."
© Copyright IBTimes 2023. All rights reserved.
FOLLOW MORE IBT NEWS ON THE BELOW CHANNELS