Did Hank Baskett Cheat On Kendra Wilkinson With A Transsexual? Marriage Is Reportedly In Trouble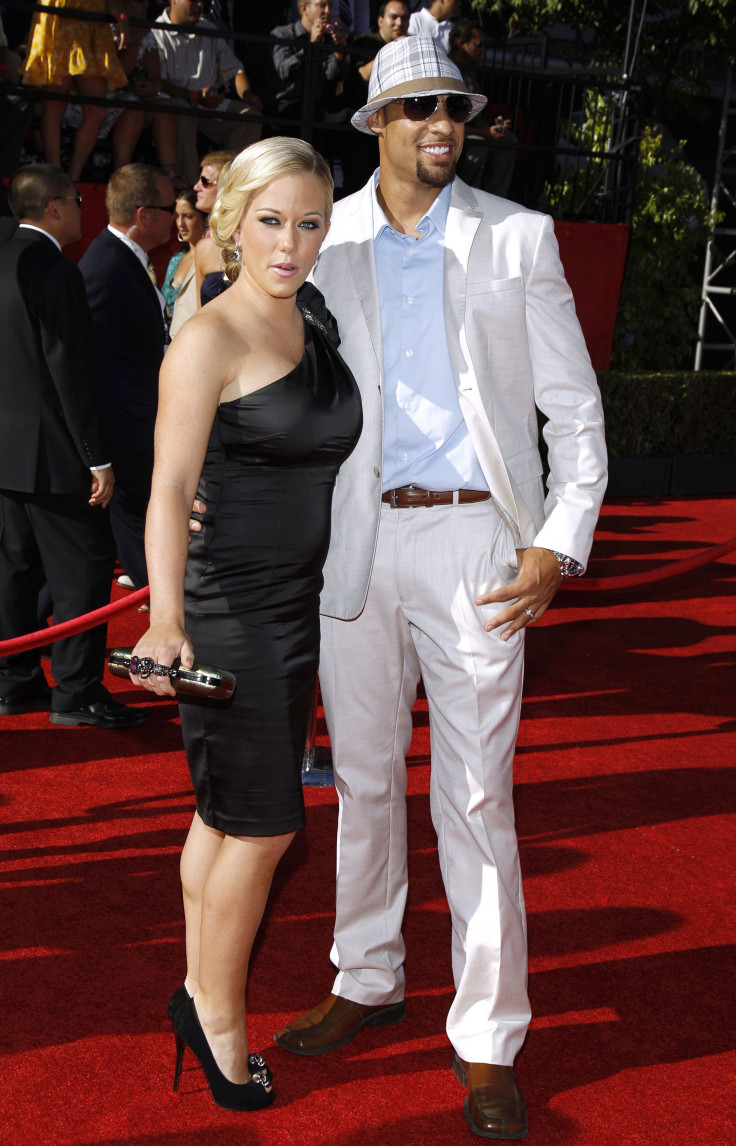 Hank Baskett was seen earlier this week leaving the home he shares with wife Kendra Wilkinson and heading to a motel. Now the real story behind the move may have been revealed: The former NFL wide receiver reportedly cheated on the former Playboy playmate with a transsexual while she was pregnant with their second child.
An insider tells RadarOnline that, Wilkinson, 29, was about eight months pregnant when Baskett carried on the affair. Wilkinson has since given birth to their daughter, Alijah.
"Hank first met up with the woman around April 22 in Sherman Oaks, California," an "insider" asserted. "He called her twice before they met in person. He said he'd seen her YouTube videos online, and he couldn't believe that her photos were real."
Baskett reportedly told friends he had never been with a transsexual woman before, and used a fake name to get in touch with her. They ended up meeting at the home of the woman, whose identity has not been revealed. During their first X-rated encounter, "They mutually masturbated her and he touched her breasts and penis," the source claims. "Before leaving, he gave her almost $500 and told her he wanted to stay in touch."
The two spoke a few times afterwards, and Baskett made sure to be discreet as possible. "Hank always called from different numbers, and at least once from a pay phone," the source said.
"After the Casper Smart transsexual controversy, he started to get freaked out and paranoid she would say something, and called her six times in one day to plead with her not to spill," says the source.
In the past few weeks, two transgender models have come forward claiming to have shared intimate moments with Smart, who broke up with Jennifer Lopez a couple of months ago. He denied the claims, telling Us Weekly, "There is no truth to any meeting or physical encounter. I am weighing my options on the appropriate action to take against Xristina Marie and/or The Sun," referring to the newspaper. The Sun published a story claiming a model named Xristina Marie hooked up with the dancer before his split with Lopez was made public. A second woman, Sofie Vissa, 23, also accused Smart of exchanging sexy photos and intimate text messages with her.
A source went on to say about Baskett, "He promised he would take care of her financially, and even left her $2,000 in a coffee cup at her house. He promised her $5,000 to keep her mouth shut, and even threatened to kill himself if the story got out!"
But it is likely that his wife Wilkinson already knows the truth, and that is why he left their home last week and headed to a motel, looking disoriented. "Now," the insider says, "Hank thinks Kendra knows and she wants to leave him!"
Baskett and Wilkinson were married on June 27, 2009, and have two children together; Hank Baskett IV, 4, and Alijah Mary, who is just 36 days old.
FOLLOW MORE IBT NEWS ON THE BELOW CHANNELS