Did Lady Gaga And Taylor Kinney Get Married? 'Commitment Ceremony' Rumors After Wedding Ring Photo Surfaces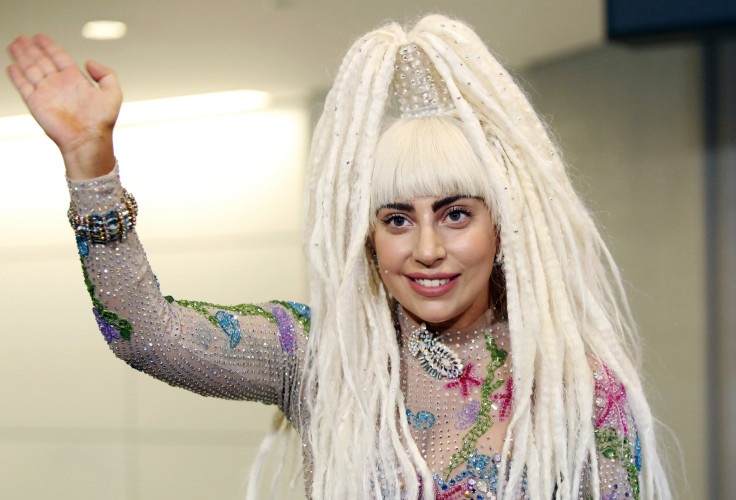 A recent Instagram photo set rumors swirling that pop star Lady Gaga and "Chicago Fire" actor Taylor Kinney secretly got married. It turns out that while there were no formal nuptials, the couple did gather with family and close friends for an intimate ceremony of sorts.
Rumors of a secret wedding began after Sophia Bush, Kinney's "Chicago Fire" co-star, posted a picture of the two from the show's press day to her Instagram account. The picture shows the couple embracing, with Kinney clearly sporting what appeared to be a silver wedding ring. After Bush told fans on Instagram that the ring had nothing to do with "Chicago Fire" and was Kinney's personal ring, many on the Internet jumped to the conclusion that Kinney and Gaga had tied the knot. [Click HERE to see the photo on Sophia Bush's Instagram.]
While the couple is still happily together after three years, it seems any wedding theories are still a bit premature. However, they did reportedly gather some family and close friends for a very private "commitment ceremony."
A source told the Daily Star: "Gaga wanted something visual, a commitment ceremony with the people who matter the most. They don't have time to plan a wedding, so they decided they would have a small gathering to show the people they love most how committed they are to one another. It was just for her family and a few close art and designer friends."
As for when the couple might tie the knot for real, the couple apparently are planning a formal wedding ceremony for next year. Fans will have to wait until then to actually see what a Lady Gaga wedding might look like. For now the pair seem to be happy taking it slow.
What do you think of Lady Gaga and Taylor Kinney's commitment ceremony? Tweet your thoughts to @Ja9GarofaloTV.
© Copyright IBTimes 2023. All rights reserved.