Did Melania Trump Make Fashion Faux Pas At NATO Reception? Experts Discuss
There are mixed reactions to Melania Trump's yellow coat at the NATO reception.
Donald Trump and Melania joined Queen Elizabeth II, Prince Charles, Camilla Parker Bowles and Kate Middleton at a dinner held in Buckingham Palace earlier this week. The first lady chose a yellow Valentino cape for the event, which garnered various reactions from Twitter users and fashion experts.
One netizen said that the FLOTUS looked like a "superhero wannabe" in her yellow cape and added, "It's a bird, it's a plane." Another user said that Melania looked more like Big Bird from "Sesame Street."
"It is not normal for people to walk around wearing coats inside their home. If she had been outside, it would have been lovely. Inside, no," Anne Austin Blair commented on the first lady's outfit.
Several users defended Melania for her choice of wardrobe. According to them, maybe it was cold that's why she opted to wear a coat. Meanwhile, some said that it was just her style and she looked classy and stunning in it.
"It is call style. I bet the white house is cold. Walk in her heels before thou judge," another social media user wrote.
Melania wore a similar coat when she unveiled this year's White House Christmas decorations. However, Robin Givhan, a fashion critic, didn't approve of the coat.
"But more than a silly fashion folly, the coat is a distraction. It's a discomforting affectation taken to a ludicrous extreme," Givhan wrote.
Meanwhile, according to Leah Harper, the Guardian's acting assistant fashion editor, yellow is "incongruous" with the British winter. However, she considered it a "ray of sunshine amid our silly Brexit chaos."
Dr. Aurore Bardey, a lecturer at the London College of London felt that Melania's dress was a good choice. "A cape will make her style more elegant and more royal," she said.
In related news, Melania was attacked by Twitter users for her fake outrage. They criticized the FLOTUS for reacting after her son Barron's name was mentioned but failing to stand for the other teens including Greta Thunberg whom her husband allegedly insulted and mocked.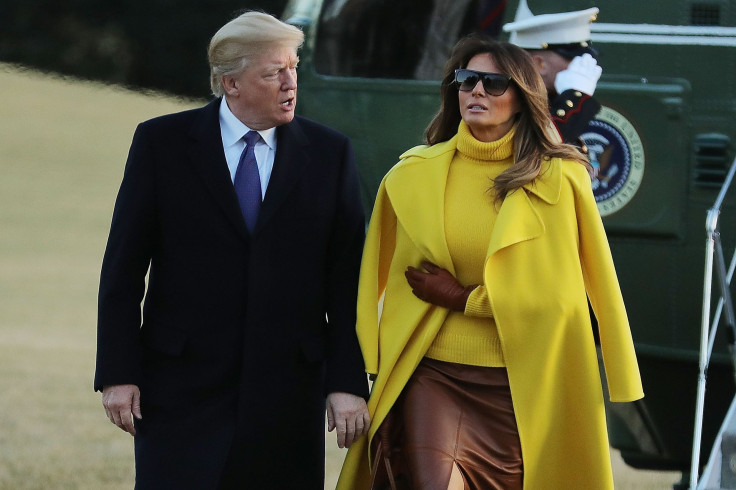 © Copyright IBTimes 2023. All rights reserved.