Did Nikki Bella's 'DWTS' Gig Almost Ruin Her Relationship With Brie Bella?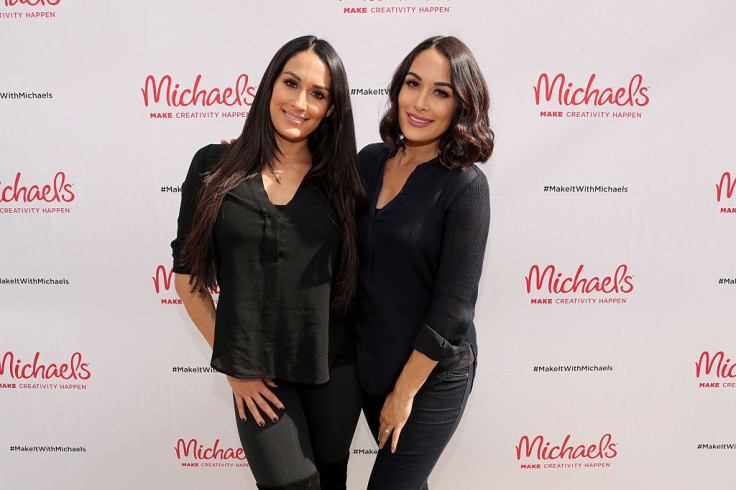 When Nikki Bella first announced she would be on "Dancing With the Stars," she received a ton of public support from her fiancé John Cena. However, behind closed doors, her twin sister, Brie Bella, wasn't too thrilled about her new gig.
In a clip from an episode of "Total Divas," Nikki receives a mysterious phone call that worries Brie.
In the video, Nikki distanced herself from her sister to take the call. While telling the person on the line that she would love to take on the opportunity, she then began to glance at Brie, who assumed something shady was going on.
When Nikki excitedly ended her phone call, Brie asked her what happened, but she attempted to downplay the situation until she finally admitted that she received some major news that will take up a majority of her time.
"I might be booked for the next three months," she told her sister.
Nikki then caved and revealed that she landed a spot on the popular ABC dancing competition. "I got booked on 'Dancing with the Stars,'" she whispered to her twin.
Brie shared the news with her husband, Daniel Bryan, who congratulated Nikki, but Brie felt as if well wishes were not acceptable at the moment.
"It's exciting, but it's like, Bryan, she is supposed to give all her time right now to Birdie Bee and the wine," she stated.
"We literally just cleared our schedules for the next three months to fully concentrate on our two companies we have right now."
Although Nikki felt like the "DTWS" platform would actually help with the businesses, Brie felt the new schedule would have a negative effect, and her sister needed to focus on their companies.
"What's more important? Birdie Bee and wine, which is our lives until the end of time. Or something you're gonna do for three months?" she asked.
Nikki decided to leave, slightly annoyed that her sister wasn't more excited about her opportunity, but she admitted that she had no intention of turning down the show.
Nikki and Artem Chigvinstev were eliminated in week 7 of "DWTS," leaving the WWE star plenty of time for both her companies and planning her wedding.
"Total Divas" airs Wednesdays at 9 p.m. EST on E!
© Copyright IBTimes 2023. All rights reserved.