Did Obama 'Wire Tap' Trump Tower? FBI Director James Comey Slams President's Alleged Wiretapping Claims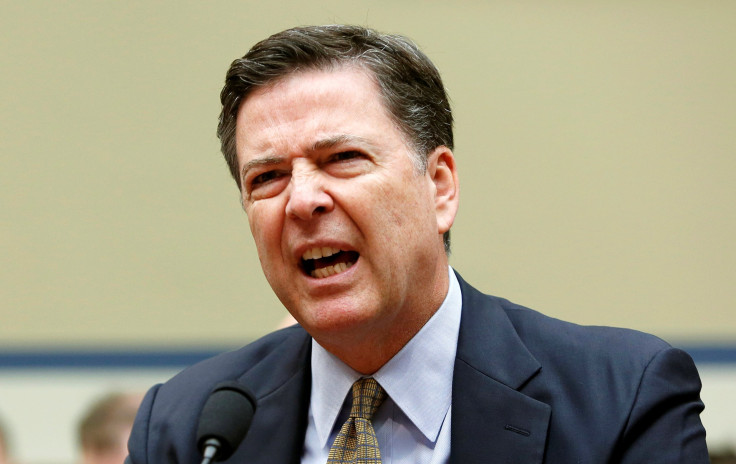 FBI Director James B. Comey has asked the Justice Department in the weekend, to publicly denounce President Donald Trump's claims that the former president of the United States, Barack Obama tapped his phones last year, officials told the New York Times on Sunday.
After Trump's series of tweets alleging former president Obama of tapping his phones during the 2016 presidential elections, Comey requested the Justice Department Saturday to issue a statement regarding this matter. According to Comey, Trump's highly charged allegations are false and could mean that the FBI broke the law because no president is allowed to tap a citizen's phone without the permission of the Attorney General. However, with the permission a president can tap mostly matters related to acquiring foreign intelligence information, according to Title 50 of the U.S. Code "War and National Defense."
The FBI has not issued any statement regarding this matter and Sarah Isgur Flores, spokeswoman for the Justice Department also did not comment on the issue, according to The Times. However, the White House issued a statement calling for answers to the allegations against the Obama administration.
"Reports concerning potentially politically motivated investigations immediately ahead of the 2016 election are very troubling. Neither the White House nor the President will comment further until such oversight is conducted," White House spokesman Sean Spicer said in a statement.
Comey's request followed Trump's allegations in a series of tweets Saturday where Trump accused Obama of "McCarthyism," and "Nixon/Watergate"-style dirty tricks. He also called Obama a "bad (or sick) guy." However, after these serious accusations, Trump has not yet offered evidence to show that his phones were tapped last year.
Obama's Director of National Intelligence, James Clapper denied Trump's allegations and said that nothing of that sort had taken place. "Absolutely, I can deny it," Clapper said at NBC's "Meet the Press," Sunday. Clapper left the government when Trump became president and took office in January.
Obama's spokesman Kevin Lewis called the allegations false and said that the Obama administration had never been ordered to wiretap any U.S. citizen. "A cardinal rule of the Obama administration was that no White House official ever interfered with any independent investigation led by the Department of Justice," Lewis told The Times.
Lawmakers including Republicans doubted Trump's demands for the investigation citing the allegations. Sen. Marco Rubio, Republican of Florida, said he was "not sure what it is that he is talking about" at CNN's "State of the Union" on Sunday. "I'm not sure what the genesis of that statement was," Rubio said.
When asked about this at NBC's "Meet the Press," Rubio said, "I'm not going to be a part of a witch hunt, but I'm also not going to be a part of a cover-up. Suffice it to say I don't have any basis — I've never heard that allegation made before by anybody. But again, the president put that out there, and now the White House will have to answer as to exactly what he was referring to."
© Copyright IBTimes 2022. All rights reserved.
FOLLOW MORE IBT NEWS ON THE BELOW CHANNELS