Dirty Girl Juno Temple charms Hollywood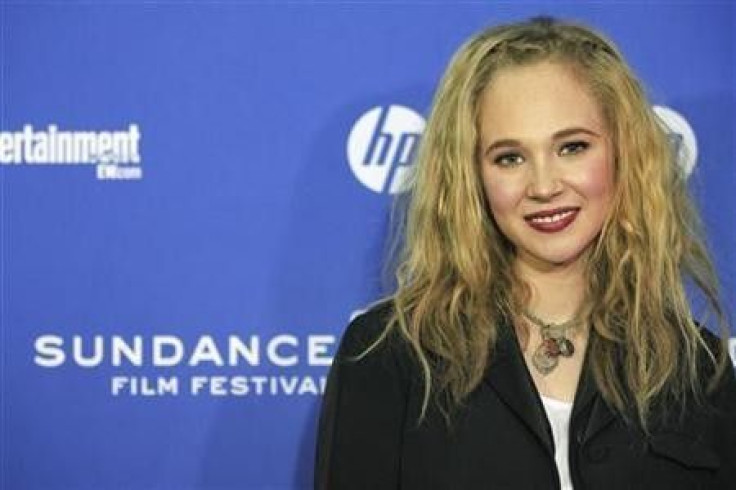 British starlet Juno Temple looks set to become Hollywood's hot new export, with four upcoming films set to hit theaters in the next year, including blockbusters The Three Musketeers and The Dark Knight Rises.
Temple, 22, the daughter of film director Julien Temple and his producer wife, Amanda, made her big screen debut alongside Cate Blanchett and Judi Dench in the 2006 drama Notes on a Scandal, but it was her performance as the precocious Lola in the 2007 Oscar-nominated film Atonement that put her on the map.
After roles in the British franchise St. Trinian's and U.S. prehistoric comedy Year One, the young actress made the move to Los Angeles three years ago and has found new projects in the U.S. independent film scene.
I think people are making such extraordinary independent films right now, sending such amazing messages, and this new talent that's just emerging, it's really cool to be a part of that, said Temple.
Temple went the indie film route for her latest film, Dirty Girl, released in U.S. theaters on Friday, where she plays promiscuous Southern schoolgirl Danielle, who revels in being the subject of high school gossip in a small Oklahoma town.
What young woman wouldn't want to play that role? said Temple, with a mischievous grin.
The Atonement actress, who grew up in southwest England in the 1990s, immersed herself in the sights and sounds of Oklahoma in the 1980s in order to become the character of Danielle, a feat that she credits the film's director, Abe Sylvia, for helping her achieve.
He really took the time to explore Danielle with me, and really figure out who she was, said Temple. It was definitely a ballsy thing for him to cast an English girl.
In Dirty Girl, Danielle finds herself partnered on a school project with Clarke (Jeremy Dozier), an overweight closeted teenager.
The two strike up an unlikely friendship and when Danielle's mother (Milla Jojovich) gets engaged to a Mormon man and Clarke is bullied by his homophobic father (Dwight Yoakum), the pair go on the road to find Danielle's father in California.
RISING TALENT
Amid a new wave of young talent emerging from Britain -- some of them from the Harry Potter franchise -- The Hollywood Reporter in June selected Temple as one of 12 new leading ladies.
With a spotlight on her career, Temple made sure to master the nuances of the Oklahoma accent for the role of Danielle.
I thought the dialogue was priceless, said Temple, with her clear cut southern English accent, occasionally slipping into a soft California drawl. Really figuring out the accent, really making it become second nature, was very important.
Temple's Dirty Girl performance has garnered positive reviews. Variety's Peter Debruge praised her ability to project a real wit burning beneath the layers of makeup and dumb-blonde shtick her character affects around others.
Temple is also emerging in the mainstream film market and was picked by director Christopher Nolan to play Catwoman's sidekick Holly Robinson in the summer 2012 Batman installment The Dark Knight Rises.
I'm not allowed to talk about it, Temple said about her Dark Knight role. I can say that I had an amazing experience making it.
Temple lists Michelle Williams and Oscar-winner Kate Winslet among her inspirations for being mesmerizing, such chameleons, and she also admires her Dirty Girl and Three Musketeers co-star Jojovich.
She's definitely a woman who's not afraid to take a challenge, Temple said of Jojovich.
While Temple has been identified by The Hollywood Reporter as an indie actress to watch, the starlet has no interest in being a celebrity, preferring a quiet private life in Los Angeles.
I don't think I'm a celebrity, said Temple. I want people to see me being all these different characters and have no idea who I am. It's movie magic; it's what movies are about. And I want to be a great actress.
© Copyright Thomson Reuters 2023. All rights reserved.