DLA Piper lays off support staffers to right size operations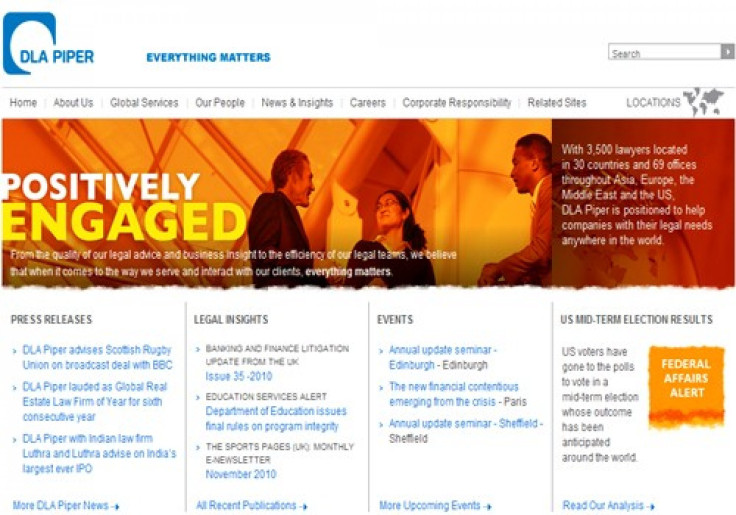 DLA Piper, one of the largest global law firms in terms of lawyers, is laying off an unspecified number of support staffers in the U.S. to right size its operations.
The latest round of layoffs affects DLA Piper's U.S. offices, including Baltimore and Sacramento. The firm had already conducted two rounds of layoffs last year.
According to The Am Law 100 2010, DLA (US) ranked 12th in terms of revenue. The law firm, which boasts of 1251 lawyers, earned $1.014 billion (down 13.9 percent year-on-year) or slightly more than Gibson Dunn, which has 983 lawyers and Sullivan and Cromwell, which has 700 lawyers.
DLA (US) has also not performed too well in terms of revenue each lawyer or equity partner contributes. According to The Am Law 100, in terms of revenue per lawyer, a DLA lawyer in the U.S. generates $810,000 per year for the law firm, on average, while an equity partner in DLA brings in $1.2 million.
In comparison, each lawyer and equity partner in chart topper Wachtell, Lipton, Rosen & Katz brings in, on average, $2.53 million and $4.3 million per year.
DLA (US) has 1251 lawyers and 213 equity partners. Wachtell has 231 lawyers and 86 equity partners.
Does that mean less is more?
Not necessarily. According to DLA's COO and director of U.S. operations, Bob Bratt, what is important is right sizing, an often used word these days by law firms that are looking to achieve the optimal mix of staff, associates and partners.
It is important for us at DLA Piper to ensure that our resources, including support staff, are right-sized in order for us to maximize the performance of our firm. We believe we have achieved an optimal level of support staff to assist our lawyers in delivering the world-class legal services for which our clients rely on us, Above the Law quoted Bratt as saying.
Right sizing applies to both lawyers as well as support staffers. If a lawyer doesn't have work and is unable to bill out the minimum number of hours, then the firm has to let him go. And, in an office where the lawyers have been laid off, downsizing of the support staffers will obviously follow next.
Right sizing in DLA began as far back as 2008 when the law firm let go of five lawyers from its overseas offices. They handled technology, media, and commercial matters. The law firm cited uncertain market conditions and economic challenges as the primary reasons for the layoffs.
In February 2009, DLA laid off 30 lawyers and 110 support staffers in the U.K. The same month, the law firm let go of 80 lawyers and 100 support staffers with its New York and Chicago offices taking the biggest hits. Most of the lawyers worked on corporate, finance and real estate matters - industries that were hurt most by the global economic downturn. Later that summer, DLA followed up with another round of layoffs by letting go of another 21 associates and 100 support staffers.
As for those affected by the latest round of layoffs, there's some 'good' news - DLA said it will help them with outplacement services.
© Copyright IBTimes 2023. All rights reserved.
FOLLOW MORE IBT NEWS ON THE BELOW CHANNELS