'Doctor Who' Season 9 Spoilers: Premiere Date, Trailer And 9 Other Things We Learned At The SDCC 2015 Panel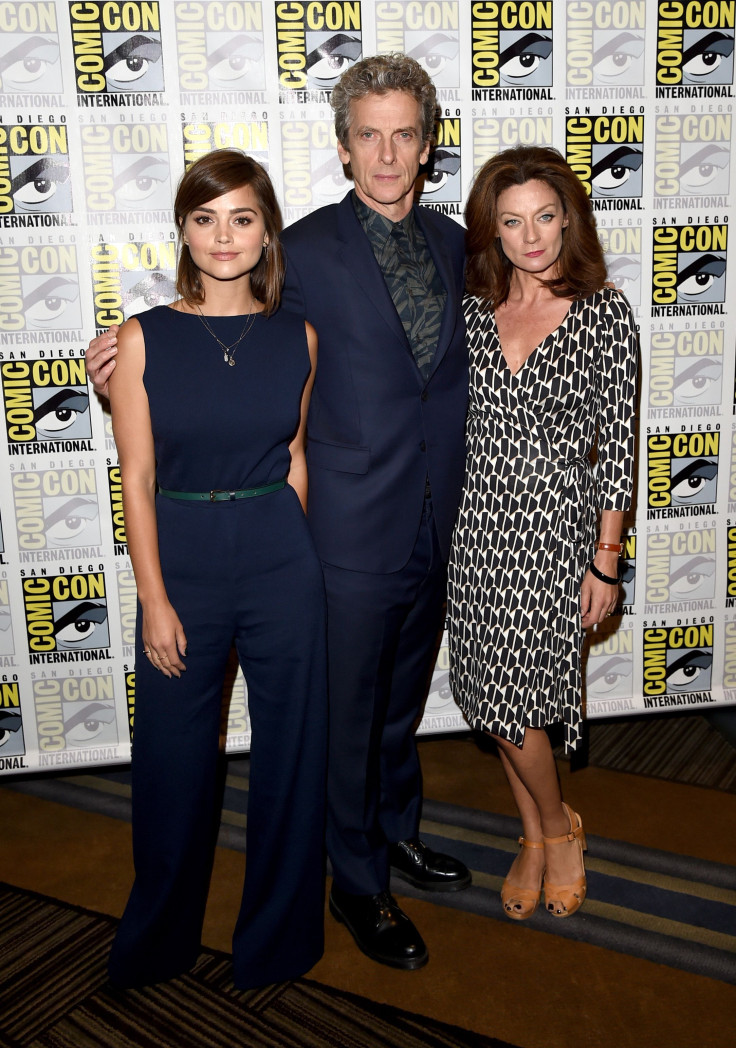 So many Whovian surprises! First, it was Peter Capaldi's first trip to the packed house of Comic-Con's Hall H, then the "Doctor Who" team revealed both a premiere date for Season 9 and a new trailer for fans that quickly went viral through all of time and space.
Showrunner Steven Moffat joined stars Peter Capaldi, Jenna Coleman and Michelle Gomez to answer questions about their characters and what fans should expect for Season 9 and beyond. Here are nine things we learned from the "Doctor Who" panel at SDCC 2015:
1. Capaldi Proves Why He's Perfect Doctor Candidate
The actor is living every fan's dream of one day stepping into their favorite role. Moffat made one special change however, and allowed Peter Capaldi to keep his Scottish accent on the show after 11 previous British accented Doctors. "Who cares?" shrugged the showrunner at the panel. Capaldi reiterated why the show meant so much to him at the SDCC panel.
2. Michelle Gomez Relishes Her Role As The Master
The Master, now reborn as The Mistress or Missy, is back! And sounds like she's going to behave just as badly in Season 9.
3. Changes For Clara Ahead?
After her last traumatic story arc, Jenna Coleman hinted that her character will be taking a new outlook on life in Season 9.
4. Missy And The Doctor Are Due For A Rematch
It isn't over until Steven Moffat says it's over. Gomez even joked about the pair's brief kiss in Season 8.
5. Time And Space Is Not Getting Any Less Scary
The trailer preview brings a lot of new monsters to the Whovian universe. Some scarier than others, according to Capaldi.
"They threw a rubber spider on my face and said, 'fight it'." - Peter Capaldi #DoctorWho #SDCC
6. Maisie Williams Sighting In Trailer!
Since showrunner Steven Moffat was so keen on skirting (via Vanity Fair) any details about her character, it may be fair to asses Williams' part may be more than just a walk-on cameo. Fans, start those theories now as to whether Moffat will bring back the Doctor's granddaughter Susan from the William Hartnell era. Capaldi even mentioned that he would like to have the Doctor travel with his granddaughter once again.
7. Punk Doctor?
Peter Capaldi was once in a punk band with comedian Craig Ferguson. If the Doctor's guitar solo in the trailer was any indication, looks like the show will be tapping into his "London Calling" phase.
8. A New Kind Of Doctor
He likes hugs again? It looks like Capaldi's Doctor is finally warming up to his companion Clara in Season 9.
9. But How About A New Kind Of Doctor? Like A Female Doctor?
Moffat teased that he incorporated some hints into Missy's character. Maybe one day, Whovians?
Check out the new trailer below:

"Doctor Who" returns to BBC America on Sept. 19. You can watch the panel in its entirety here:
What did you think of the trailer? What are you most excited for in Season 9? Answer in the comments below!
© Copyright IBTimes 2022. All rights reserved.
FOLLOW MORE IBT NEWS ON THE BELOW CHANNELS