Does Jon Hamm Have Throat Cancer? 'Mad Men' Star Talks Vocal Cord Polyp Surgery On 'Jimmy Kimmel Live' [VIDEO]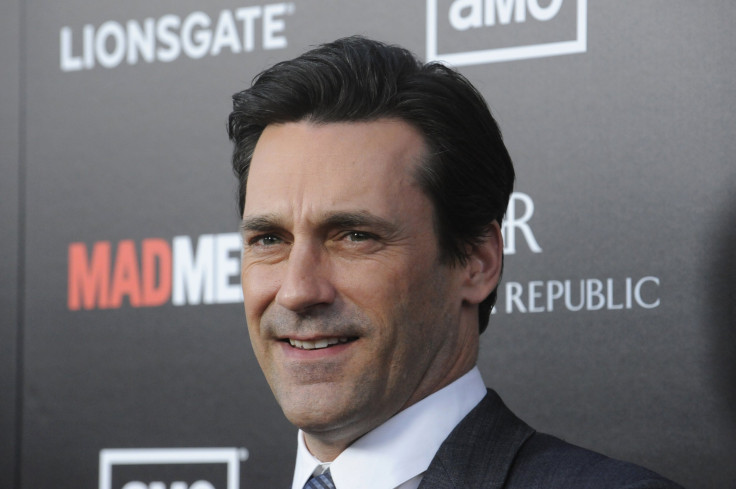 News that everyone's favorite "Mad Men," actor Jon Hamm, was undergoing throat surgery was met with concern this week. But according to the AMC star, his medical scare is not a cancer-related illness despite some published reports claiming otherwise.
Following confirmation of health issues from the 42-year-old actor's rep Tuesday, Hamm opened up about his upcoming surgery during an appearance on "Jimmy Kimmel Live" Wednesday night. "I've got a polyp on my vocal cord, which sounds worse than it is," said Hamm, who went on to confirm he isn't suffering from cancer despite reports from the National Enquirer that his illness is potentially deadly. "It doesn't sound as bad as [reported] which was that I was coughing up blood and probably have cancer," he added.
Despite the actor referring to the surgery as "very routine," the Golden Globe-winning actor, famous for playing ad executive Don Draper, said the rumors about his alleged cancer diagnosis have been a source of concern for his family. "My sister called me and was like, 'Uh, is there something you want to tell us? We just read that you're probably going to die,'" said Hamm, relaying the familial conservation to talk show host, Jimmy Kimmel.
Hamm, who went on the program to discuss the premiere of his new TV series "A Young Doctor's Notebook," also discussed his long-standing series "Man Men" and its upcoming 2015 finale. "I've gotten sort of broad strokes on how it will end," he said, claiming he's been kept in the dark because the show's creator, Matthew Weiner, wants to keep it a secret, a decision he says is fine by him. "I'm actually ok with that. We don't know how our lives are going to end," he said, jokingly referring to the recent cancer reports, adding, "Apparently, I'm going to die of cancer… soon."
USA Today was the first to confirm Tuesday that Hamm would be having a "single polyp removed" and that the surgery was a "routine outpatient procedure." According to a report from Life & Style magazine, the procedure will take place in Boston next week.
© Copyright IBTimes 2023. All rights reserved.