Does Pope Francis Support Gay Marriage? Past Statements Reveal Inconsistency On The Issue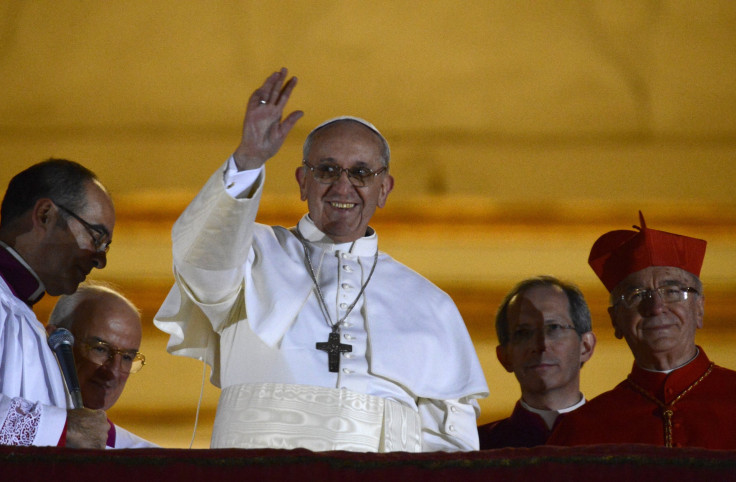 The stances of Cardinal Jorge Mario Bergoglio on a wide range of issues are coming under intense scrutiny now that the Argentine has been named Pope Francis. And news reports from before his ascendancy to the papacy reveal inconsistent statements.
A news report from 2010 suggests that Bergoglio may support a limited version of gay marriage, a position that would represent a major shift from his predecessors. But another report from that year indicates that he also had some harsh words to say about the practice, especially if it were to allow adoption by same-sex couples.
While serving as archbishop of Buenos Aires, the man who is now Pope Francis appears to have signaled a willingness to accept same-sex marriage with certain restrictions, according to a May 6, 2010, report by the Uruguay-based news agency MercoPress.
"Buenos Aires Archbishop Jorge Bergoglio would have accepted homosexual marriage as long as it did not allow adoption, according to sources close to the Argentine cardinal," the MercoPress story reported.
The occasion came on the heels of a May 5, 2010, vote by Argentina's lower house of Congress that would have legalized the practice, which is antithetical to the church's core beliefs. The bill eventually passed.
But as the world's views on social issues such as gay rights and marriage evolve, the church is finding its positions to be increasingly at odds from those of many of its faithful, contributing to what many observers describe as a divide between the leaders and the led that will be an important focus of the new pope's efforts.
At the time of the 2010 discussion in which Bergoglio reportedly signaled support for a form of gay marriage, Argentine Bishop Antonio Marino explained the church's stance.
"This is cultural and conceptual revolution with which the church is not in agreement," he said, according to MercoPress, going to explain that the "worst possibility for the church is that these [homosexual] couples may be able to adopt children."
Marino then took a step further, explaining that if adoption by gay partners were to be allowed, the decision would be based on "denying scientific evidence and denying the child the right to grow up and develop psychologically and sexually, which requires the presence of a masculine and feminine" role model.
And it appears that Bergoglio seconded some of those concerns during the debate over the marriage equality legislation, which he at one point called on Catholics to oppose, according to On Top magazine.
The proposal to approve gay marriage was "a move by the Father of Lies which aims to confuse and deceive the children of God," Bergoglio wrote in a 2010 letter urging Catholics to oppose the measure, On Top reported. "Let's not be naive, we're not talking about a simple political battle; it is a destructive pretension against the plan of God. ... At stake are the lives of many children who'll be discriminated against in being deprived of the human growth that God wanted to be given through a father and a mother."
The apparent feelings of conflict experienced by Bergoglio were rooted in his feeling "trapped" by the gay marriage debate in Argentina, a "confidant" told the Argentine magazine Noticias. "He has nothing against homosexuals or transvestites and has never discriminated against them in his pastoral duties," the confidant said.
© Copyright IBTimes 2023. All rights reserved.
FOLLOW MORE IBT NEWS ON THE BELOW CHANNELS