Donald Duck Day 2017: 12 Lesser Known Facts About Disney's Timeless Yellow-Billed Cartoon Character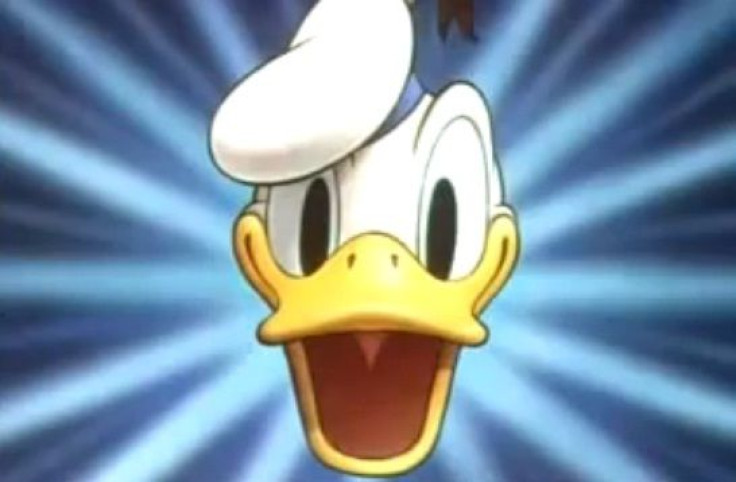 Donald Duck appeared for the first time on the big screen on June 9, 1934, in the cartoon "The Wise Little Hen." He turned 83 today. To mark his birthday, this day is celebrated as the National Donald Duck Day across the U.S.
Donald, who's often represented wearing a sailor suit and a red bowtie, is the only TV cartoon character to represent a major American university sports team – the University of Oregon Ducks. Donald first appeared as a drawing in a May 1934 issue of Good Housekeeping magazine promoting the film "The Wise Little Hen." AN interesting fact about Donald is that he has appeared in more films than any other Disney character.
Read: 'Mouse Mingle' Is The Dating App Helping Disney Fans Find Love
One of Donald's famous sayings is "Oh boy, oh boy, oh boy."
Here are 12 lesser-known facts about one of Disney's most beloved characters:
1. Donald has 225 films to his name, according to IMDb.
2. Donald Duck's full name is Donald Fauntleroy Duck. Disney first revealed Donald's full name in the 1942 film "Donald Gets Drafted."
3. Donald is an American Pekin duck. His species was historically bred in China but became a popular commercial duck breed for egg and meat production in the U.S. after it was first brought to Long Island in 1873.
4. Donald has an asteroid named after him. Asteroid 12410 was named Donald in 1995 and is located in the asteroid belt between Mars and Jupiter.
5.Donald won an Oscar for the 1943 animated short Der Fuehrer's Face, which was originally titled Donald Duck in NutziLand.
6. Donald co-hosted the Oscars in 1958, appearing at the movie awards ceremony on film alongside the night's other hosts - Bob Hope, Jack Lemmon, David Niven, Rosalind Russell, and James Stewart.
7. In 2005, Donald was given his own star on the Hollywood Walk of Fame.
8. Walt Disney created Donald around Clarence Nash's "duck" voice. Nash voiced Donald from 1934 to 1983.
9. Donald's family circle includes his parents, sister, and nephews. His mother is Hortense McDuck and his dad is Quackmore Duck. His sister is Della Thelma Duck. His nephews – Huey, Dewey, and Louie – are best recognized from the XD show "DuckTales."
Read: Disney Movies 2017, 5 New Family-Friendly Films And Sequels The Studio Will Release
10. "One of the greatest satisfactions in our work here at the studio is the warm relationship that exists within our cartoon family. Mickey, Pluto, Goofy, and the whole gang have always been a lot of fun to work with. But like many large families, we have a problem child. You're right, it's Donald Duck," Walt Disney once said of the character.
11. A special microphone, The Neumann TLM-170, was used to record Donald's voice.
12. Donald's better half Daisy Duck was called Donna before she became famous. She first appeared in "Don Donald," a 1937 short film.
© Copyright IBTimes 2023. All rights reserved.
FOLLOW MORE IBT NEWS ON THE BELOW CHANNELS