Donald Trump And African Americans: Black Voter Polls Reflect GOP Nominee's Controversial Quotes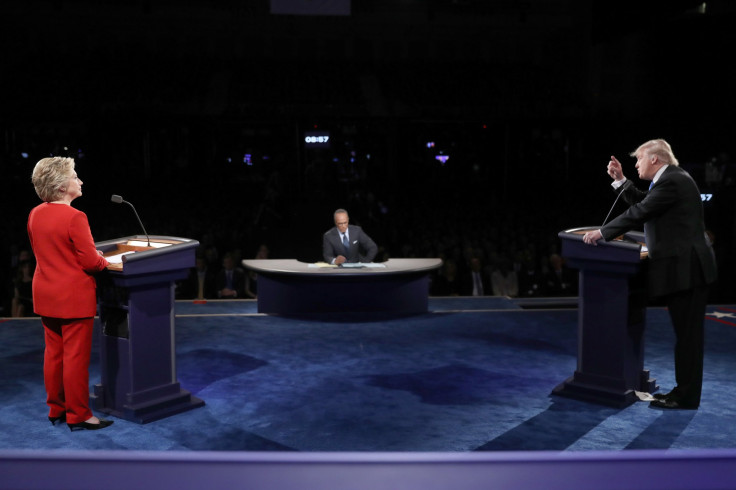 Republican presidential nominee Donald Trump bragged about his "very good relationship with the African-American community" at Monday night's presidential debate. But in truth, black voters might not support the tycoon as much as they do his rival, Democrat Hillary Clinton.
A poll released earlier this month by ABC News and the Washington Post found that 93 percent of black voters preferred Clinton. Just 3 percent liked Trump, 2 percent backed Libertarian Gary Johnson and 4 percent supported Green Party nominee Jill Stein.
His numbers may be climbing. A Los Angeles Times/University of Southern California survey out Sept. 18 saw Trump jump to nearly 20 percent support among African-American voters.
Trump has begun to address the black community more often in recent weeks, stopping by historically African-American churches and meeting voters, ABC reported. However, he's also made a few unpopular comments.
In June, Trump caught heat for a pointing out a black audience member at one of his events in Arizona and telling people to "look at my African-American over here," the Hill reported.
In Michigan, he went off his script in August to discuss black communities and encourage African-Americans to vote for him. "You're living in poverty, your schools are no good, you have no jobs, 58 percent of your youth is unemployed — what the hell do you have to lose?" he said, according to CNN.
Last week in North Carolina, he vowed to rebuild American inner cities because "our African-American communities are absolutely in the worst shape that they've ever been in before, ever, ever, ever," according to ABC. "You take a look at the inner cities, you get no education, you get no jobs, you get shot walking down the street," he said. "They're worse ... I mean, honestly, places like Afghanistan are safer than some of our inner cities."
Trump echoed that refrain Monday at the debate. While talking about racial tension in the United States, Trump said that "we have a situation where we have our inner cities — African-Americans and Hispanics are living in hell because it's so dangerous ... You walk down the street, you get shot."
Clinton and Trump both studied up for the debate, with the former first lady honing her policy-focused responses while trying to humanize herself and the tycoon studying Clinton's mistakes in previous matchups, the Hill reported. Both were desperately trying to win the favor of voters.
"Historically, the debates have not overcome the fundamentals of the election," Republican analyst Whit Ayers told CNN. "That said, there have been debate moments that we can all remember that have galvanized the election and have led to one candidate doing substantially better."
Trump was trailing Clinton in the polls Monday before the debate. When just looking at the Republican and Democrat, he had about 44.3 percent support to Clinton's 46.6 percent, according to RealClearPolitics. When Libertarian candidate Gary Johnson and Green Party nominee Jill Stein were included, Clinton polled at 43.1 percent, Trump was at 41.5 percent, Johnson got 7.4 percent and Stein had 2.4 percent.
But those third-party candidates weren't on stage alongside Trump and Clinton Monday at Hofstra University in Hempstead, New York. Neither of them reached the 15 percent threshold required by the Commission on Presidential Debates.
Subsequent presidential debates are scheduled for Oct. 9 at Washington University in St. Louis and Oct. 19 at the University of Nevada in Las Vegas. A vice presidential debate is planned for Oct. 4 at Longwood University in Farmville, Virginia. Then, of course, election day is Nov. 8.
© Copyright IBTimes 2023. All rights reserved.