Is Donald Trump Anti-LGBT Rights? Republican Meets With Hate Group After 'Ask The Gays' Comment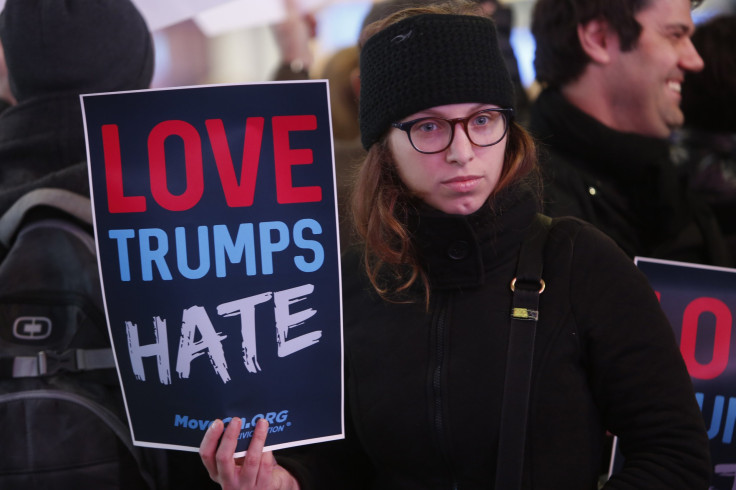 Days after urging supporters to "ask the gays" about which candidate will best defend their rights, Donald Trump was criticized Tuesday for meeting with a group that some consider hateful toward LGBT Americans, the Hill reported.
Trump was meeting privately Tuesday with hundreds of conservative religious leaders in New York City who are doubtful that the business mogul, whose sexual exploits were once a central theme of his brand, is conservative enough to be the Republican presidential nominee. But the nation's leading LGBT lobby group said Trump should not have agreed to meet with Tony Perkins of the Family Research Council, which the Southern Poverty Law Center classifies as an antigay hate group.
"Donald Trump continues to prove that he is no friend of the LGBTQ community, and his plan to meet with some of the most virulent anti-LGBTQ activists in the country underscores the terrible reality that, if elected, he would put everything our community has gained under President Obama at risk," said JoDee Winterhof, of the Human Rights Campaign, which has endorsed Democrat Hillary Clinton for president. "Aligning himself with hate group leader Tony Perkins and his anti-LGBTQ ilk should leave no doubt that Donald Trump stands on the wrong side of history when it comes to equality."
Perkins, who is helping to organize the meeting with Trump and evangelical Christian leaders, told Time he actually isn't a fan of the presumptive GOP nominee. "We are not certain where he is; there are a lot of unknowns," Perkins said.
Trump, who opposes gay marriage, boasted of his supposed appeal to the LGBT community last week after the massacre at a gay nightclub in Orlando, Florida.
"The LGBT community, the gay community, the lesbian community — they are so much in favor of what I've been saying over the last three or four days," Trump said. "Ask the gays what they think and what they do, in, not only Saudi Arabia, but many of these countries, and then you tell me: Who's your friend, Donald Trump or Hillary Clinton?"
He later tweeted, "Thank you to the LGBT community! I will fight for you while Hillary brings in more people that will threaten your freedoms and beliefs."
Before he ran for president, Trump was widely considered to have moderate views on LGBT issues. In 2000, he advocated for "a very strong domestic-partnership law that guarantees gay people the same legal protections and rights as married people." In his 2000 book, "The America That We Deserve," Trump described his hope for a nation "unencumbered by bureaucratic ineptitude, government regulation, confiscatory tax policies, racism, discrimination against women, or discrimination against people based on sexual orientation."
In this campaign, however, he has been critical of the Supreme Court for declaring same-sex marriage a federal constitutional right. More recently, Trump retweeted a photo of himself and antigay Pastor Robert Jeffress, who said last year that the gay rights movement would "pave the way for that future world dictator, the Antichrist."
© Copyright IBTimes 2023. All rights reserved.