Donald Trump Anti-Semitic Supporters Condemned By Republican Jewish Coalition As GOP Jews Back Presumptive Nominee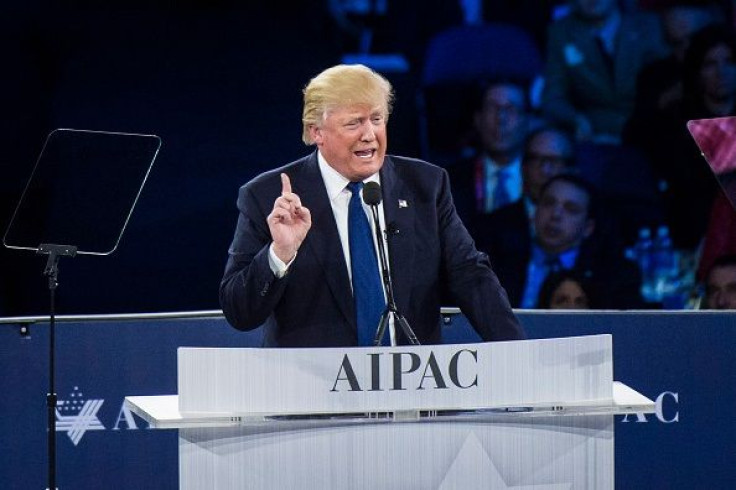 Donald Trump has won over several prominent Jewish Republicans to his candidacy, but the announcement of their support came with a reminder of the awkward dance Republican Jews have been forced to perform in 2016. Throughout the primary season, many Republican Jews debated whether to fall in line behind their party's rising star or distance themselves from a candidate whose support for Israel has at times seemed unclear and who has continued to draw support from white supremacists who spout anti-Semitic views.
When the joint fundraising committee organized by Donald Trump and the Republican National Committee released its list of bundlers Tuesday, the 2016 Trump Victory Leadership Team included several prominent Jewish Republicans with strong ties to the Republican Jewish Committee, an organization of influential GOP donors. The team includes former Ambassador Sam Fox, who is a past chairman of the RJC board, as well as former ambassadors Mel Sembler and Ronald Weiser, and venture capitalist Elliott Broidy, all of whom serve on the RJC board. Sheldon Adelson, the GOP megadonor who is heavily involved with the Republican Jewish Coalition, has already endorsed Trump.
These connections came with a less-than-positive statement from the Republican Jewish Coalition. Shortly after Trump's bundlers were announced, the organization released a statement denouncing anti-Semitic attacks aimed at journalists covering presidential candidates — many of which have come from Trump supporters. While the group made sure to condemn attacks from supporters of all candidates, the noisiest anti-Semitic harassment has repeatedly come from people purporting to back Trump.
"We abhor any abuse of journalists, commentators and writers whether it be from Sanders, Clinton or Trump supporters. There is no room for any of this in any campaign. Journalists, regardless of their race, religion or ethnicity, should be free to do their jobs without suffering abuses, anti-Semitic or otherwise," the Republican Jewish Coalition's statement said.
Several recent incidents have highlighted the tendency of some Trump supporters to turn anti-Semitic. Trump has been in trouble over his connections to white supremacists since he failed at first to strongly disavow support from former Ku Klux Klan leader David Duke in February. But when his supporters did not like an April profile of their candidate's wife, Melania, they hurled anti-Semitic threats at reporter Julia Ioffe until she felt so unsafe she filed a police report.
Trump's wife then promptly blamed Ioffe, saying the reporter "provoked" the threats and that she could not control her fans. Jonathan Weisman, a New York Times editor, experienced similar anti-Semitic harassment after tweeting about the incident, and Mother Jones reported earlier this month that Trump's campaign selected a white nationalist leader as one of its California delegates to the Republican National Convention.
Most of these incidents happened weeks ago, so the Republican Jewish Coalition statement comes a bit after the fact, and its timing on the same day as the announcement of Trump's Victory Committee is notable. But despite the group members' embrace of Trump, it seems the organization is still trying to encourage a change in campaign rhetoric.
"At the RJC, we will be making the case that Jewish values are American values and American values are the Republican values of free markets, peace through strength and unwavering support of Israel. Now more than ever our political process should be geared toward a civil discourse focused on solving our most vexing and intractable problems as a country," the group's statement said.
So far, Trump has avoided telling his supporters to tone down their opinions or refrain from fighting at his events, and although the candidate initially said he would act more presidential once he secured the nomination, Trump has not changed his own behavior in recent weeks. He has continued to attack Democratic front-runner Hillary Clinton on personal issues such as her husband's infidelity and has blamed his brushes with Duke and other white supremacists on misunderstandings.
Now that the general election looks like it will be between Trump and Clinton, big donors such as the men listed on the Trump Victory Committee leadership team are being forced to choose what they will do in 2016. In addition to being Jewish, many of the RJC members who are on Trump's leadership team previously backed his rivals like Jeb Bush.
The Trump Victory Committee holds its first fundraiser on Wednesday in Los Angeles, Politico reported, and this will likely be the kickoff of many more opportunities for Trump to woo over high-profile donors who were previously avoiding the Donald.
© Copyright IBTimes 2023. All rights reserved.