Florida Primary 2016: Donald Trump Isn't Pro-Israel, So Why Are Republican Jews Supporting Him?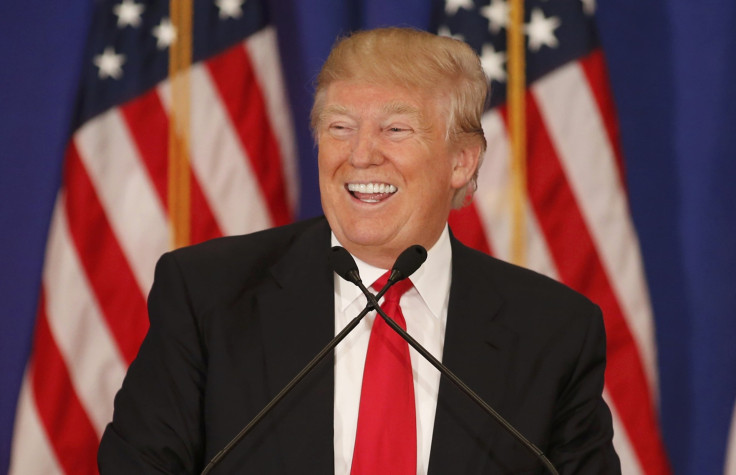 It wasn't too long ago that Donald Trump stood onstage at the Ronald Reagan Building in Washington, D.C., and gave a 30-minute speech supposedly meant to win over a room of 700 prominent Jewish Republicans. "I don't want your money, therefore you're probably not going to support me," the New York businessman told members of the Republican Jewish Coalition, a group of powerful GOP donors, as he dodged a question about Jerusalem and questioned Israel's commitment to peace negotiations.
That was just the beginning. Since then, Trump has failed to condemn an endorsement from a leader of the Ku Klux Klan, been compared to Adolf Hitler and said he would remain "neutral" in negotiations between Israel and Palestine — a stance fundamentally at odds with most other Republicans, and particularly Jewish donors, for whom Israel's security can be a top priority.
Now, as Marco Rubio prepares to make his last stand against Trump in Florida on Tuesday, many of the state's establishment Republican Jews have said they are nervous about Trump's neutral Israel stance and still support the Florida senator. High-profile Jewish donors and regular voters alike said they are disappointed by Trump, and many feel he will change his mind and are hesitant to publicly come out against him — even as he stands poised to take out their preferred candidates. But the real estate magnate enjoys a considerable lead in polling and with delegates, and a strong showing in Tuesday's primaries will put him closer to becoming his party's nominee without passing one of its most crucial litmus tests.
"Anything you say, any nominee you attack you're gonna see coming back at you in a general election," said major Jewish Republican donor Fred Zeidman, who supported former Florida Gov. Jeb Bush but has not lent his financial support since Bush dropped out. "Most folks do not enjoy eating their words. If they end up being the candidate and it ends up being someone you can support — why [attack] unless it's someone you really care about?"
Zeidman is on the national board of the Republican Jewish Coalition (RJC) and said Israel has been "the No. 1 priority that has driven my entire life." But like many Jewish donors, he has not publicly commented on what he'll do about potential Republican nominees.
The one thing he's sure about: "I would never consider any candidate who I didn't feel was supportive of Israel."
Others have been more outspoken about their concern over Trump's stances. After his highly scrutinized speech at the Republican Jewish Coalition forum in December, the GOP front-runner said during a MSNBC town hall in February that picking a side in the Israeli/Palestinian conflict would hurt his ability to act as a negotiator. "Let me be sort of a neutral guy," Trump said. "I don't want to say whose fault is it. I don't think it helps."
While he has also said there is no other candidate "more pro-Israel than I am," his plan for Middle East peace negotiations stands in stark contrast to the favored status Rubio and Texas Sen. Ted Cruz promise to give Israel. Both lower-polling candidates tout their support for the Jewish state at any opportunity and have criticized Trump for his refusal to promise preferential treatment.
"Donald Trump saying he would remain neutral on that issue is of deep concern," said Scott Ross, a Tallahassee lobbyist and Rubio backer who previously served as executive director of Florida's Republican Jewish Coalition. "It's only going to become a more prevalent issue in the coming years, and it's something that our next president is going to have to do deal with."
Ross has donated to Rubio and to the candidate's super PAC, and said he still believes in his "heart of hearts" there is a path for Rubio to be the nominee. Ahead of Tuesday's primary, Rubio was polling 20 percent behind Trump, according to Real Clear Politics. While many expect the Florida senator to drop out if he does not win his home state, his campaign has refused to say what's next if it does not beat Trump there.
As a Trump candidacy becomes more likely, Ross said he has heard some Jewish Republicans say they might choose Democratic candidate Hillary Clinton over the New York businessman.
"I have talked to some people who, if given the choice between Trump and Hillary Clinton, they would choose Hillary Clinton. I'm not there." Ross said.
Some Jewish Republicans are just as concerned about what Trump has not said as about what he has said. Ellyn Bogdanoff, who served with Rubio in the Florida House and is supporting his candidacy, said she would need to know a lot more about Trump's specific plans for Israel before even considering him. She was at the RJC event last year and said Trump's comments were worrisome.
"He kept repeating how close he was with Netanyahu and how they were personal friends … but he would not make a commitment," Bogdanoff said. "Hopefully he's had an opportunity to think about it and be a strong supporter. I don't know how you're not."
In the most recent Republican debate last Thursday, Trump added another set of reasons why he said Jews should trust him to take care of Israel: his role as grand marshal of the 2004 Israel Day parade in New York and his daughter, Ivanka, who converted to Judaism when she married her Orthodox Jewish husband. But Jewish grandchildren may not be enough to sway Jewish voters.
"I'm interested in what the platforms and policy statements of the candidates about the state of Israel are, particularly from a security perspective," said Michael Hoffman, executive director of the Jewish Federation of Palm Beach, Florida. "I think that's what people are interested in, not necessarily interested in whose son or daughter is Jewish."
Not all Jewish voters have the same level of skepticism about The Donald. Ahuva Retter, an Israeli-American who has lived in Florida for 38 years, said she is "not so concerned" about Trump's stances on Israel. She said she doesn't like the current administration's policies about Israel and would likely choose Trump over either of the Democratic candidates.
"I believe there are more positive things than what he lets out to be," Retter said. "I think it's the relationship to his daughter, the donations given to the state of Israel in the past, there's a lot to say about that."
This feeling that Trump will soften his position and be supportive of Israel is not new, or unique to the topic of peace negotiations. The front-runner has already switched his stances on major issues such as torture, and many see him as a malleable candidate. Though few will discuss the topic publicly, many deep-pocketed Jewish Republicans have held their fire, as they expect Trump to take a favorable position on Israel when the time comes.
"Organizational Jews feel that this guy may become president and 'I want to have access to him.' I ignore that," said Morton Klein, president of the Zionist Organization of America, the oldest pro-Israel group in the U.S. "I say what I think is best for my organization. But the other organizational Jews want to have lunch with him and be invited to the White House, that's very important."
Klein emphasized that he was neither endorsing nor discouraging people from voting for any particular candidate. But he expressed both deep concerns over Trump's Israel comments so far as well as confidence that people want to be liked by whoever ends up the nominee. Trump has bragged that he is running a largely self-funded campaign, but general election campaigns are much more expensive than primary runs, and CNN reported earlier this month that the New Yorker may begin courting big donations if he gets the nomination. Some megadonors have begun to say they'd back Trump, and it's only a matter of time before more Jewish Republicans likely follow suit.
Donald Trump Campaign Contributions Over Time | InsideGov
Still, Trump has not yet clinched the nomination and Rubio has significant support from establishment Jewish Republicans, particularly in Florida. So why has Florida's Jewish population not helped Rubio do better in his own state?
One reason is that while Florida has a fairly high number of Jews compared to other states, Jews still make up just over 3 percent of the state's population. Jews also vote overwhelmingly Democratic, and polls have consistently shown that Israel is not a high priority in most American Jews' voting considerations. Instead, many say social issues or the economy are top priorities.
For Orthodox Jews, who are far more likely to be conservative, the picture is a little different. Israel is an important issue to them, and 64 percent said the U.S. was not supportive enough of Israel, according to Pew Research Center. Jews who choose to donate to political campaigns are likely to do so because they care about policy issues such as Israel, but that doesn't mean there are enough of them to save Rubio's candidacy.
Bogdanoff, the former Florida House member and Rubio supporter, said she believes that pro-Israel Republicans will assess the eventual nominee and come together for the good of the party, like in any election cycle. She added that she has not thought far enough ahead to decide if she would support Trump, but hopes her party's nominee has a stance on Israel she can get behind.
"Everybody needs to figure out — whether they supported the nominee or not — how do they coalesce around the nominee so the Republican candidate wins," she said, emphasizing that she thought any Republican nominee was likely to be better for Israel than a Democrat. "They want to see things changed so you have a decision to make. Right now everybody's waiting for Florida."
FOR FREE to continue reading
✔️ Unlock the full content of International Business Times UK for free
offer available for a limited time only
✔️ Easily manage your Newsletters subscriptions and save your favourite articles
✔️ No payment method required
Already have an account? Log in
© Copyright IBTimes 2023. All rights reserved.