Donald Trump Approval Rating: After Immigration Ban, Is The President's Popularity Rising Or Falling In Latest Polls?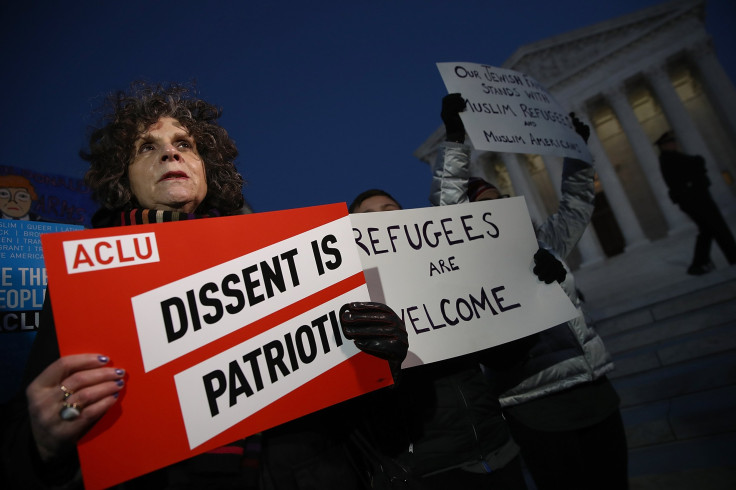 President Donald Trump's approval ratings reached record lows in the days following his executive order temporarily halting immigration, but it seems his popularity began rising, if only slightly. A recent Politico/Morning Consult survey, conducted from Jan. 26 through Jan. 28 among 1,991 voters with a 2 percent margin of error, showed the president's approval rating at 49 percent and disapproval rating at 41 percent.
The response contrasts with that of the most recent Gallup poll, which showed over the weekend that 51 percent of respondents disapproved of Trump's performance, while only 42 percent approved. The Gallup poll made Trump the first president to receive the highest disapproval ratings within the least amount of time, only eight days into his term.
The current Real Clear Politics average shows Trump's approval rating at 43 percent and his disapproval rating at 45 percent. Former President Barack Obama finished December with an average approval rating of 53.1 percent and a disapproval rating of 42.3.
Trump's disapproval ratings climbed following his decision to temporarily suspend refugees from entering the country as well as halting immigration from seven predominantly Muslim countries Friday. The order was met with nationwide protests from citizens and political leaders, while Trump and the White House defended the policy wholeheartedly.
"To be clear, this is not a Muslim ban, as the media is falsely reporting," Trump said in a statement released Sunday. "This is not about religion – this is about terror and keeping our country safe."
The Politico/Morning Consult poll also shed light on voters' view of Trump's alleged voter fraud. Twenty-five percent agreed with Trump that votes were cast illegally during the election, but 35 percent said it benefited Trump, while only 30 percent said it benefited Clinton. It also showed that nearly half of the respondents supported paying for the proposed border wall with a 20 percent tax on imported goods from Mexico, but only six percent thought the wall should be Trump's top priority.
© Copyright IBTimes 2023. All rights reserved.