Donald Trump Booed Loudly At CBS Republican Debate In South Carolina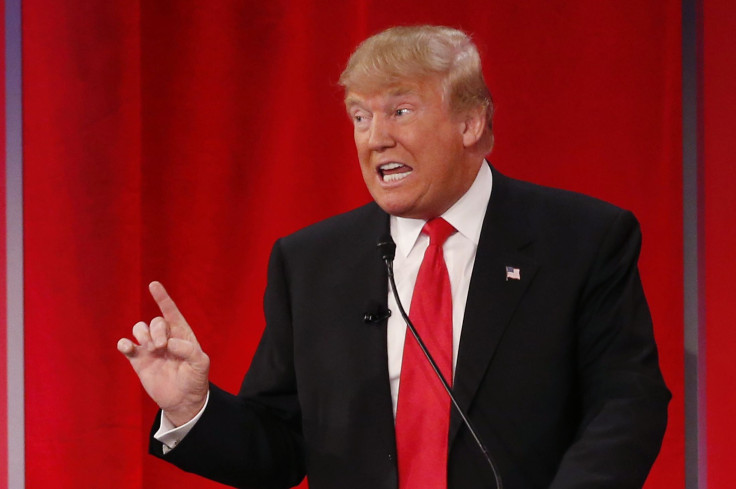 Billionaire real estate mogul Donald Trump faced a hostile audience Saturday night, during the Republican presidential candidates' debate in Greenville, South Carolina, seemingly over his back-and-forth exchange with former Florida Gov. Jeb Bush on foreign policy. Trump tired to hit Bush hard over former President George W. Bush's record on the Sept. 11, 2001, terror attacks in New York City and Washington, D.C., as well as the war in Iraq.
But each time the business mogul went after the former governor, the audience responded with loud boos. "It took Jeb Bush five days to go back and say [the Iraq war] was a mistake," Trump said, referring to Bush's conflicting foreign policy statements from earlier in the campaign.
The loudest audience jeers came when Trump invoked the attack on the World Trade Center, where thousands of the Americans died, in his critique of the Bush legacy. "I lost hundred of friends [in the attacks,]" Trump said. "He kept us safe? That is not safe!"
This was Trump's second appearance in a presidential debate since boycotting an event hosted by Fox News earlier this month. The debate preceded the New Hampshire's Republican primary, which Trump won handily over Texas Sen. Ted Cruz and Ohio Gov. John Kasich.
Following last Saturday's Republican debate hosted by ABC, the billionaire business mogul was declared the winner, given Florida Sen. Marco Rubio's struggle to move past rehearsed talking point blasting President Barack Obama's domestic policy agenda. Trump's standout moments included his vow to bring back water boarding and other potentially controversial enhanced interrogation tactics to combat global terrorism threats.
Heading into Saturday night's debate, Trump led his GOP rivals in national and state primary polls. In an Augusta Chronicle, Morris News Service and WAGA-TV poll that surveyed 779 South Carolinian respondents Feb. 10 through 11, 36 percent of likely GOP voters supported Trump. His next closest challengers in the Chronicle poll were Cruz, who garnered 20 percent; Rubio, who garnered 15 percent; former Florida Gov. Jeb Bush, who garnered 11 percent; Kasich, who garnered 9 percent; and retired neurosurgeon Ben Carson, who garnered 5 percent.
Donald Trump Presidential Candidate Profile | InsideGov
Since announcing his candidacy last June, Trump has shaken up establishment politics in the Republican Party with his "tell it like it is" style resonating with working-class segment of the conservative base. Despite controversially disparaging Latino immigrants and calling for a temporary ban on Muslims entering the U.S. due to terrorism concerns, Trump has continued lead the Republican field.
© Copyright IBTimes 2023. All rights reserved.
FOLLOW MORE IBT NEWS ON THE BELOW CHANNELS