Donald Trump Calls The Media 'Disgusting' After Getting $2 Billion In Free Press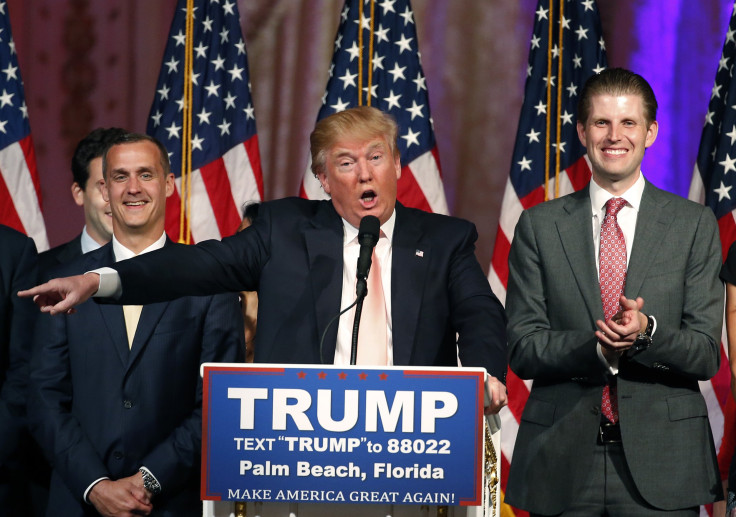 It was a standard, stream-of-consciousness victory speech for Donald Trump on Tuesday night, with the exception of three words: "Good job, Corey."
To the shock of reporters, the magnate turned to his right about halfway through the speech and praised his campaign manager, Corey Lewandowski. The very fact that Lewandowski was flanking Trump, along with the candidate's son Eric, was perceived as a statement itself: A week earlier, ex-Breitbart News reporter Michelle Fields filed charges against Lewandowski for allegedly assaulting her during a campaign event in Florida.
Breitbart, a right-wing website that's been more or less in the tank for Trump throughout the campaign, hedged in its tepid defense of Fields, which earned it a media pile-on and a slew of resignations, including Fields herself.
Trump won North Carolina, Illinois and Florida and tied in Missouri in the GOP primaries on Tuesday, while one of his key competitors, Sen. Marco Rubio, dropped out.
Trump didn't reference the Fields incident in Palm Beach during his speech, and his nod to Lewandowski came without context or follow-up. But it was enough to send a message that his campaign manager was still a standup guy in Trumpland. "Good job, Corey," he repeated. Lewandowski bared his teeth as the audience applauded.
Underlining once again his contempt for the press, Trump ended the speech with a shoutout to the media, bemoaning its "lies, deceit, viciousness [and] disgusting reporters, horrible reporters."
"Some are nice," he added, but quickly repeated that there are "some really disgusting people back there."
The great irony — and one that Trump is almost certainly aware of — is that the same "disgusting" media has made his entire presidential campaign possible, on the cheap. While other candidates pay big bucks for airtime, Trump scores free media day after day: He gives out interviews like candy, calls into news studios, no matter the hour, and steals the show at every debate.
But Trump gets the most press when he's not even trying: The media can't get itself to look away during his victory speeches, his rallies, or his Twitter meltdowns. Last year, CNN bumped a special on the tenth anniversary of Hurricane Katrina to cover a Trump rally from beginning to end. Last week, every cable network stayed on him for 50 minutes as he rambled about his vodka brand, while the Democrats fought a nail-biting primary in Michigan.
How much is all this free media worth? This week, the New York Times, with the help of two independent tracking firms, crunched the numbers: $1.9 billion. That's how much money Trump has generated in "earned media," mentions of his campaign on television or other news sources. Put another way, that's what the "disgusting" media has essentially donated to his campaign, while his competition spent millions of real dollars on advertisements promoting themselves or attacking him — to little avail in most primaries so far.
The mogul is a master manipulator of the press, a subject he wrote about back in 1987, and this election season has been his masterpiece. But the media industry isn't run by naifs; they have their own reasons to give Trump what he wants. An average GOP debate, where drama is fueled almost solely by Trump, rakes in at least 10 million viewers for CNN and at around 15 million for Fox News. Trump's "infomercial" speech last week made a strong showing of almost 3 million for CNN and 4.2 million for Fox. Those are big fat numbers to dangle in front of advertisers.
Trump, meanwhile, can reap the benefits of being a media darling while playing the part of a media martyr. The mystery of his political ascendance lives on.
"My numbers go up! I don't understand it!" he said on Tuesday, referencing the boost he gets when his enemies pile on. "Nobody understands it!"
© Copyright IBTimes 2023. All rights reserved.