Donald Trump Calls Obama 'Terrible' Over Prioritizing Climate Change Leadership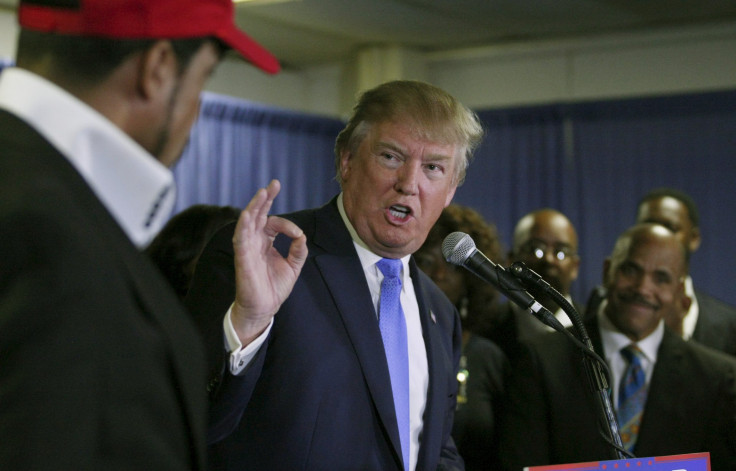 Acting in his normal bombastic manner, Republican presidential candidate Donald Trump took to Twitter Sunday to criticize President Barack Obama. In an interview aired Sunday on "60 Minutes," Obama discussed his views on leadership.
"My definition of leadership would be leading on climate change, an international accord that potentially we'll get in Paris," Obama said, mentioning the scheduled COP21 summit in Paris in December where world leaders are expected to make commitments to reduce global warming to combat climate change.
Obama also discussed his leadership on the Iran nuclear deal that would lift sanctions on Iran as well as the current situation in Syria.
Trump took to the social media site Twitter to criticize Obama's answer.
Trump has said in the past he believes climate change is a hoax that was created by the Chinese to reduce the levels of American manufacturing and economic competitiveness. He has been highly critical of the money the Obama administration has spent on green energy projects.
Other Republican presidential candidates have also expressed skepticism over climate change and global warming. Sen. Ted Cruz of Texas called climate change a "pseudoscientific theory."
"Satellite data shows there has been no significant recorded warming. None," Cruz said in an interview. "When the satellites are measuring the temperature -- it's not happening."
Former surgeon Ben Carson, who often speaks about his scientific background, told Bloomberg climate change was not relevant.
"There's always going to be either cooling or warming going on," Carson said in a Yahoo interview. "As far as I'm concerned, that's irrelevant. What is relevant is that we have an obligation and a responsibility to protect our environment."
Trump has continued to sit on top of Republican candidate polls with 27 percent support. Carson comes in second place with 21 percent trailed by Cruz with 9 percent, the latest CBS News poll for Oct. 4-8 indicated. More than 80 percent of respondents said they thought that Trump had strong leadership qualities.
© Copyright IBTimes 2023. All rights reserved.
FOLLOW MORE IBT NEWS ON THE BELOW CHANNELS