Donald Trump Calls Angela Merkel's Vow To Accept 800,000 Refugees And Migrants Annually 'Insane'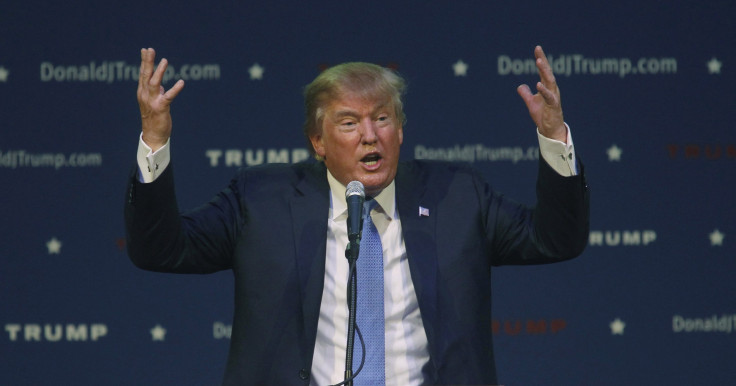 Republican presidential front-runner and real estate mogul Donald Trump criticized Germany's commitment to taking in hundreds of thousands of refugees and migrants, many of them refugees fleeing Syria's civil war, during an appearance on CBS's "Face the Nation" on Sunday. He placed partial blame for the refugee crisis on President Barack Obama's failure to take decisive action after the embattled Syrian President Bashar Assad reportedly used chemical weapons against his own people, Bloomberg reported.
"I do not like the migration. I do not like the people coming," Trump said. "Frankly, look, Europe's going to have to handle it. But they're going to have riots in Germany. What's happening in Germany? I always thought [Chancellor Angela] Merkel was, like, this great leader. What she's done in Germany is insane. It's insane."
Trump signaled he would support a no-fly zone, though he said it should have been done earlier to prevent a refugee crisis.
"Well, you know, the time to have done it would have been when he drew the line in the sand," Trump said, according to Bloomberg. "I might have gone in. Yeah, I think it's terrible. When you start using that, I think it's terrible."
Germany has promised to take in some 800,000 refugees and migrants a year, although recent reports suggest as many as 1.5 million refugees were expected to apply for asylum in 2015. Merkel's open-border policy has brought her government under scrutiny by some in Germany, and her popularity has fallen to its lowest point in four years.
Obama has pledged to accept 100,000 Syrian refugees by 2017.
According to recent polls, Trump continues to hold the lead in the Republican presidential race. Retired neurosurgeon Ben Carson was in second place at 21 percent, just 6 percentage points lower than Trump, a National CBS poll found Sunday. Texas Sen. Ted Cruz ranked third in the GOP race at 9 percent.
© Copyright IBTimes 2023. All rights reserved.