Donald Trump And Climate Change: After Gag Orders And Freezes, What's Going On At The Environmental Protection Agency?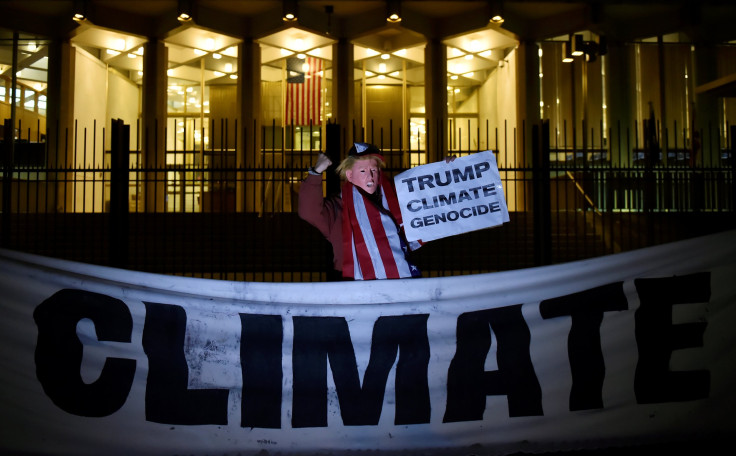 The Environmental Protection Agency was the subject of a budget battle between the Obama administration and Senate Republicans in 2015 and 2016, leading many to claim the agency faces major hurdles to remain intact under President Donald Trump.
"We are going to get rid of it in almost every form," Trump, who claimed climate change is a hoax despite a scientific consensus otherwise, said at a Republican primary debate in March. "We're going to have little tidbits left but we're going to take a tremendous amount out."
After one week in the office, the president did not exactly make good on that promise. But he took strides in that direction, which worried climate change advocates.
Here's a roundup of everything Trump has done to the EPA since Election Day:
1. In December, Trump nominated Scott Pruitt to head the EPA. Pruitt, the attorney general in Oklahoma, sued the very agency he's nominated to lead over the EPA's methane emissions regulations in August.
In a statement from December about the nomination, Trump said: "For too long, the Environmental Protection Agency has spent taxpayer dollars on an out-of-control anti-energy agenda that has destroyed millions of jobs, while also undermining our incredible farmers and many other businesses and industries at every turn" and added that Pruitt "will reverse this trend and restore the EPA's essential mission of keeping our air and our water clean and safe."
Pruitt was described as a climate change denier. But at a confirmation hearing earlier this month, he conceded climate change is real and human activity is partly to blame— although he hedged his statement by saying, "I believe the ability to measure, with precision, the degree of human activity's impact on the climate is subject to more debate."
2. Trump's 10-member EPA transition team consists largely of people from the energy industry lobby and pro-drilling think tanks, according to a report from Reuters. Myron Ebell, a climate change critic, was chosen to lead the team.
The transition team's EPA action plan will "hammer" the EPA, Axios reported Monday. The report proposes cutting $193 million by terminating climate programs and cutting $500 million from states and tribal assistance grants. It also proposes doing away with Clean Air Act greenhouse gas regulations, among other initiatives.
3. Scientific findings from the EPA will be reviewed by political staff before they can be shared with the public. In an interview with NPR Wednesday, a spokesperson called the process a "temporary hold" and said the findings would be reviewed on a "case by case" basis. He did not say whether the process would be permanent or transitory.
This vetting process violates the EPA's Scientific Integrity Policy, which restricts "all EPA employees, including scientists, managers and other Agency leadership from suppressing, altering, or otherwise impeding the timely release of scientific findings or conclusions."
4. The EPA was told to delete the climate change page from its website, Reuters reported Wednesday morning, but the Trump administration backpedaled that order within one day.
5. The White House also muzzled EPA employees Tuesday by banning them from publishing press releases, posting on social media, writing blog posts or talking to reporters. The EPA was given the gag order along with two other agencies, the Department of Health and Human Services and the agriculture department's Agricultural Research Services.
It's not totally unusual for incoming presidents to place some temporary restrictions on federal agencies during the transition period— after George W. Bush was inaugurated in 2001, his administration placed a hold on the climate change website. But political staffers did not change the site's content about the science of climate change and those policies were lifted later on. Former EPA staffers said the restrictions of the Trump administration reach much further than any previous campaign, a Wednesday report from the Associated Press said.
6. The Trump administration instructed the EPA to freeze all business contracts and grants "pending review," reported ProPublica Monday. However, it's not clear whether the freeze affects new agreements or agreements already in place. The EPA currently has contracts for everything concerning engineering research to janitorial services and those contracts are worth $6.4 billion.
7. By Tuesday, it came to light that the EPA delayed the implementation of 30 environmental regulations that were created in the final months of the Obama administration. Those rules included updated air pollution rulings and renewable fuel standards, among others. The regulations were meant to go in effect before March 21, but some worry the delay is the first move to canceling them.
FOR FREE to continue reading
✔️ Unlock the full content of International Business Times UK for free
offer available for a limited time only
✔️ Easily manage your Newsletters subscriptions and save your favourite articles
✔️ No payment method required
Already have an account? Log in
© Copyright IBTimes 2023. All rights reserved.