Donald Trump Goes Viral On Twitter After Office Of The Former President Launch
KEY POINTS
Donald Trump has officially launched his "Office of the Former President" in Florida
Netizens have divided opinions on Trump's new endeavor
An article of impeachment against Trump has been delivered, setting a second trial in motion
Former President Donald J. Trump has made another move in his controversial political life, with the launch of his Office of the Former President.
The ex-POTUS officially opened the Office of the Former President in Palm Beach County, Florida, on Monday. In a statement on Twitter that was shared by Fox reporter Aaron Parseghian, Trump's new office would manage the former president's correspondences, public statements and official activities.
The official statement also claims that Trump's office aims continue the agenda of his administration and the country's welfare. This latest endeavor, as you might expect, has prompted various reactions from online users.
Several netizens, who replied to the thread, noticed a seal at the top-center portion of the statement.
"Did he trademark that seal? Please tell me he isn't using a formal Federal seal," one netizen commented.
"He can't use the Presidential seal, right? He isn't President," another netizen said. "He's Mr. Trump, not Mr. President."
"He shouldn't be allowed to use that letterhead," another netizen replied.
Although former presidents Barack Obama, George W Bush, Bill Clinton and Jimmy Carter have maintained their offices or foundations after leaving the White House, many netizens questioned Trump for using the term "Office of the Former President."
While many are questioning the former president for opening a new office, Trump supporters have expressed their all-out support for his agenda.
"I think this is [great]. Keep doing great work for American people," a Trump supporter tweeted.
"1/2 of us have no idea all you did for the citizens [because] their media wouldn't report it, but the other 1/2 are well informed [and] appreciate you [and] all your hard work for us," the netizen added in the tweet.
"You will always be My President," another Trump supporter tweeted. "I get sadder and sadder [every day] over what is happening and not happening in our country for last the 6 days."
"I hope we all somehow survive this atrocity," she added.
Meanwhile, it has been reported that the latest article of impeachment has been delivered to the Senate. So get ready for Trump's second Senate impeachment trial. It's the first time (and maybe the last time?) a president will face two of these, and also the first time it will happen after a POTUS has left the White House.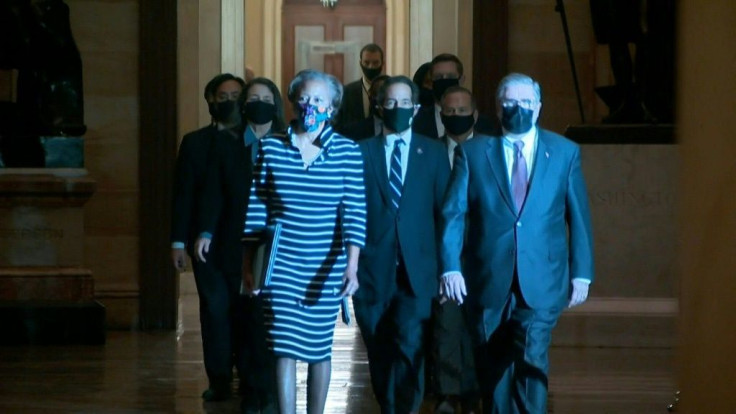 © Copyright IBTimes 2022. All rights reserved.
FOLLOW MORE IBT NEWS ON THE BELOW CHANNELS