Is Donald Trump A Good Father? Here's What His Children Say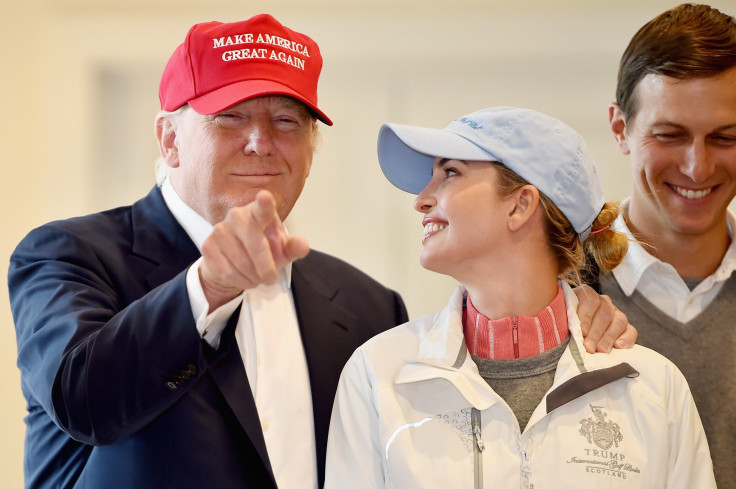 President Donald Trump has an indisputably polarizing reputation as a political figure — and even as a businessman. But fatherhood is something even former Democratic presidential nominee Hillary Rodham Clinton can agree is a department in which the father of five children by three wives has been successful. For their part, the Trump children seem to — at least publicly — agree: Trump is a good father. But do their public declarations hold water?
Trump's adult children have managed with aplomb — either in spite of or perhaps because of his celebrity — to achieve successes in their respective careers before taking roles alongside their father in the White House.
Ivanka Trump, 35, a successful owner of a fashion empire, as well as an executive vice president of the Trump Organization, is often described as the family's second most powerful figure. Donald Trump Jr., 39, was a frequent guest on "The Apprentice" and also worked for the family business. Eric Trump, 33, served as executive vice president of development and acquisitions at his father's organization.
One could argue that Trump's 23-year-old daughter Tiffany Trump, while not especially career-oriented, has yet to find her business calling. She plans to attend Georgetown Law School.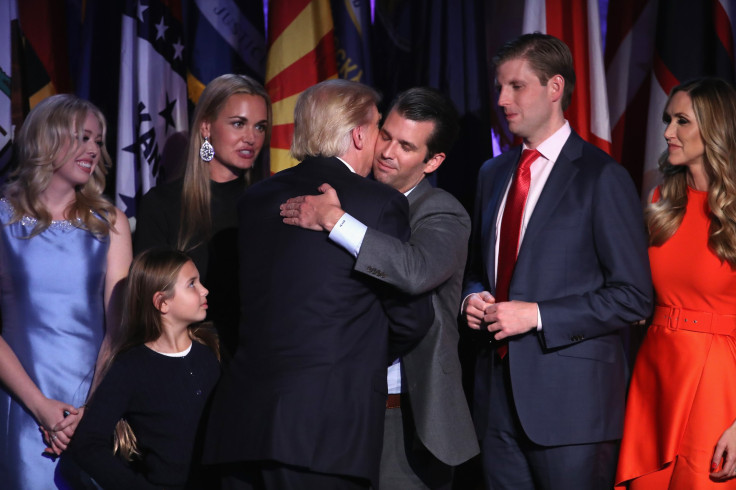 "I always prided myself on being a good father," Donald Trump said last year in an October interview with People that profiled his family ahead of Election Day. "With my children, I was always available."
Some would assert that among the greatest gifts a parent can bestow upon a child is the tools to succeed. Even President Trump's prodigal son Donald Jr. — with whom the president had a short-lived falling out after the younger Trump graduated from the University of Pennsylvania, moved to Aspen and temporarily became a ski bum — was given a seat at his father's table with a position in the real estate mogul's organization.
"When we were kids, we'd be sitting in a boardroom while he was negotiating a deal, and if we were playing with trucks, making noise, it didn't matter," Donald Trump Jr. told People last year, adding that joining his father's business "was a no brainer."
Read: What Is A Blind Trust? President-Elect Donald Trump Plans To Leave Company With His Three Adult Children
Eric Trump told People that in spite of his flashy lifestyle and frequent tabloid appearances, his father effectively shielded his children from public scrutiny.
"He's been protecting us from the public eye for a long time," Eric Trump told the magazine in the same profile of the soon-to-be first family. "We never made the tabloids when we were younger. He was the man that, his whole life, he's always had thousands of cameras on him and yet we were raised as normal kids, or at least as normal as you could be raised under the circumstances."
Eldest daughter Ivanka Trump memorably said during an April women's summit with German Chancellor Angela Merkel that her father "encouraged me and enabled me to thrive." She went on to add, "I grew up in a house where there was no barrier to what I could accomplish beyond my own perseverance and my own tenacity."
However, unlike the relationship the president has with his sons, his sentiment toward his daughter — in addition to how he speaks both with and about her — has received harsh criticism over the years. The president has on multiple occasions publicly commented on her physique, even going as far as to state that he was more sexually attracted to his daughter at age 13 than his wife. He also infamously told Howard Stern in 2004 that it was acceptable to refer to Ivanka Trump as "a piece of a--."
Despite President Trump's apparent self-praise of his parenting skill, there is still room for debate. Ivana Trump, the president's first wife and the mother of his three eldest children, negated the claims by her ex-husband that he was "always available" to his children. She claimed instead that the former reality star was notably absent from their lives until after they had matriculated.
"I brought up the children singlehandedly," she told the New York Daily News in October of last year during a benefit event. "Donald wasn't really interested in the children until he could talk business with them," she added. "When they turned 21, I handed them over to him and said 'Here's the finished product, you can take them from here."
In 1990, Ivana Trump also said in a sworn divorce deposition that Donald Trump had raped her in a fit of rage. In July 2015, while Donald Trump was running for president, she recanted the statement and praised her ex-husband as a parent.
"I have recently read some comments attributed to me from nearly 30 years ago at a time of very high tension during my divorce from Donald. The story is totally without merit. Donald and I are the best of friends and together have raised three children that we love and are very proud of. I have nothing but fondness for Donald and wish him the best of luck on his campaign. Incidentally, I think he would make an incredible president," Ivana Trump said in the statement.
Read: Who Is Ivana Trump? Donald Trump's Ex-Wife To Write Book About Raising Their Children
Tiffany Trump, the president's only child with his second wife Marla Maples, said during the 2016 Republican National Convention that her father has "always helped me be the best version of myself." She added that he "brings out the challenge and drive in people."
But President Trump received criticism for saying he was proud of Tiffany Trump, then a recent graduate, to a "lesser extent" than his other adult children during a phone interview with "Fox & Friends" on Election Day last year.
"I'm very proud of my children," he said. "I mean, I'm just looking at them right now as an example... but I'm very proud 'cause Don and Eric and Ivanka and, you know, to a lesser extent 'cause she just got out of school, out of college, but, uh, Tiffany, who's also been so terrific. I mean, they work so hard."
Barron Trump, the president's youngest son with first lady Melania Trump, is too young to have made any substantial public declarations about his father's capability as a parent. At just 11 years old, he has only recently moved into the White House with his mother, who remained in New York with him after Donald Trump began his presidency.
"The way I look at it, there's nothing like a good marriage," Donald Trump said in an interview with Larry King in May 2005, shortly after his marriage to Melania and a little less than a year before the birth of his youngest son. "And there's nothing like having children. If you have the money, having children is great. Now I know Melania, I'm not gonna to be doing the diapers, I'm not gonna be making the food, I may never even see the kids. She'll be an unbelievable mother. I'll be a good father."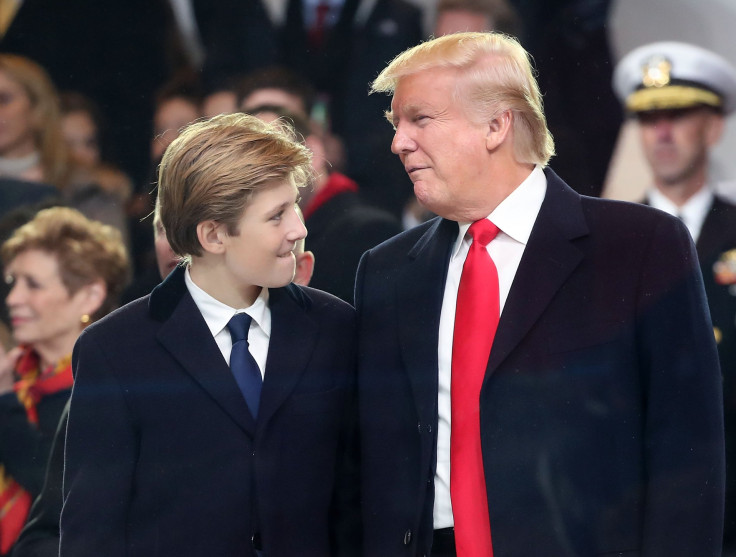 In a 2015 interview with Parenting magazine, Melania Trump said that the couple knows each other's "roles" as parents, adding that she doesn't mind being a more hands-on parent. She described the relationship between her husband and her only child as "full of respect and love."
"New York is our home base, but we spend a lot of time in Mar-a-Lago [in Palm Beach, Florida]," she said. "There they play golf, spend time together, eat dinner together, and we enjoy family time. It is always a really special time. He didn't change diapers and I am completely fine with that. It is not important to me. It's all about what works for you. It's very important to know the person you're with. And we know our roles. I didn't want him to change the diapers or put Barron to bed. I love every minute of it."
It's worth noting that much of what has been said of Donald Trump as a father was done on the presidential campaign trail. He has had an image to cultivate with a largely conservative, mostly religious demographic of Americans who often seek traditional and family values from a president. Donald Trump is also following a tall shadow left by his predecessor, former President Barack Obama, who in his eight years in office maintained a legacy of being a hands-on father and family man.
© Copyright IBTimes 2022. All rights reserved.
FOLLOW MORE IBT NEWS ON THE BELOW CHANNELS