Donald Trump Health Shock: Physical Evidence Suggests Melania Trump's Husband Isn't Doing Well
KEY POINTS
Donald Trump health concerns
Donald Trump struggles to walk
Donald Trump dragged his left leg at the March for Life event
Donald Trump recently sparked rumors that his health is deteriorating at the age of 73.
When he made a public appearance at an event last week, eagle-eyed netizens noticed how the POTUS dragged his left leg. After stepping to his right using his right leg, it is indeed evident that the president is dragging his other leg.
Some Twitter users also uploaded the video of Melania Trump's husband struggling to walk even just a few feet.
"Trump can't walk properly & drags his legs at today's March for Life. Watch his feet drag on the floor. Signs of his balance issue and brain deterioration. It will keep worsening. Later, there was the usual speech interruption where his brain seems to short-circuit. Bad day for him," Twitter user @TomJChicago captioned the video.
This isn't the first time that the POTUS' health has caused concern among his supporters. Earlier this month, he was also spotted dragging his right leg. President Trump also seemed to be struggling with his gait and balance.
And while in Davos, it was evident that the first lady's husband held on to the podium in an attempt to not fall off. Additionally, there's an ongoing issue regarding Trump's slurring while giving his speech at the World Economic Forum (WEF).
However, the POTUS has not discussed his health issues in public. Last month, the White House gave an update regarding his condition after he was rushed to the hospital to undergo an unscheduled medical test.
After visiting the Walter Reed Medical Center in Washington, the White House confirmed that the POTUS is in very good health. The POTUS's physician also said that they will closely monitor the president's health and he is scheduled for a more comprehensive examination after the New Year.
"Despite some of the speculation, the president has not had any chest pain, nor was he evaluated or treated for any urgent or acute issues. Primary preventative medical care is something that occurs continuously throughout the year, it is not just a single annual event," the POTUS' doctor said.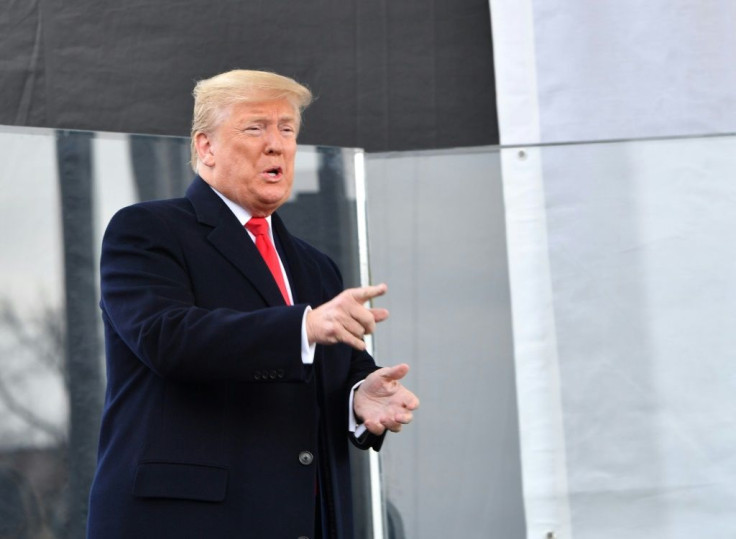 © Copyright IBTimes 2023. All rights reserved.