Donald Trump Iowa Speech Parodied On 'Tonight Show', Jimmy Fallon Mocks Second Place Boasting [VIDEO]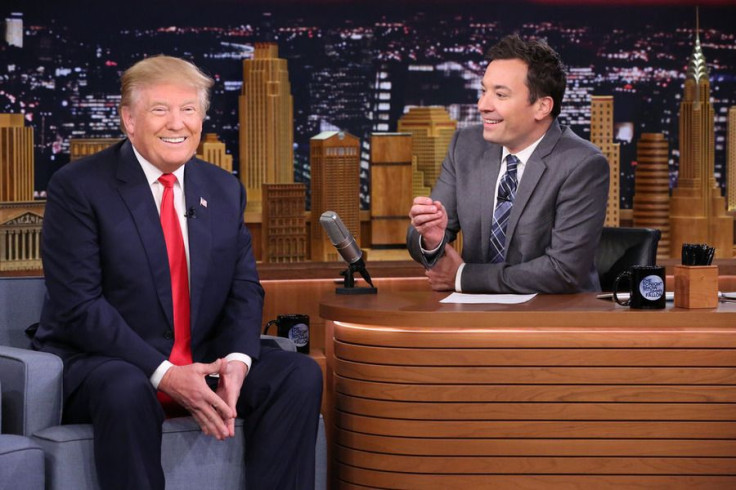 Jimmy Fallon busted out his orange wig and bronzer Wednesday once again to impersonate Donald Trump on "The Tonight Show." The subject of his latest sketch mocking the Republican presidential candidate was Trump's dubious claims that his second place finish in Monday's Iowa caucuses constitutes a victory for his campaign.
"Good evening. It's me, Donald J. Trump," Fallon began in a skit that mimicked Trump's post-Iowa concession speech. "In case you're wondering, the 'J' stands for genius."
The comedian went on to further mock Trump for recent claims about his Iowa finish.
"The people of Iowa have wisely named me the winner and champion — of second place," Fallon said. "It's just like children say: First is the worst, second is the best, third is the one with the hairy chest."
Watch Jimmy Fallon impersonate Donald Trump below:
After leading multiple polls both nationally and in Iowa for months, Donald Trump finished second in the Iowa caucuses to Sen. Ted Cruz of Texas. Cruz netted 28 percent of the vote, while Trump lagged behind at 24 percent. Despite much braggadocio in the weeks leading up to Iowa, Trump has been touting his second place finish as a moral victory for a candidate running for office for the first time. He has also criticized the media for covering Sen. Marco Rubio of Florida's third place Iowa finish as a win while reporting on Trump's own result as a disappointment.
"How come the person who comes in third on many of the networks is being covered like it is one of the great victories in the history of politics in this country?" Trump asked.
Further fanning the flames, Trump accused Ted Cruz of fraud in the primary by having disseminated an inaccurate report that Dr. Ben Carson had dropped out of the Republican race to gain supporters.
Trump is now shifting gears to the New Hampshire primary on Feb. 9 in the hope of regaining momentum in the race. Jimmy Fallon is not making that easy.
"From now on, when you think Donald Trump, I want you to think huge No. 2," said Fallon.
© Copyright IBTimes 2023. All rights reserved.