Donald Trump Jr. Holocaust Joke: What Exactly Did The GOP Candidate's Son Say In A Radio Interview?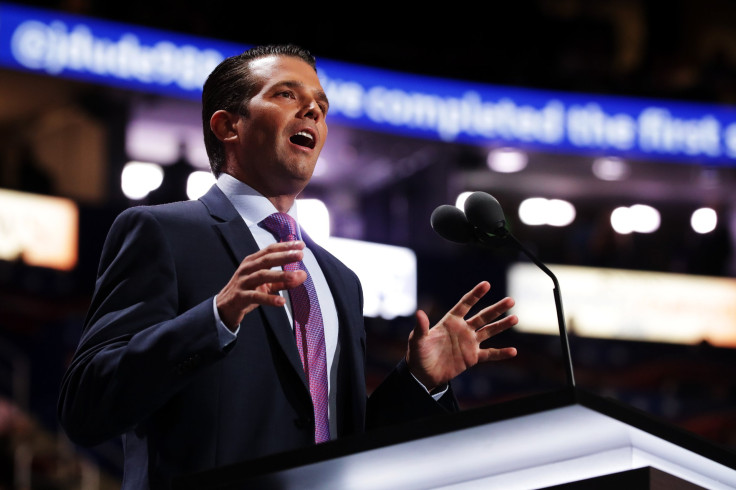 Hours after many believed he was referring to the Holocaust, the son of Republican presidential nominee Donald Trump further explained his controversial remarks about Democrat Hillary Clinton during a Thursday radio interview to NBC News.
Donald Trump Jr. was being interviewed by Philadelphia's 1210 WPHT when he accused the media of propping up Clinton and dropped a "gas chambers" reference.
"Without the media, this wouldn't even be a contest, but the media has built her up, they've let her slide on every indiscrepancy [sic], on every lie, on every DNC game, trying to get Bernie Sanders out of the thing," Trump Jr. said. "If Republicans were doing that, they'd be warming up the gas chamber right now."
However, Trump Jr. later clarified to NBC News that he was referring to capital punishment and not the chambers used by the Nazis to kill Jews during World War II.
His father's campaign also released a statement that reiterated Trump Jr.'s clarification and said the original interpretation was another example of the media twisting the campaign's messages.
"The liberal, dishonest media is so quick to attack one of the Trumps that they never let the truth get in the way of a good smear," Trump spokesman Jason Miller said in a statement. "Don Jr. was clearly referring to capital punishment to make the case that the media continues to take words out of context in order to serve as the propaganda arm of the Hillary Clinton campaign — something that's only gotten worse as Trump's poll numbers have improved."
While Trump's poll numbers have improved and essentially put him in a dead heat with Clinton one month after many believed his campaign was losing steam, his son's remarks were not the first time Trump's campaign has been accused of anti-Semitism.
In July, Trump's campaign defended the use of a tweet attack against Clinton that included a six-pointed star, which some took to be the Star of David, and a stack of $100 bills while calling Clinton the "Most Corrupt Candidate Ever!" The image was previously used by a white supremacist website weeks earlier, according to the Washington Post.
© Copyright IBTimes 2023. All rights reserved.