Donald Trump Leads National Republican Primary Poll
WASHINGTON -- Donald Trump placed first in a national poll of Republican voters, the latest in a series of polls showing the real estate mogul and reality television star taking a firm hold as a front-runner for the GOP nomination. But when pitted against likely Democratic nominee Hillary Clinton, Trump performed worse than any other Republican candidate the poll asked voters about.
"Trump is making daily headlines in advance of the primary season," said David Paleologos, director of the Suffolk University Political Research Center, in Boston. "This has vaulted him to the top of the pack on the backs of conservative voters. But when you expand the electoral pool to include Democrats and independents, that potency dissipates."
The Suffolk University/USA Today poll of likely GOP primary voters found 17 percent back Trump. He holds a 3 point lead over Jeb Bush, who won over 14 percent of those surveyed. Scott Walker, who launched his campaign officially on Monday, placed third with 8 percent followed by Texas Sen. Ted Cruz at 6 percent and Florida Sen. Marco Rubio at 5 percent.
Donald Trump Presidential Candidate Profile | InsideGov
Questions have continued to swirl about whether Trump should be taken seriously as a candidate. He's running with a skeleton crew for a staff and has yet to file all the needed financial disclosure paperwork, a delay that is not entirely unusual because extensions are routinely granted.
Trump's comments about Mexican immigrants comprising mostly criminals and rapists have led to frequent cringing by establishment Republicans, who would like to see Trump stop talking about immigration or leave the race completely. The poll also found that these comments matter to voters.
Of all those polled of both parties and independents, 48 percent said that Trump's remarks about Mexicans mattered "a lot" and another 10 percent said they mattered "a little." Of those polled, 35 percent said the remarks didn't matter and 5 percent were undecided.
And overwhelmingly, those remarks are scaring away voters. The poll found 48 percent are less likely to vote for Trump because of those remarks, compared to 15 percent who are more likely.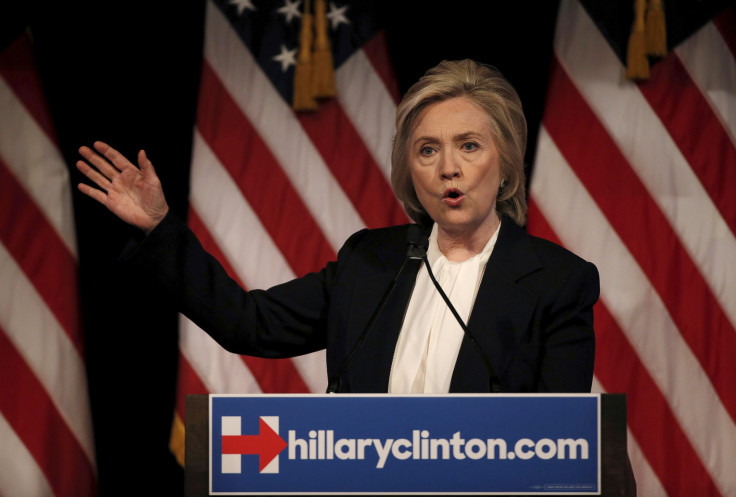 The Suffolk poll also pitted Clinton against several of the Republican hopefuls. Against Trump, Clinton received about 51 percent of the vote compared to the mogul and television star's 34 percent. It was the only matchup against a Republican in which Clinton exceeded 50 percent.
Republican Jeb Bush fared the best against Clinton. In that hypothetical contest, Clinton received 46 percent and Bush received 42 percent.
If Trump continues to poll at this rate, it is all but guaranteed he will earn a spot on the debate stage. Suffolk University's poll, which is nonpartisan and conducted via live interviews, is likely to be the type of poll used by Fox News to determine which Republicans get to participate in the first primary debate, held in August. Fox will use an average of recent national polls in determining the top 10 candidates who are invited to participate in the prime-time television debate.
The polls also offered a grim outlook for other candidates who are hoping to be included in the debates in order to gain ground in the race. Two sitting governors -- Ohio's John Kasich and Louisiana's Bobby Jindal -- plus Sen. Lindsey Graham were not able to crack the top 10. Neither was businesswoman Carly Fiorina, the only woman running on the Republican side of the election.
© Copyright IBTimes 2023. All rights reserved.