Donald Trump To Meet Mexican President Before Arizona Speech On Immigration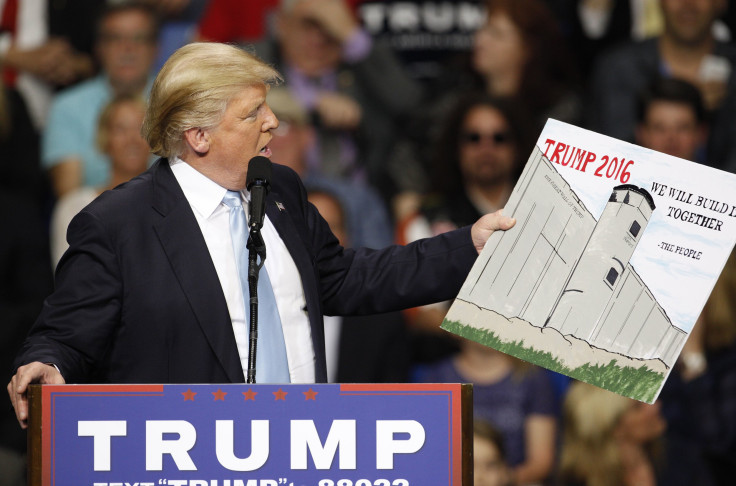 Hours before Republican presidential nominee Donald Trump makes a speech in Arizona clarifying his stance on immigration, he will meet with Mexican President Enrique Peña Nieto in Mexico City on Wednesday. Trump has often threatened to deport millions of immigrants who live in the United States illegally, with a number of Mexicans among them.
Peña Nieto said in a tweet (in Spanish) that he had invited presidential nominees from both major parties to discuss Mexico's bilateral relationship with the U.S.
Trump, who will meet the Mexican president between a fundraiser in California in the morning and his immigration speech in Phoenix in the evening, confirmed the meeting in a tweet.
Trump's rhetoric against Mexicans — he has called them drug peddlers and rapists — as well as his often-repeated promise to build a wall along the border with Mexico — and make Mexico pay for it — is not likely to make the meeting a friendly one. Peña Nieto has linked Trump to dictators like Hitler and Mussolini, and with political trouble back home, he may be looking to score political points of his own by bringing Trump to Mexico.
For his part, Trump could be looking to shore up his credentials on foreign policy by giving a strong speech on immigration directly after meeting the Mexican president. He has been building up his upcoming Phoenix speech as a definitive statement on immigration.
Hillary Clinton has not yet accepted the invitation to Mexico, but her camp issued a statement regarding Trump's visit. It said: "What ultimately matters is what Donald Trump says to voters in Arizona, not Mexico, and whether he remains committed to the splitting up of families and deportation of millions."
© Copyright IBTimes 2023. All rights reserved.