Donald Trump Struggles To Read From Teleprompter, Pronounce 'Counting'; POTUS Out Of Breath
KEY POINTS
Donald Trump struggled to say the words counting and coronavirus during his recent speech
The POTUS had a hard time reading from the teleprompter
Donald Trump looked sick and terrible during his recent coronavirus speech
Donald Trump recently gave an update on the coronavirus pandemic, and it was evident that the POTUS couldn't make out the words on the teleprompter.
Prior to giving an update on the administration's economic and health proposals on Wednesday, the POTUS first tweeted that he was fully prepared to use the full power of the Federal Government to deal with the outbreak.
On the same day, the World Health Organization (WHO) defined the novel coronavirus outbreak as a pandemic because it's a worldwide spread of a new disease.
During his speech, the POTUS stumbled terribly, and he also slurred some words. Journalist Aaron Rupar uploaded a video of Trump's speech, where he was unable to pronounce the word "counting," while catching his breath.
The POTUS also struggled to pronounce coronavirus, and he said it by separating corona and virus when they are supposed to be pronounced together.
Melania Trump's husband also announced the 30-day travel ban between Europe and the United States after blaming the former for spreading the virus to America.
"Trump claims that 'early, intense action' is responsible for 'fewer cases of the virus in the United States than Europe.' (The US has not been able to test people at the same rate.) He then blames Europe for the spread of coronavirus in the US and announces a 30-day travel ban," Rupar said.
Some netizens couldn't help criticize Trump's appearance when he gave the nation an update regarding the pandemic. They said that he was obviously out of sorts at that time, which didn't help appease the nation.
"Trump doesn't sound great. He sounds kind of sick," Twitter user @MollyJongFast said.
"Adderall, poor diet, no exercise, stressful job, universally hated, aging and being in close proximity with several people who are possibly infected with COVID19," Twitter user @SarahBCliff said.
"I've been watching Presidential speeches for decades. have never seen a President look more nervous, more unsure of what he was saying, than tonight," Twitter user @greenfield64 said.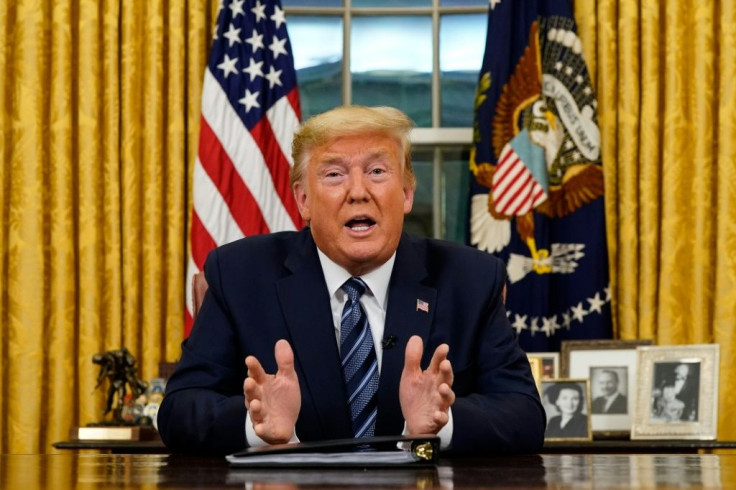 © Copyright IBTimes 2023. All rights reserved.