Donald Trump vs. Hillary Clinton In Florida: Latest Polls, Analysis On How Hurricane Matthew Could Affect The Election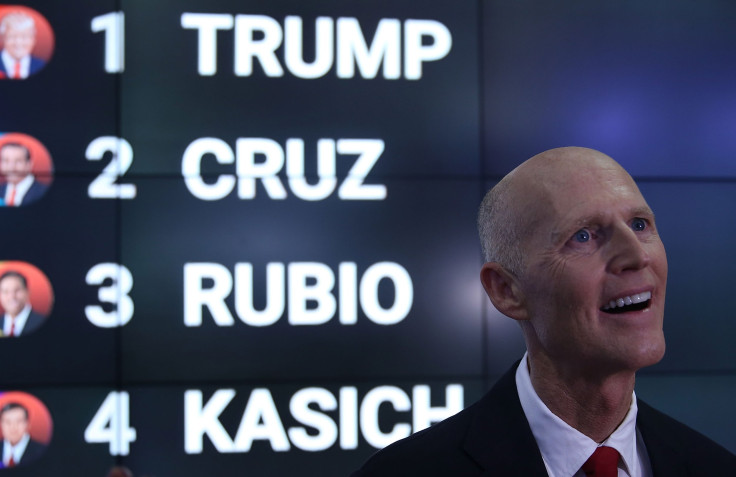 The upcoming election made October in Florida a blustery mess before Hurricane Matthew even hit. Now, in the storm's aftermath, the political situation is getting even more complicated.
Election Day is just about a month away, and Florida's voter registration deadline is Tuesday. Because the swing state holds 29 valuable electoral votes, Democrat Hillary Clinton's campaign asked Florida Gov. Rick Scott to keep registration open late as Matthew approached Florida with winds up to 120 mph and a foot of rain, forcing the cancellation of voter drives and dominating the news cycle.
Scott, a Republican, declined.
"Everybody has had a lot of time to register," Politico reported he said Thursday. "On top of that, we have lots of opportunities to vote: early voting, absentee voting, Election Day. So I don't intend to make any changes."
Both Clinton and her rival, Republican Donald Trump, need to win Florida come Nov. 8. The state has proven increasingly significant in recent years — just think about the 2000 election, which hinged on Florida's recount in the weeks after Election Day.
But it's not clear who will end up on top. The latest polls from the Sunshine State showed that, when Trump went up against Clinton, she emerged victorious with 46.6 percent of the vote to his 43.4 percent, according to RealClearPolitics. When Libertarian Gary Johnson and Green Party nominee Jill Stein were included, Clinton garnered 44.8 percent support to Trump's 42.4.
Because Hurricane Matthew will likely cause voting issues for displaced residents and procrastinators, "a hurricane in [Florida] whose votes could be decisive for president is one of the worst election administration nightmares," University of California Irvine professor Richard Hasen tweeted Thursday, according to the Miami Herald.
More immediately, the campaigns could suffer because they're not in the headlines. All eyes will be on Trump and Clinton as they respond to the natural disaster. Unlike President Barack Obama during 2012's Hurricane Sandy, neither is in public office at the moment.
"The unknown aspect of how this will turn out provides a lot of possibilities," Republican consultant Matt Mackowiak told CNBC. "But the thing I'm most certain about is that (the storm) will freeze the race where it is — at a pretty stable 3- to 4-point lead for Clinton."
© Copyright IBTimes 2023. All rights reserved.