Donald Trump Vs Ron DeSantis: 'Clown War' Divides Twitter, As Florida Turns Red
Days after being reelected for a second term as governor of Florida, Ron DeSantis has found himself on the receiving end of embattled former president Donald Trump's angry rant.
Trump resorted to name-calling DeSantis in a statement Thursday. He had previously used the words "Ron DeSanctimonious" to refer to the governor at a rally ahead of the midterms, and chose to use it again, this time in a formal statement wherein he also made certain first-time revelations.
This is not the first time Trump has resorted to name-calling or making explosive statements, while dealing with rivals. These actions also always manage to give social media something to chuckle about.
Melania's husband began his Nov. 10 statement with an attack on national dailies including the New York Post, which published a mocking cover depicting Trump as "Trumpty Dumpty" earlier that day. "Don (who couldn't build a wall) had a great fall – can all the GOP's men put the party back together again?" read the text.
Trump didn't take it lying down, and said the paper was "no longer great" under Murdoch ownership, and that former boss Col Allan should be brought back.
Further on, he attacked DeSantis saying a lot of factors worked in the latter's favor and that the population was growing and was projected to grow further, only because Florida had the advantage of sunshine "where people from badly run States up North would go no matter who the Governor was, just like I did!"
Reflecting on his endorsement of DeSantis back in 2017, Trump said it was only because he didn't know the former's primary Republican rival, Adam Putnam back then.
"Ron had low approval, bad polls, and no money, but he said that if I would endorse him, he could win. I didn't know Adam so I said, 'Let's give it a shot, Ron.'"
He claimed to have stopped the election from being stolen from DeSantis.
"I also fixed his campaign, which had fallen apart." Trump also claimed "votes were being stolen by the corrupt election process in Broward County" when he along with Rick Scott sent in the FBI and U.S. Attorneys to stop the ballot theft immediately.
Trump said DeSantis was now playing games with him despite the support he lent. He was irked by DeSantis's decision of not answering with a solid no when asked if he'd contest the presidential elections against Trump.
DeSantis had told reporters, "I'm only focused on the Governor's race, I'm not looking into the future," and "in terms of loyalty and class, that's really not the right answer," Trump's statement said.
Trump ended the statement saying he was hopeful DeSantis's moves won't affect him.
"They will keep coming after us, MAGA, but ultimately, we will win," he said, saying that he'd been in the same situation before he became the 45th president of the U.S.
DeSantis has followed in Trump's footsteps to become a prominent figure in the GOP. The simmering dynamic between both men, current hot favorite Republican nominees for 2024, is being closely watched, and has divided Twitter.
"Ron desanctimonious is funny. I can't wait to see the Trump v DeSantis clown war in 24," a tweet read.
"DeSanctimonious needs to stay in his lane. There is no MAGA movement without Trump. There is no draining the swamp without Trump. There is no 2024 victory without Trump," a second user tweeted.
"As soon as Trump started referring to DeSantis as "DeSanctimonious" is when I stopped supporting him. Ron DeSantis is by leaps and bounds a better presidential candidate for 2024 than Trump. Both have the same policies, Trump has 100 tons of baggage to haul over the finish line," a third user wrote.
"Trump is inevitable in 2024. He will call desanctimonious a midget and fat and everyone will laugh. Trump beats desanctimonious in a landslide," a fourth quipped.
"Ron DeSanctimonious will not win the 2024 election! King Donald J Trump will!!!" opined a fifth.
DeSantis's reelection turned Florida, once considered a swing state, glaring red. "We not only won election, we have rewritten the political map," DeSantis said after he won by almost a 20-point margin, including the Democratic strongholds Miami-Dade and Palm Beach counties.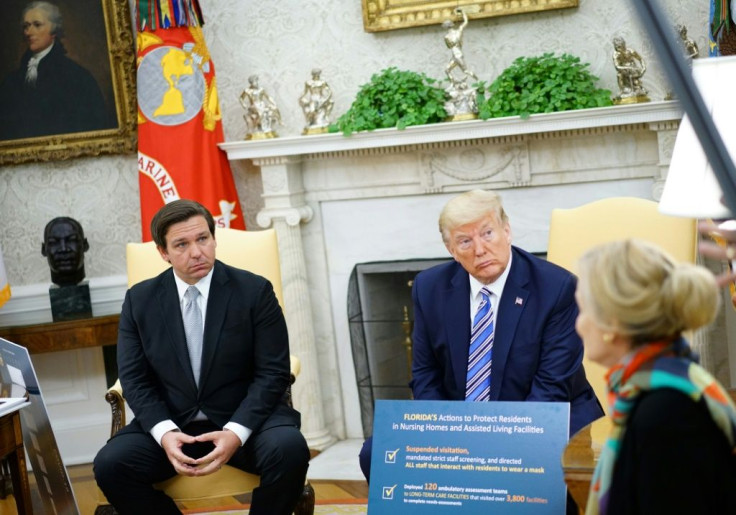 © Copyright IBTimes 2023. All rights reserved.